Affiliates note: As an Amazon Associate I earn from qualifying purchases. My content may contain affiliate links to products and services. If you click through and make a purchase, I'll receive a small commission. It does not affect the price you pay.
How To Make Rich and Gelatinous Beef Bone Broth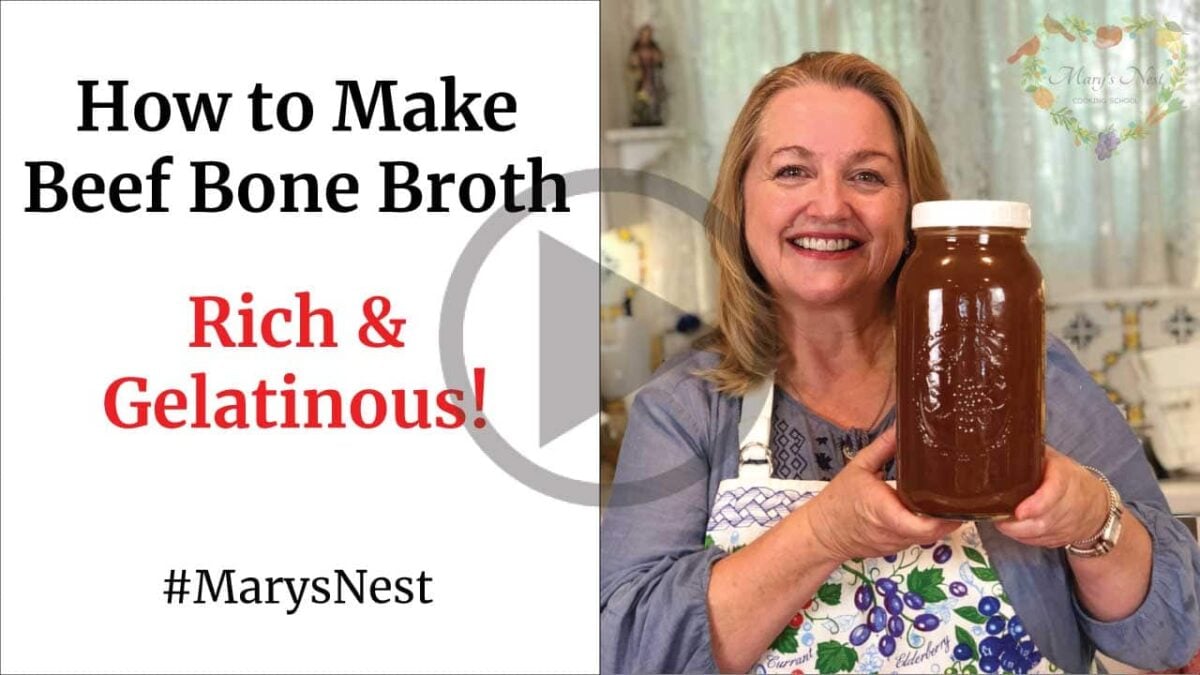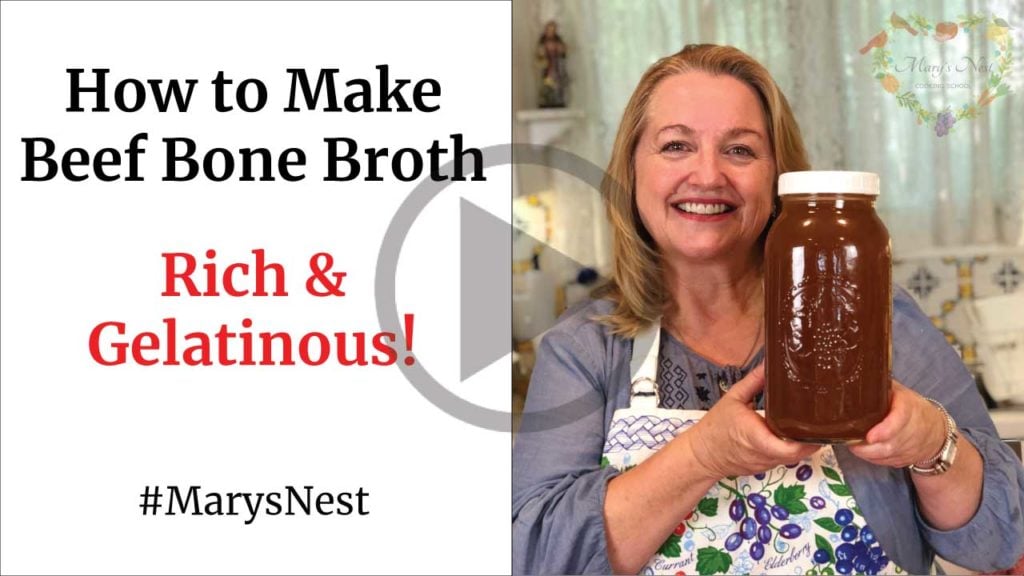 In this video, I show you how to make Rich and Gelatinous Beef Bone Broth and never buy store-bought again.
Previously, I shared with you my How to Make Roast Chicken Bone Broth for Pennies a Jar video where I make roast chicken bone broth from the scraps left over after making a Roast Chicken. And although I love my Roast Chicken Bone Broth, Beef Bone Broth is the real jewel in the crown. It's so tasty on its own or sprinkled with a bit of sea salt. But Bone Broth also makes a great base for soups, stews, and gravies. And in this video, I let you in on a little secret…which are the best bones to use to get the most gelatinous broth!!
Finding the Best Beef Bones
To find a nice selection of beef bones check your local grocery store, the farmer's market or online sources like US Wellness Meats. (Update: Use promocode MARYNEST to save 15% off regular-priced items on your US Wellness Meats order.)
You might even be lucky enough to be able to buy beef bones from a local ranch or farm. And when you are selecting your beef bones, make sure to choose a variety. Include a mix of marrow bones, meaty bones such as shanks, and high-cartilage bones such as oxtails, knuckles, or patellas. If you're unfamiliar with what all of these bones look like, don't worry. I've got you covered. Be sure to check out my Best Bones for Making Beef Bone Broth video where I show you all these bones and share some of my favorite combinations.
And if you can find beef feet, you will make the most gelatinous bone broth! And there's a bonus. Using beef feet will yield multiple batches of bone broth. Or what I like to call, Perpetual Beef Bone Broth!
Next, after you source your bones, the rest is easy. You'll need a few aromatics as listed in the ingredients below. But you can certainly use any onion, carrot, or celery scraps you have saved in your freezer, in place of using fresh vegetables. And don't throw out your wilted lettuce. Add it to your bone broth.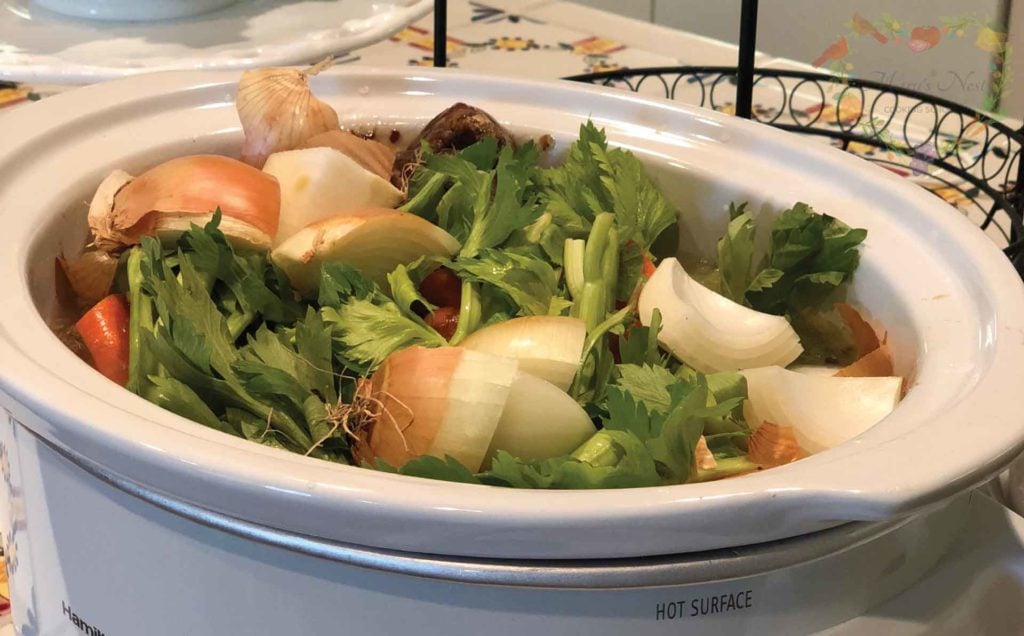 Using A Slow Cooker to Make Beef Bone Broth Is a Breeze
Once you make Beef Bone Broth, you'll want to make sure you always have a regular supply on hand. And this recipe makes that easy to do since you'll be using a slow cooker. Plus it only needs to simmer for 12 hours to create a nutritious gelatinous broth.
Making Beef Bone Broth on the Stove Top
But don't worry if you do not own a slow cooker. You can still make Beef Bone Broth. You can make it right on your stovetop using a large stock pot.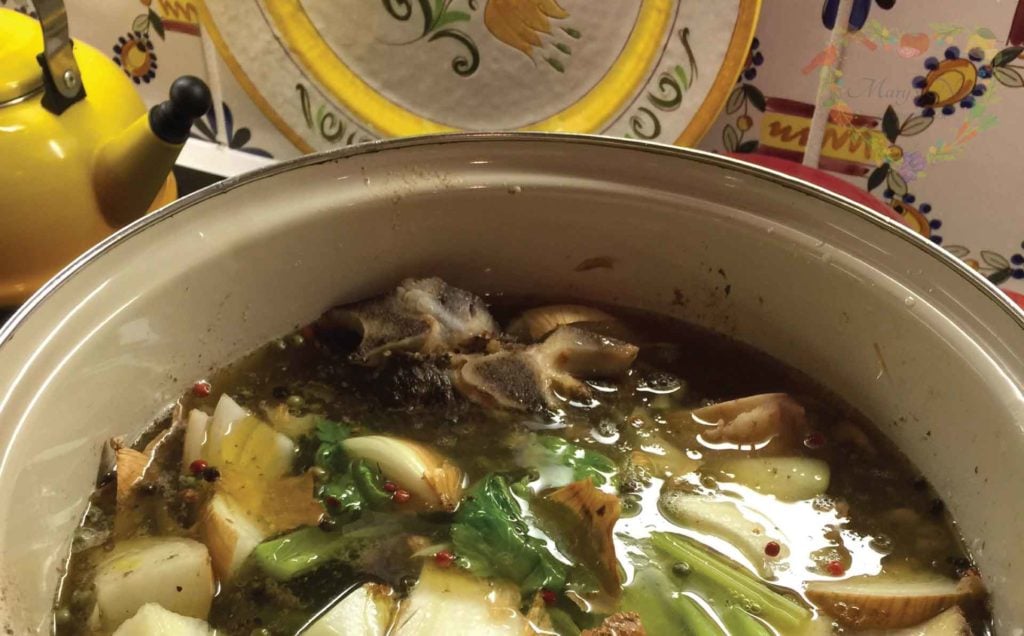 The same steps apply as if you were making Beef Bone Broth in the slow cooker. And as a matter of fact, this is the way my mother made bone broth when I was growing up, and my grandmother before her. I even made bone broth on the stove top for about 20 years until I discovered the slow cooker.
And An Instant Pot Can Make Beef Bone Broth in a Snap
With the Instant Pot, and other mutli-cookers like the Mealthy, joining the ranks of must-have kitchen items, making Beef Bone Broth in any one of them is the new trend. And it's fast! But how is the flavor? And is it gelatinous? I was pleased to discover that the answer to both of these questions is yes. The flavor is rich and the broth is gelatinous.
So what did I do to achieve these results? I called the Instant Pot hotline! Here is the right way for making Beef Bone Broth in a pressure cooker:
First, as with any bone broth, you want to make sure that you use just enough water to cover the ingredients. Too much water is the enemy of creating a gelatinous bone broth under any circumstances.
Second, since the bone broth is under pressure, you want to limit your cooking time to two hours. The reason for this is because too much pressure for too long is another enemy of a gelatinous bone broth.
And third, probably the most important tip is to make sure you choose the "LOW" pressure setting on your appliance. Just as with too much pressure, too high a temperature will destroy the chance of creating a gelatinous end product.
Following these best practices will ensure that your final product will be rich in flavor and gelatinous.
Why Is There So Much Emphasis on "Gelatinous"
You may be wondering why I put so much emphasis on creating a gelatinous beef bone broth. Well, it's because one of the main reasons for making bone broth is because as we simmer the broth, the bones release their collagen which turns into gelatin. And when we consume gelatin, it nourishes our entire bodies, including our skin, our hair and nails, our joints, and our guts.
The Best Beef Bone Broth
If you have been buying store-bought bone broth, you will be amazed at how good beef bone broth tastes when it is homemade. Plus you will be surprised at what a savings it can be. Even when using organic, grass-fed bones! I conducted a side-by-side comparison and was pleased with the results. I found that not only did organic, grass-fed, homemade beef bone broth taste better, it was actually more economical than the best store-bought beef bone broth.
And I am all about being economical. That is why I love making bone broth of any kind. It often involves using up lots of kitchen scraps that might have otherwise wound up in the trash. When making bone broth, kitchen waste can become close to a thing of the past. And as conscientious home cooks, we all want to work towards creating a zero-waste kitchen!
So be sure to watch the video to learn more about how to create Rich and Gelatinous Beef Bone Broth right in your own kitchen! It's very easy and you'll wonder why you never did it before!
Stay in Touch with Mary's Nest
Subscribe to My YouTube Channel for Traditional Foods Videos (Free) - When you subscribe, be sure to click on the notification bell that will let you know each time I upload a new video.
Subscribe to Mary's Traditional Foods Newsletter (Free) - Get a free 36-page eBook for signing up: How to Stock Your Essential Traditional Foods Four-Corners Pantry.
Join the Traditional Foods Kitchen Academy (Optional Paid) - For more detailed videos, live streams, and exclusive members-only perks, join my YouTube membership community.
Preorder The Modern Pioneer Cookbook (Optional Paid) - Get a printed book of Mary's nourishing recipes from a Traditional Foods Kitchen. This cookbook will be published by Penguin Random House with their DK imprint.
I look forward to having you join me in my Texas Hill Country Kitchen!
How to Make Rich and Gelatinous Beef Bone Broth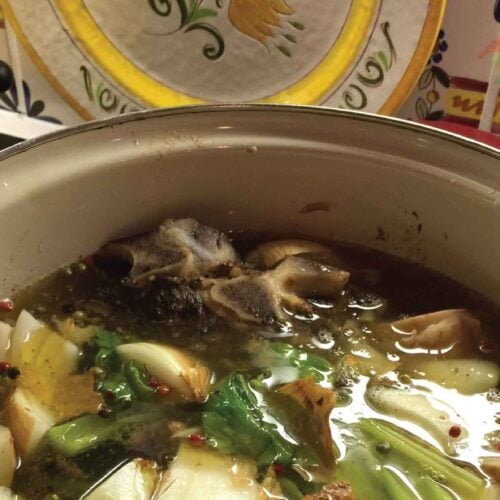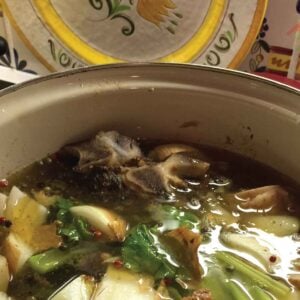 Making Homemade Beef Bone is so rewarding. It's much less expensive – and superbly better quality – than what you can buy at the grocery store. And once you learn to make bone broth in your own kitchen, you'll find so many ways for using it in soups, stews, and gravies not to mention drinking it warm and steaming – sprinkled with a little sea salt – straight from a mug. Enjoy!
Ingredients
4

lbs

Mixture of beef bones

Marrow bones, beef shank bones, beef neck bones, a beef knuckle bone, and oxtails

1

cup

Red vermouth, port, marsala or madeira

Optional

1/4

cup

Apple cider vinegar

3

Onions

Quartered with skins on

3

Celery stalks

3

Carrots

2

Bay leaves

10

Peppercorns

1

Filtered water

Enough to cover all the ingredients
Instructions
Place the beef marrow bones and the knuckle bone into an 8-Quart slow cooker or stock pot. (If you are using a 6-Quart slow cooker, you will need to reduce the amount of bones that you are using to 3 pounds.) If you choose to use the red vermouth, etc., you can omit the apple cider vinegar. Add the red vermouth or apple cider vinegar and water to the slow cooker or stock pot just to cover the marrow bones and knuckle bone.

Place the beef shanks, neck bones, and oxtails on to a baking sheet and bake in a 350 F degree oven until the bones have browned, approximately one hour. Once browned transfer the bones from the baking sheet to the slow cooker. Also add the onions, celery, carrots, bay leaves, and peppercorns to the slow cooker and fill with the slow cooker with water to cover all the ingredients.

If using a slow cooker, turn it to the high setting for one hour, then turn it down to the keep warm setting and allow to simmer on keep warm for 12 hours. If your slow cooker does not have a keep warm setting, turn it down to the low setting but tilt the slow cooker lid to allow for some of the steam to escape to prevent the broth from boiling.

If using a stock pot on the stove, bring to a boil and immediately reduce heat to low and simmer for 12 hours.

After 12 hours, turn off the slow cooker or stove. Allow broth to cool slightly and then begin to strain ingredients with a slotted spoon. Reserve ingredients to be re-used to make a second batch of broth.

Once all the ingredients have been strained from the broth, line a colander with cheese cloth or a flour sack towel and place over a deep pot. Use a ladle to transfer broth from the slow cooker or stock pot into the lined colander. The broth will drain through the lined colander into the deep pot.

Once all the broth has been strained through the lined colander into the deep pot, transfer this pot to the refrigerator until the fat rises to the top and congeals. Skim off this fat and transfer it to a separate container to be used in other recipes. Transfer the broth to container(s) with a cover that can then be refrigerated or frozen. You can store the broth in multiple smaller containers or one single large container depending on how you plan to use it. This bone broth will stay fresh for 3-4 days when refrigerated. If frozen in the freezer of a refrigerator, it will stay fresh for 6 months. In a separate freezer that is not opened frequently, it will stay fresh for up to 12 months.
Notes
To begin with, when you are shopping for bones to make beef bone broth, you want to find a mix of bones. Do not worry if you can't find the exact mix of bones as outlined in this recipe. The bottom line is that you want to find a variety of bones.
Marrow bones are usually readily available at most grocery stores as are beef shanks (sometimes referred to as Osso Buco). These make for a lovely broth especially when the beef shanks are roasted before adding them to your stock pot.
But for a nicely gelatinous broth, you will also want to include some knuckle bones, neck bones, and/or oxtails. Knuckle bones should be readily available at most grocery stores and sold near the marrow bones. Neck bones may be harder to find, but oxtails are often available at the grocer during the springtime.
If you do not see any bones at your grocery store, be sure to speak with the butcher. They may have them behind the counter or you may be able to request a special order. However, with the popularity of bone broth, it has become easier to find beef bones at most groceries.
Although you may have heard that you need to simmer this bone broth in the-making for three days on your stovetop, that really isn't the case. Approximately 12 hours is sufficient to leach the nutrients out of the bones and create a nice gelatinous broth.
Excessive simmering can actually "break" the gelatin creating a watery broth, which in my – humble – opinion, has a bit of an overly strong – almost "over cooked" flavor. So make things easy on yourself and simmer this for 12 hours and then strain it.
If after straining it, you think the beef bones may render more bone broth, you can of course reuse them for making a second batch. You will be able to tell that the bones may render more broth if you see evidence of some cartilage or gelatinous areas remaining on the knuckle bones, neck bones, shank bones, or oxtails.
As a final note, I want to mention that you can simmer this broth on the stovetop or in a slow cooker. However, if you use a slow cooker, you will need one that has a "Keep Warm" setting that heats to 180°F. (You can test this by filling your slow cooker with water, set it on Keep Warm and test the temperature with a cooking thermometer after a few hours.) This temperature will create the perfect environment for making delicious, gelatinous bone broth.
If your slow cooker does not have a "Keep Warm" setting, you can still use it to make bone broth but you will need to put it on the low setting and adjust the lid slight to one side to allow for some of the heat to escape so as to prevent the broth from boiling.
Find this recipe and video at https://marysnest.com/how-to-make-rich-and-gelatinous-beef-bone-broth/
Copyright © 2019 Mary's Nest, LLC, All Rights Reserved
Watch Mary's Nest on YouTube
Shop for items used in this blog post or video
Visit my Shopping Guide page
Get up to 15% off for Stocking your Traditional Foods Pantry and Equipping your Modern Pioneer Kitchen, including discounts from US Wellness Meats, Mockmill Grain Mill, Masontops, Cultures for Health, Survival Garden Seeds, Redmond Real Salt, Plan to Eat, and more!
Favorite Bone Broth Making Supplies:
*Affiliates note: As an Amazon Associate I earn from qualifying purchases. My content may contain affiliate links to products and services. If you click through and make a purchase, I'll receive a small commission. It does not affect the price you pay.
**Disclaimer: I am not a medical doctor, a medical professional, a dietician, or a nutritionist. All content found on the MarysNest.com website, including text, images, videos, eBooks or eGuides, social media, or other formats, were created solely for informational purposes only. The content is not intended to be a substitute for professional medical advice, diagnosis, or treatment. Always seek the advice of your physician or other qualified healthcare provider with any questions you may have regarding a medical condition or proper nutritional advice. Never disregard professional medical advice or delay in seeking it because of something you have watched in a video or read on this website. Use caution when following the recipe in this video. The creator and publisher of this video and website will not be held responsible for any adverse effects that may arise from the use of this recipe and method or any other recipe and method on this website or corresponding video channel.