How to Make Yeast Water and Yeast Water Bread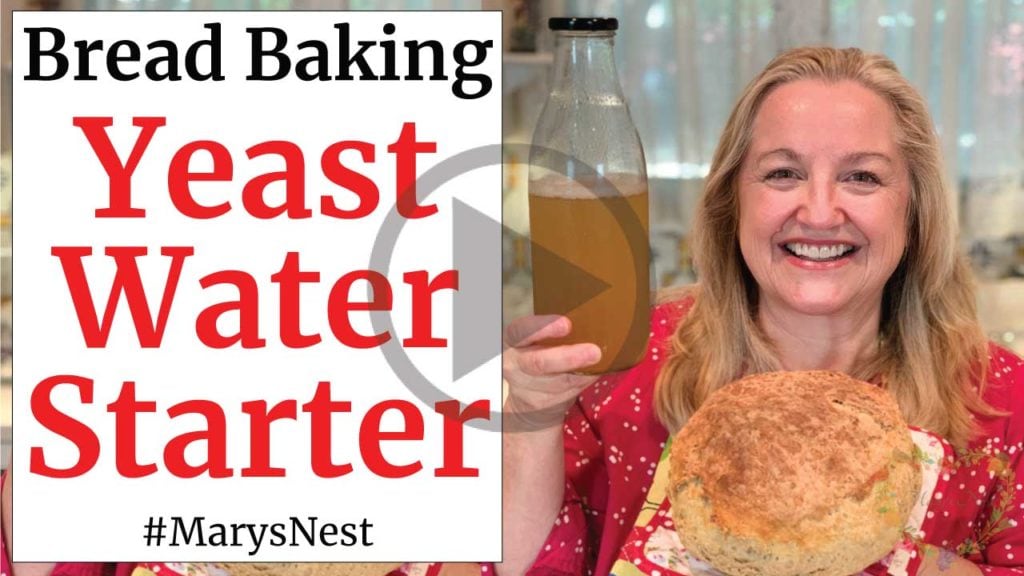 It may seem hard to believe, but yes, you can actually create a type of yeast using water, and this yeast will rise bread dough and allow you to make yeast water bread!
The bread you bake with yeast water will be indistinguishable from the bread that you can make with packaged yeast or sourdough starter. This concept is quite opportune given how many folks are struggling to find packaged yeast at their local grocery stores these days.
*Affiliates note: As an Amazon Associate I earn from qualifying purchases. My videos and blog posts may contain affiliate links to products and services. If you click through and make a purchase, I'll receive a small commission. It does not affect the price you pay.
Speaking of Sourdough Starter…
You might be wondering why I am not simply recommending that everyone just create a traditional sourdough starter and use that starter to bake their bread if they can't find packaged yeast. Well, a traditional sourdough starter is great but not everyone has success with it. Others may have success getting their starter going, but then they may forget to feed it every day, or they may not like the fact that you have to remove some of it—the "discard"—with each feeding.
The Simplicity of Yeast Water
On the other hand, yeast water is straightforward to make and easy to maintain. All you need is:
Water
A bit of sugar
Salt
A small piece of fruit
Dried fruit works the fastest, but you can use fresh fruit too. All you need is a small piece. I'll show you the simple process step-by-step when you watch my recipe video.
Your yeast water will last in your fridge for about two months without any additional feedings. This extended shelf-life will come as a relief to those who don't want to feed their starter every day, not to mention if you're not sure what to do with the discard! (However, if you have a traditional sourdough starter and are looking for ideas of what to do with your discarded starter, I have a Discarded Sourdough Starter recipes video playlist that will give you a few ideas.)
To maintain your yeast water, all you have to do is remember not to use every drop of it. When the bottle of yeast water has about a cup of liquid in it, just refresh your bottle in a similar process to how you started making your yeast water in the first place. It really couldn't be easier and allows you to create the ultimate foolproof "starter."
Using Yeast Water in Bread Recipes
Once you've made yeast water and utilized it to make your yeast water "starter," you can use it as a substitute in your favorite bread recipes that call for sourdough starter.
In my recipe, I show you how to make your yeast water starter. (Be sure to print out my recipe when you're ready to begin the process.) All you have to do is mix your yeast water with equal amounts of flour and let the mixture ferment overnight. Afterward, you can use what is now your yeast water starter as you would a traditional sourdough "starter" to add to your bread recipes. The only difference is that your "starter" is a yeast water "sourdough" starter.
More Bread Baking Videos
If you're unsure about the process for using yeast water, don't worry. I walk you through the recipe for how to make yeast water, and then how to make and use your yeast water starter in baking bread with step-by-step instructions in my recipe video. And yes, we'll bake a loaf of bread together in the video using our yeast water starter.
Once you learn the process, be sure to try your hand at using your yeast water starter in these bread recipes below.
And when you feel confident to try your hand at making a traditional sourdough starter, be sure to check out my Complete Sourdough Starter Guide and My Foolproof Sourdough Starter videos below. And don't miss my Busy Mother's Sourdough Secret – How to Make Sourdough Starter and Sourdough Bread the Easy Way! This recipe is perfect for all you beginners out there.
Stay in Touch with Mary's Nest
Subscribe to My YouTube Channel for Traditional Foods Videos (Free) - When you subscribe, be sure to click on the notification bell that will let you know each time I upload a new video.


Subscribe to Mary's Traditional Foods Newsletter (Free) - Get a free eBook for signing up: How to Stock Your Essential Traditional Foods Four-Corners Pantry.


Join the Traditional Foods Kitchen Academy (Optional Paid) - For more detailed videos, live streams, and exclusive members-only perks, join my YouTube membership community.
I look forward to having you join me in my Texas Hill Country Kitchen!
Love,
Mary
♥
Shop for items used in this blog post or video
Favorite Bread Making Supplies
Use promo code MARYSNST for a one-time 15% off Masontops and Breadsmart products on Amazon.com.
Favorite Baking Yeast Supplies
Recommended Reading
Amazon Shop and Shopping Guide
Visit my Shopping Guide page
Learn where I buy my beef bones, electric grain mills, sprouted grains, and more…and get special discounts for Mary's Nest visitors, including from US Wellness Meats, Mockmill, Masontops, and Cultures for Health.
**Disclaimer: I am not a medical doctor, a medical professional, a dietician, or a nutritionist. All content found on the MarysNest.com website, including text, images, videos, eBooks or eGuides, social media, or other formats, were created solely for informational purposes only. The content is not intended to be a substitute for professional medical advice, diagnosis, or treatment. Always seek the advice of your physician or other qualified healthcare provider with any questions you may have regarding a medical condition or proper nutritional advice. Never disregard professional medical advice or delay in seeking it because of something you have watched in a video or read on this website. Use caution when following the recipe in this video. The creator and publisher of this video and website will not be held responsible for any adverse effects that may arise from the use of this recipe and method or any other recipe and method on this website or corresponding video channel.