Affiliates note: As an Amazon Associate I earn from qualifying purchases. My content may contain affiliate links to products and services. If you click through and make a purchase, I'll receive a small commission. It does not affect the price you pay.
No Knead Sandwich Bread – Super Soft!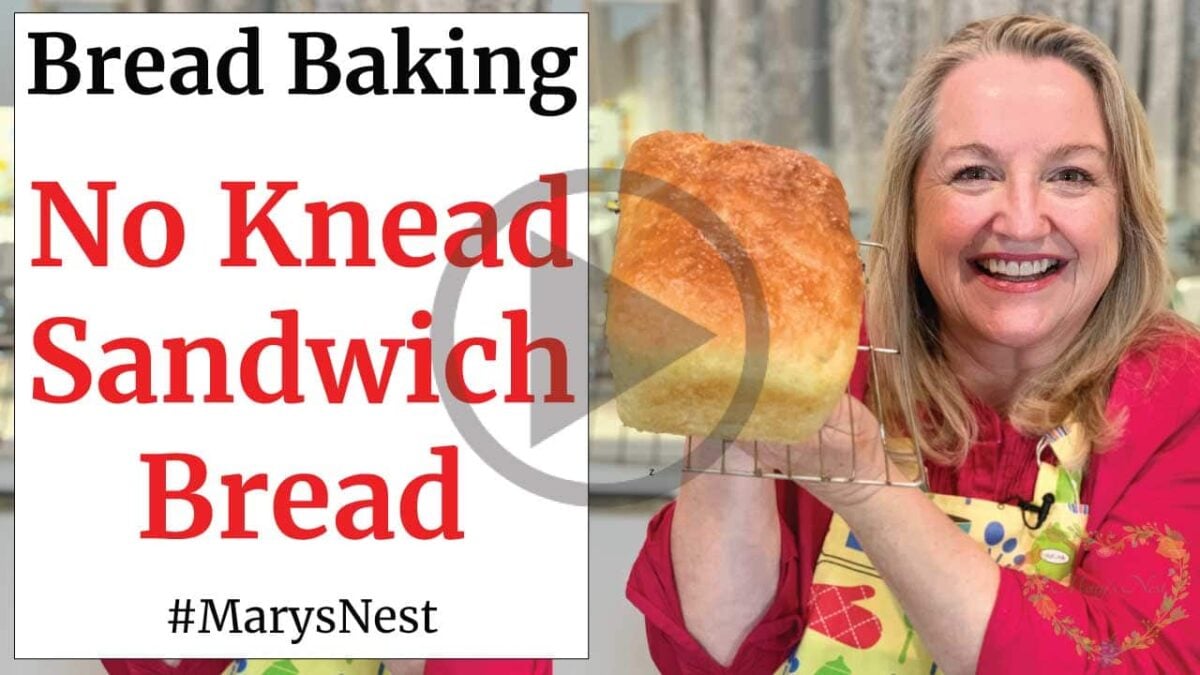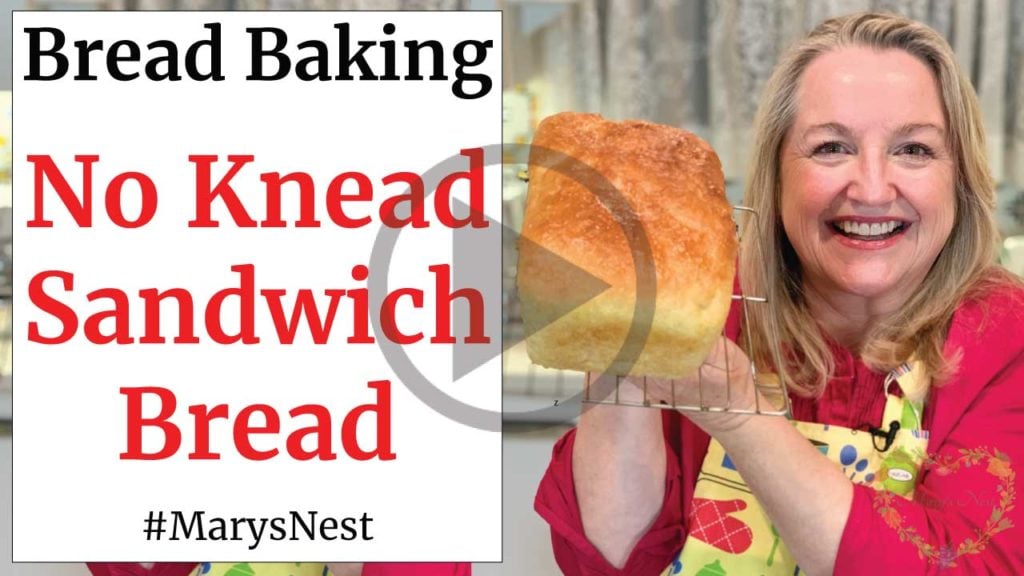 Learn How to Make Super Soft No Knead Sandwich Bread with this easy recipe. This is the perfect bread to make for to help you transition from a processed foods kitchen to a Traditional Foods Kitchen.
*Affiliates note: As an Amazon Associate I earn from qualifying purchases. My content may contain affiliate links to products and services. If you click through and make a purchase, I'll receive a small commission. It does not affect the price you pay.
The Traditional Foods Kitchen
If you are in the process of transitioning from a processed foods kitchen to a traditional foods kitchen, bread can present a challenge. You may still be buying sandwich bread at the store, but now, you want to learn how to make your own bread. There's just one problem. The process of making sourdough frightens you. And you're certainly not ready to start soaking and sprouting grains to make your own sprouted flour! So what do you do?
No Knead Bread Made with Yeast
As I have shared with you in the past, I am not a fanatic when it comes to making traditional foods. Yes, sourdough is great, and so is bread made with sprouted flour. They're both easy to digest and allow our bodies to absorb nutrients more easily. However, those two types of bread can also seem daunting to make to those new to traditional foods.
So when it comes to making bread as a beginner, I have no problem helping you learn this skill—as you're starting out—by making a no knead sandwich bread that uses yeast.
With this recipe, there's no need (sorry for the pun) to worry about the finger-poke test or the window-pane test. And even better, you don't have to worry about a sourdough starter. All you have to do is mix six simple ingredients (that are available at pretty much every grocery store) together to create your dough, let the mixture rise for about an hour and a half, then transfer your dough to a loaf pan for another short rise…and then bake it. There is very little work on your part. And then…Voila!…Fresh homemade bread in few hours! And your home-baked sandwich bread is going to be better than anything you can buy at the grocery store.
More Bread Recipes
Now that you've created your no knead sandwich bread, try out my faster no knead bread that creates a bakery worthy "boule" with very little work on your part! It's perfect for the beginner! You may also be ready to venture into the world of sourdough and sprouted grain breads. If so, be sure to check out my Foolproof Sourdough Starter made with rye flour and my Complete Guide to Sourdough Starter that will walk you through a step-by-step process for making a starter with all-purpose flour.
Once you're ready to bake some sourdough bread, I've got you covered with three great recipes, including a No Knead Sourdough Bread, a Traditional Sourdough Boule, and a No Knead Spelt Boule.
Stay in Touch with Mary's Nest
Subscribe to My YouTube Channel for Traditional Foods Videos (Free) - When you subscribe, be sure to click on the notification bell that will let you know each time I upload a new video.
Subscribe to Mary's Traditional Foods Newsletter (Free) - Get a free 36-page eBook for signing up: How to Stock Your Essential Traditional Foods Four-Corners Pantry.
Join the Traditional Foods Kitchen Academy (Optional Paid) - For more detailed videos, live streams, and exclusive members-only perks, join my YouTube membership community.
Order The Modern Pioneer Cookbook (Optional Paid) - Get a printed book of Mary's nourishing recipes from a Traditional Foods Kitchen. This bestselling cookbook is published by Penguin Random House with their DK imprint.
I look forward to having you join me in my Texas Hill Country Kitchen!
No Knead Sandwich Bread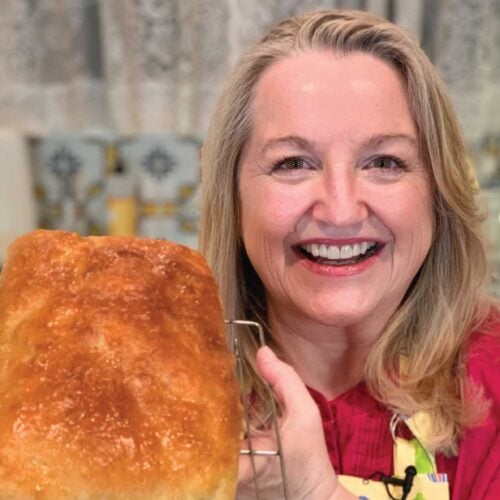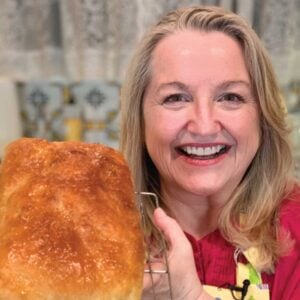 Learn How to Make Super Soft No Knead Sandwich Bread with this easy recipe.
Equipment
2 Loaf Pans (approximately 8 1/2" X 4 1/2")
Ingredients
6

cups

All-purpose flour

1

tablespoon

Fine ground sea salt

1

tablespoon

White sugar

Can substitute alternative sugars such as Sucanat.

1/4

stick

Butter, melted

1/4 stick butter = 2 tablespoons. Oil such as coconut oil, avocado oil, or olive oil can be substituted. Avoid using highly processed vegetable, oils such as canola oil or corn oil.

3

cups

Water, warm

Temperature should be 110°F if using active yeast, up to 130°F if using instant yeast. Warm to touch is sufficient.

2 1/4

teaspoons

Dry yeast, active or instant

2 1/4 teaspoons of yeast is equivalent to one 1/4 ounce packet of yeast.
Instructions
Whisk together in a large bowl flour, salt, sugar, and yeast.

Add water and melted butter (or oil if using) to bowl with flour mixture.

Mix all ingredients until they come together to form a wet, "shaggy" (sticky) dough.

Cover dough with a plastic wrap or a towel dusted with flour (so the dough will not stick to the towel), place the bowl of dough in a warm place, and allow the dough to rise for 1 1/2 hours if using instant yeast or 1 3/4 hours if using active yeast. Baker's Tip: A "warm" place in your kitchen can be in an oven that is off but has an electric light or pilot light on. An alternate warm place can be on top of a refrigerator. (Watch the video for additional tips on how to keep your dough warm as it rises.)

After the rise time, deflate the dough by pressing down on the dough with your hands. Afterward, divide the dough into two equal portions. Handling the dough is best done with well-greased hands.

Take two well-buttered loaf pans and transfer equal portions of dough into each loaf pan. Even out the dough into the corners of the pans using well-greased hands. (The dough will be very sticky.) This is a very important step. Make sure that the loaf pans are VERY well-buttered (or oiled if using butter alternative). This will ensure that the exterior sides and bottom of the bread will be soft.

Pre-heat the oven to 375°F with oven rack in the middle position.

Leave the dough in the loaf pans, uncovered, and allow to rise in a warm place for approximately 40 minutes (as the oven is pre-heating) until the dough is even with the rim of the loaf pan. In a warm kitchen, this rise can take less than 40 minutes.

Place loaf pans on a rack in the oven, and allow to the dough to bake for approximately 40 minutes until the top crust is golden brown. When you tap the top of the loaf, it should sound hollow.

Using pot holders, remove the loaf pans from the oven and place the pans on a cooling rack. Immediately brush each top crust with butter. Then, remove the bread from the loaf pans and transfer the bread onto the cooling rack.

Allow the bread to cool completely before slicing.

Bread can be stored at room temperature in a bread box or cloth bag. It will stay fresh for 2-3 days. Bread can also be stored in the refrigerator, well-wrapped (such as in a plastic storage bag), in the refrigerator. It will stay fresh for up to 1 week.
Notes
You can cut this recipe in half to make one loaf of bread.  You will cut all the ingredients in half—except the yeast.  You will still use the same amount of yeast, whether you make one loaf or two loaves of bread.
Find this recipe and video at https://marysnest.com/no-knead-sandwich-bread/
Copyright © 2020 Mary's Nest, LLC, All Rights Reserved
Watch Mary's Nest on YouTube
Shop for items used in this blog post or video
Favorite Bread Making Supplies
Use promo code MARYSNST for a one-time 15% off Masontops and Breadsmart products on Amazon.com.
Learn more about Mockmill electric grain mills for making fresh flour and their Flake Lover's Flaker that flakes whole grain in minutes.
Favorite Yeasts for Bread Making
Recommended Reading
Amazon Shop and Shopping Guide
Visit my Shopping Guide page
Get up to 15% off for stocking your Traditional Foods Pantry and equipping your Modern Pioneer Kitchen, including discounts from US Wellness Meats, Farmhouse Teas, Lehman's, Masontops, Cultures for Health, Survival Garden Seeds, Redmond Real Salt, Plan to Eat, and More!
**Disclaimer: I am not a medical doctor, a medical professional, a dietician, or a nutritionist. All content found on the MarysNest.com website, including text, images, videos, eBooks or eGuides, social media, or other formats, were created solely for informational purposes only. The content is not intended to be a substitute for professional medical advice, diagnosis, or treatment. Always seek the advice of your physician or other qualified healthcare provider with any questions you may have regarding a medical condition or proper nutritional advice. Never disregard professional medical advice or delay in seeking it because of something you have watched in a video or read on this website. Use caution when following the recipe in this video. The creator and publisher of this video and website will not be held responsible for any adverse effects that may arise from the use of this recipe and method or any other recipe and method on this website or corresponding video channel.