Ancient Home Remedy for Colds and Flu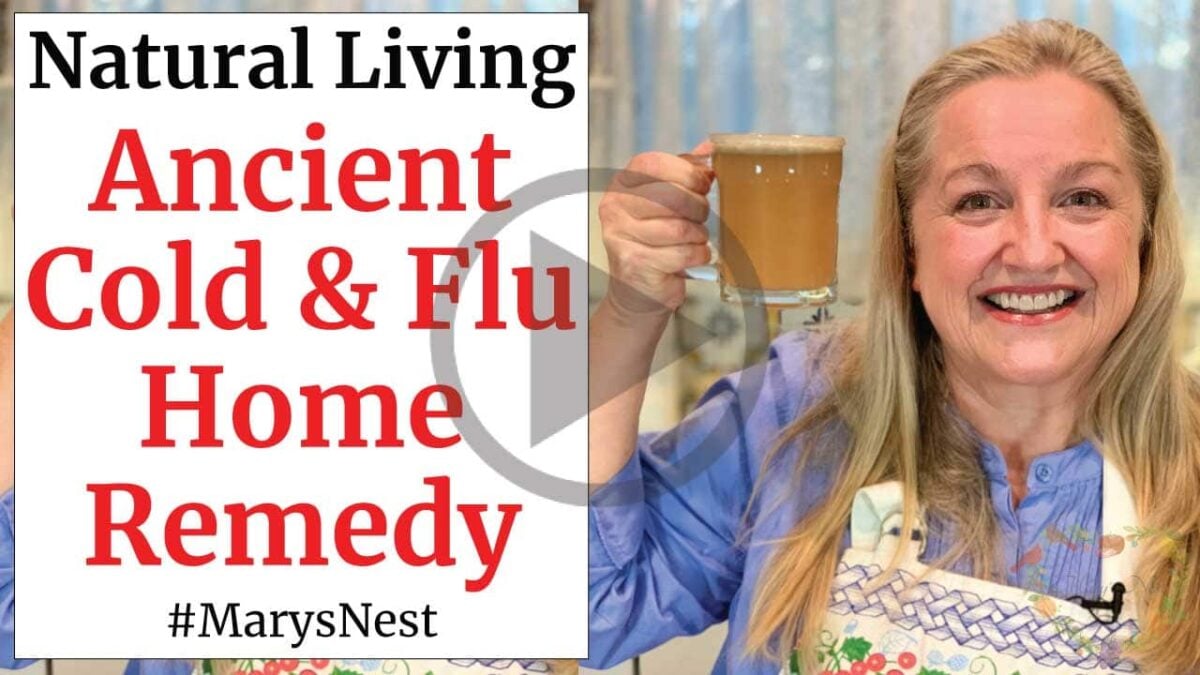 If you feel you might be coming down with the sniffles, this recipe provides you with a quick and easy yet Ancient Home Remedy for Colds and Flu that can be made with 1, 2, or 3 simple ingredients and be ready in 30 minutes.
*Affiliates note: As an Amazon Associate I earn from qualifying purchases. My content may contain affiliate links to products and services. If you click through and make a purchase, I'll receive a small commission. It does not affect the price you pay.
No Special Ingredients Needed
The nice feature about this Ancient Home Remedy is that you can make the recipe with one simple ingredient! However, you can get fancy and add two or three more ingredients to boost its healing power.
What are these magical ancient ingredients? You will be surprised to learn you may already have these basic pantry staples on hand. The first ingredient is an onion. Yes, a simple onion! And we're going to start making this ancient remedy by using that humble onion to make a broth.
Ancient Home Remedy Revered
Our ancient Greek and Roman ancestors knew that the onion had healing powers. Today, many folks may turn their nose up to the simple onion because it can make our breath smell. But not our ancestors. They revered the onion in all its forms, whether eating the actual onion or making it into a broth, skins and all. They wasted nothing!
And you will be astonished to learn that the ancient Romans revered the onion to such a degree believing in its healing—and strengthening—powers that the Gladiators rubbed down their skin with onions!
Ancient Home Remedy Perfection
Not unlike the onion, another ingredient often turned to by our ancestors when they were sick was garlic. Just as with the onion, they were not afraid of its aroma. They welcomed it! Remember, these folks did not have antibiotics, so they had to, in essence, make homemade antibiotics.
And like the onion, our forefathers wasted nothing. Ancient civilizations included garlic skins, as with onion skins, in many ancient remedies. Today, we know that both garlic skins and onion skins are rich in vitamins including A, C, and E, as well as numerous antioxidants, including the flavonoid quercetin, which is a potent antioxidant and anti-inflammatory. So to improve the healing properties of our onion broth, we'll add in some garlic too!
Learn more about the healing properties of these foods with the following resources:
Feeling the Chills? Try Ginger
Nutritionists consider ginger to be a thermogenic spice because it produces heat in our bodies. It helps us warm up internally when we feel cold or feel the chills that may often accompany colds or flu.
Ginger was used in China for medicinal purposes for centuries long before it made its way to the Greeks and Romans. Once it arrived through trade, it became a popular spice, but one that was often reserved for the wealthy. Later, our ancestors of the Middle Ages started using it more commonly and embraced it for its healing properties.
A nice feature about ginger is that if you find the onion broth or the onion/garlic broth pungent, adding a bit of ginger can smooth out the flavor by infusing a bit of pleasant sweet spice.
Short on Time?
What happens if you start to feel a bit under the weather, but you haven't had the chance to make tonics like Elderberry Syrup or Rose Hips Syrup? Or what if you don't have the time to let a Fire Cider steep for weeks?
Having this Ancient Home Remedy recipe like this broth that comes together in 30 minutes can be very comforting.
REALLY Short on Time?
If your ancient home remedy onion broth is simmering, but you need something ASAP, I have you covered! Now, this following recipe is not an ancient home remedy, but it is one from my childhood. This remedy is something my mom would whip up in the blender—literally within a minute—whenever I showed signs of the sniffles.
You can take this delightful lemony sweet tonic by the teaspoon full, or you can add it to a hot cup of tea. It only uses four ingredients, which I'm confident you have in your pantry. Watch the recipe video for this Home Remedy for Colds and Flu, and it will be ready in minutes.
Free 36-Page Pantry List eBook
Speaking of ingredients in your pantry, be sure to get a copy of my comprehensive eBook, "How to Stock Your Essential Traditional Foods Four-Corners Pantry." This detailed pantry list will give you the essential items to stock in your working pantry, refrigerator, freezer, and extended pantry. Learn how to download a copy of this in-depth reference today!
And did you know the extended pantry is also called your "Prepper Pantry?" Learn how to stock your Prepper Pantry with real foods with the following video.
Integrative Medicine with Andrew Weil
If you have been with me for a while, you know that I am a fan of integrative medicine—an approach that integrates modern medical treatments with those of traditional healing practices to best help the patient.
Dr. Andrew Weil is a pioneer in this field, and I highly recommend his book Spontaneous Healing to learn more about integrative medicine. Dr. Weil is an authority in the subject of how best to integrate modern medicine with ancient healing systems, ranging from traditional Chinese medicine to the Indian practice of Ayurveda.
You can learn more about Dr. Weil and the Center of Integrative Medicine that he founded in Arizona with the following reference:
An Ayurveda Recipe Video for Gut Health
Scientists tell us that the better gut health we are able to maintain, the healthier we are overall. So on that note, if you have had any problems with your digestive health and need some food to soothe your gut so that you can begin to improve its overall health, be sure to try my Kitchari recipe. You'll find it easy to make and very tasty!
More Immune Boosting Recipes
Now that you know how to make this Ancient Remedy, be sure to watch the following recipe videos and stock your pantry with these other Immune Boosting Foods and Home Remedies for Modern Pioneer Living.
Stay in Touch with Mary's Nest
Subscribe to My YouTube Channel for Traditional Foods Videos (Free) - When you subscribe, be sure to click on the notification bell that will let you know each time I upload a new video.
Subscribe to Mary's Traditional Foods Newsletter (Free) - Get a free 36-page eBook for signing up: How to Stock Your Essential Traditional Foods Four-Corners Pantry.
Join the Traditional Foods Kitchen Academy (Optional Paid) - For more detailed videos, live streams, and exclusive members-only perks, join my YouTube membership community.
Order The Modern Pioneer Cookbook (Optional Paid) - Get a printed book of Mary's nourishing recipes from a Traditional Foods Kitchen. This bestselling cookbook is published by Penguin Random House with their DK imprint.
I look forward to having you join me in my Texas Hill Country Kitchen!
Shop for items used in this blog post or video
Favorite Kitchen Supplies
Use promo code MARYSNST for a one-time 15% off Masontops and Breadsmart products on Amazon.com.
Use my Mockmill affiliate link for a special one-time 5% discount on Mockmill Stone Grain Mill products, including the new Flake Lover's Flaker. (The Mockmill discount will appear when you checkout.)
Amazon Shop and Shopping Guide
Recommended Reading
**Disclaimer: I am not a medical doctor, a medical professional, a dietician, or a nutritionist. All content found on the MarysNest.com website, including text, images, videos, eBooks or eGuides, social media, or other formats, were created solely for informational purposes only. The content is not intended to be a substitute for professional medical advice, diagnosis, or treatment. Always seek the advice of your physician or other qualified healthcare provider with any questions you may have regarding a medical condition or proper nutritional advice. Never disregard professional medical advice or delay in seeking it because of something you have watched in a video or read on this website. Use caution when following the recipe in this video. The creator and publisher of this video and website will not be held responsible for any adverse effects that may arise from the use of this recipe and method or any other recipe and method on this website or corresponding video channel.