With Valentine's Day around the corner, I started thinking about some of the treats I've made from sweet recipes for my loved ones, especially for my sweet husband Ted. Over the years, I've made many chocolate desserts, cakes, and cookies that we've both enjoyed and shared with friends and family.
As you can see from this dessert case at Central Market, there are lots of store-made treats you can purchase for your sweetie, and my sweet husband has surprised me with such desserts on special occasions. He doesn't cook much, so he looks for opportunities to bring treats home for me for celebrations.
Since I love to work in the kitchen, I look for ways to make treats for him by creating homemade goodies. These dessert delights have a special ingredient, which is the love that a home cook can give to her sweetie or her family. Of course, you do that too, whenever you make something homemade, whether a dessert, main meal, or any dish.
In this blog post, I share recipes made with chocolate, as well as cakes and cookies that you can make with love for your sweetie or your sweet family. And where we can, I show you how to make these desserts healthier but no less tastier, so you know that you're making and giving a nutritious and sweet treat.
*Affiliates note: As an Amazon Associate I earn from qualifying purchases. My content may contain affiliate links to products and services. If you click through and make a purchase, I'll receive a small commission. It does not affect the price you pay.
Benefits of Chocolate
Who can resist chocolate? I know I can't. If you've watched my working pantry video, you'll see that I have chocolate bars that I've stored after shopping trips to Aldi, HEB, and other grocery stores. If they are on sale or it's a good buy, I like to buy a bar or two for a special treat with hot tea after a meal.
You've heard of chocolate being good to you. It is, in moderation, as are many things. However, milk chocolate, although delicious, has a lot of sugar, and that outweighs any health benefits that chocolate can give you.
Dark chocolate, on the other hand, can be beneficial. As the following reports show, dark chocolate helps to provide antioxidants and flavanols that benefit your heart. In addition, if you eat dark chocolate with at least 85% cocoa, you may also improve your gut health and your mood. (I could have told the researchers without a formal study that most everyone feels better after eating chocolate!)
Sweet Recipes with Chocolate
Now that we're all thinking about chocolate, here are some recipes that use this tasty ingredient to produce some delicious treats. Although one can think of chocolate truffles as a holiday gift, I'm sure your sweetie will not turn down your homemade truffles at any time of the year.
And although it may be too cold outside to enjoy homemade ice cream without a jacket, hot chocolate would be perfect to enjoy with your sweetie by a crackling fireplace during these cooler months. (Come to think of it. Some ice cream might be nice inside by the fire too.)
Delicious Cake Recipes
I didn't forget chocolate cake! You can make that too, along with yellow and spice cake. In the following video, I show you how to create three healthy make-ahead cake mixes that you can store in your pantry for special occasions or make right after you create the mix to enjoy after a traditional foods meal.
And if you like creating make-ahead mixes, I have more on my website, including healthy make-ahead cookie mixes, that I will talk more about later.
If you lean towards more fruit in your cake, I show you how to make a traditional Irish apple cake in the following recipe video. Yes. This cake would be perfect for St Patrick's Day, but since you can quickly pull the ingredients together and mix them in one bowl, you can have this treat for your sweetie for any occasion in just about an hour.
And speaking of apples, this Apple Butter Cake uses the ancient grain Einkorn to provide more nutrition and a richer flavor than plain white flour.
Grind Your Own Flour with the Mockmill
If you like to store whole grains, such as Red Wheat Berries or Einkorn, in your extended or Prepper Pantry because of their extended shelf life, you'll need a manual or electric grain mill to turn the whole grains into flour.
When it comes to electric grain mills, after I did A LOT of research, I decided to buy a Mockmill. And am I so happy I did! The Mockmill is a very affordable but beautifully crafted German-made mill that stone grinds grain with settings ranging from 1 to 10—fine to coarse ground grain.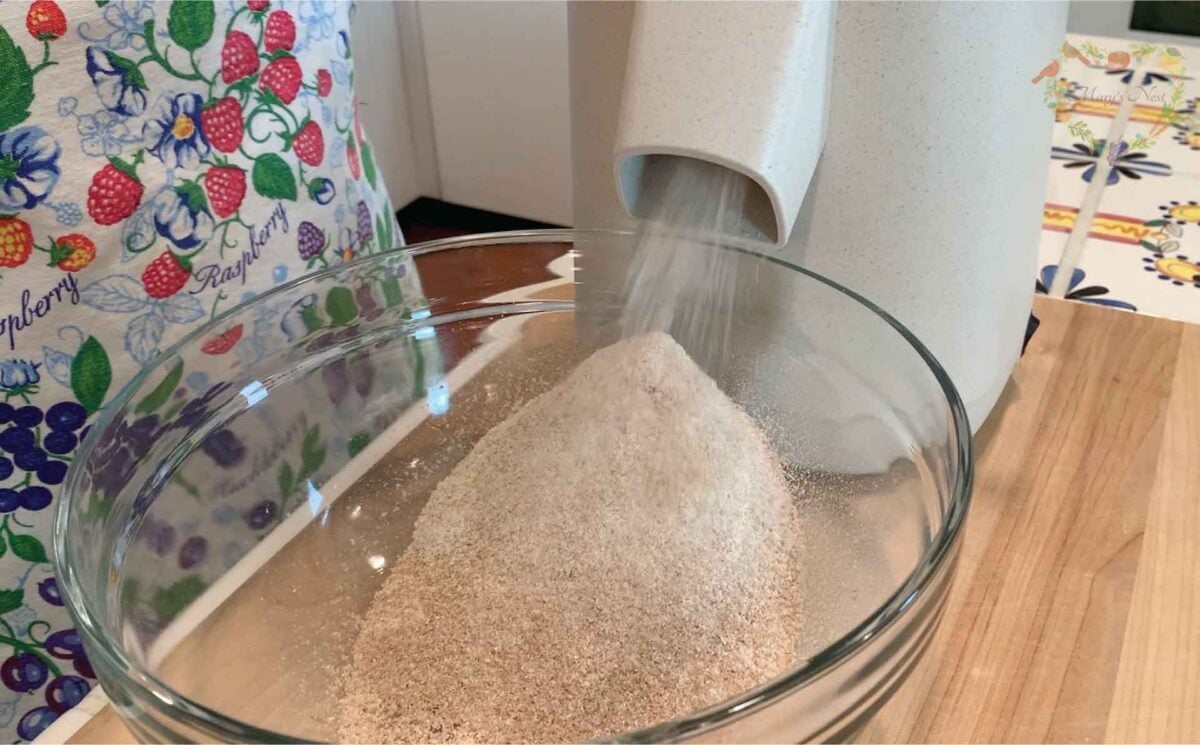 And I have great news! The folks at Mockmill are very kind to offer my viewers and readers a special one-time discount on any of the grain mills that they sell.
Note: You can also get the new Flake Lover's Flaker from Mockmill. Using this device, you can flake whole grain in minutes.
You can see me unbox and try out the Mockmill 100 Grain mill in the following video. (This is not a sponsored post, I bought the Mockmill products that I show you, and I'm a happy user of their devices in my kitchen.)
Tasty Cookie Recipes
Now, no discussion of sweet treats would be complete without discussing cookies. You and your sweetie can enjoy these small treats as a tasty snack or with some milk after a meal.
I used to make Healthy Cowboy Cookies for my sweet husband Ted to take to the office when he worked away from home. They were so tasty and better for him than the junk food machine that he might be tempted to visit in the afternoon when he might be hungry while developing a new software program.
These cookies are healthier than regular cookies because we use some of the same ingredients that we thoughtfully choose for our other traditional foods recipes. For one, the cookies are made out of whole grain and are packed with oatmeal, chocolate chips, nuts, raisins, and coconut. (Humm. Chocolate seems to show up in a lot of treats for our sweeties.)
In addition, instead of using white sugar that has all the nutrients stripped from it, I use sucanat, which stands for sugar cane natural. This unrefined dried sugar cane is rich in vitamins and minerals. Yes, it still has sweetness, and that's a good thing because, along with the sweet taste, you're also getting the benefits of a whole natural sweetener with a richer flavor than plain white sugar.
I'm sure these Cowboy Oat Cookies at the grocery store are delicious in the following picture, but you only get six for $7.49. You can save money by making your Cowboy Cookies homemade. Plus, you can choose the ingredients you want to use.
If you liked putting together the three healthy make-ahead cake mixes, you'll also enjoy assembling these five healthy make-ahead cookie mixes. Your mixes will be ready for baking now or in the future to delight your sweetie on a special occasion:
Soft Cut-Out Sugar Cookie Mix
Chocolate Chip Cookie Mix
Soft and Chewy Oatmeal Raisin Cookie Mix
Peanut Butter Cookie Mix (or other "nut" butter)
Snickerdoodle Cookie Mix
Sweet Recipes Bring Back Sweet Memories
Does eating certain foods bring back memories for you? It does for me. Enjoying apple pie transports me back in time to when I was a child, and my mom made this baked pie filled with cinnamon apple goodness for my dad and me. She knew my dad loved apple pies, so she made them homemade with love and shared her love with us.
When I eat a Snickerdoodle cookie, I'm transported back to when Ted and I were dating, and we stopped by a coffee shop after watching a movie at Lakeline Mall in Austin. We enjoyed cappuccinos and Texas-sized Snickerdoodles. I had never had these cookies before, but my sweetie loved their soft texture and cinnamon sweetness.
After we married, I remembered one of his favorite cookies, learned how to make them, and surprised him one evening with them. He loved them, and as we both enjoyed the cookies, we held hands together and were transported back to that wonderful coffee shop in North Austin.
I hope these recipes bring back beautiful memories or help you make new ones with your sweetie and those you love. 😊
Download Your Free 36-Page Pantry List
For an extensive list of the traditional foods you can make and purchase to stock your pantry, be sure to download my free 36-page Traditional Foods Pantry List. This comprehensive eBook is full of links to recipe videos, helpful articles, and more!
Kitchen Academy Videos
Are you looking for more traditional foods videos? If so, I invite you to join the Traditional Foods Kitchen Academy. Members of this optional paid YouTube community get access to exclusive videos, live streams, and other members-only perks. Plus, your YouTube comments include a special members-only badge.
The following members-only video is a replay of an earlier live stream, where we discussed various topics, including grinding grain, using different sweeteners, and the shortage of canning supplies.
Stay in Touch with Mary's Nest
Subscribe to My YouTube Channel for Traditional Foods Videos (Free) - When you subscribe, be sure to click on the notification bell that will let you know each time I upload a new video.
Subscribe to Mary's Traditional Foods Newsletter (Free) - Get a free 36-page eBook for signing up: How to Stock Your Essential Traditional Foods Four-Corners Pantry.
Join the Traditional Foods Kitchen Academy (Optional Paid) - For more detailed videos, live streams, and exclusive members-only perks, join my YouTube membership community.
Order The Modern Pioneer Cookbook (Optional Paid) - Get a printed book of Mary's nourishing recipes from a Traditional Foods Kitchen. This bestselling cookbook is published by Penguin Random House with their DK imprint.
I look forward to having you join me in my Texas Hill Country Kitchen!
Trending Posts on Mary's Nest
---
Shop for items used in this blog post or video
Favorite Prepper Pantry Supplies
Favorite Kitchen Supplies
More Kitchen Supplies with Discount Codes
Use my Mockmill affiliate link for a special one-time 5% discount on Mockmill Stone Grain Mill products, including the new Flake Lover's Flaker. (The Mockmill discount will appear when you checkout.)
Use promo code MARYSNST for a one-time 15% off Masontops and Breadsmart products on Amazon.com.
Amazon Shop and Shopping Guide
Visit my Shopping Guide page
Get up to 15% off for stocking your Traditional Foods Pantry and equipping your Modern Pioneer Kitchen, including discounts from Lehman's, Mockmill Grain Mill, Masontops, Cultures for Health, Survival Garden Seeds, Redmond Real Salt, Plan to Eat, US Wellness Meats, and More!
Recommended Reading
**Disclaimer: I am not a medical doctor, a medical professional, a dietician, or a nutritionist. All content found on the MarysNest.com website, including text, images, videos, eBooks or eGuides, social media, or other formats, were created solely for informational purposes only. The content is not intended to be a substitute for professional medical advice, diagnosis, or treatment. Always seek the advice of your physician or other qualified healthcare provider with any questions you may have regarding a medical condition or proper nutritional advice. Never disregard professional medical advice or delay in seeking it because of something you have watched in a video or read on this website. Use caution when following the recipe in this video. The creator and publisher of this video and website will not be held responsible for any adverse effects that may arise from the use of this recipe and method or any other recipe and method on this website or corresponding video channel.