How to Make Affordable Bone Broth Using Beef Feet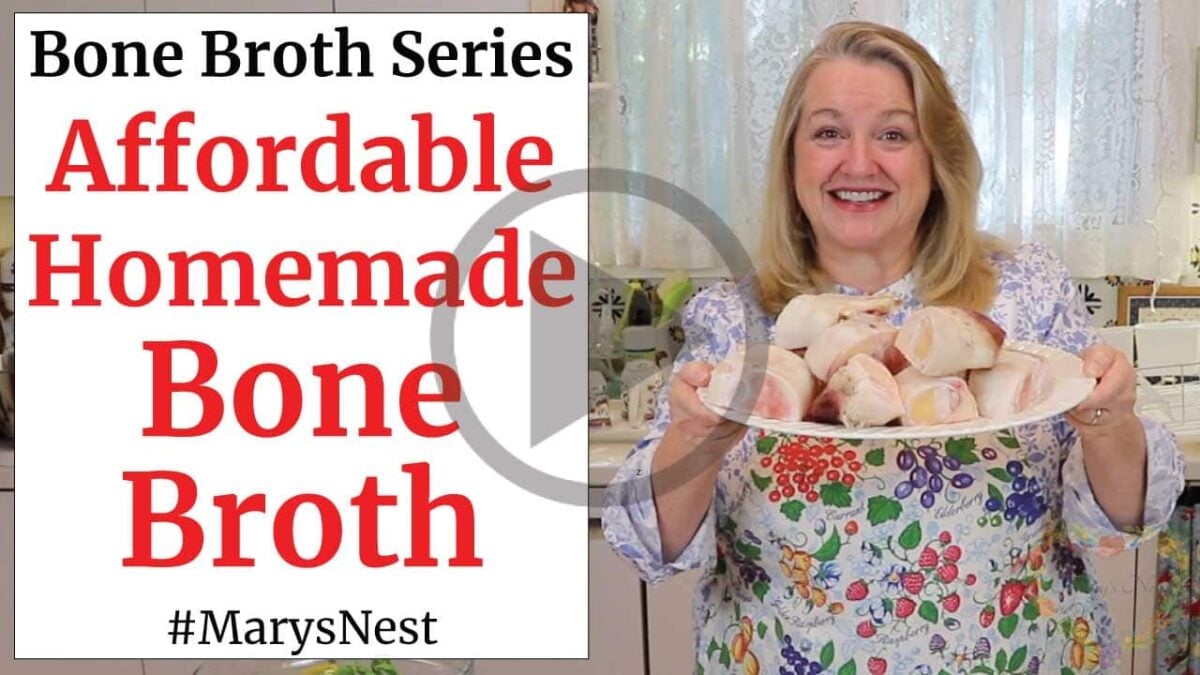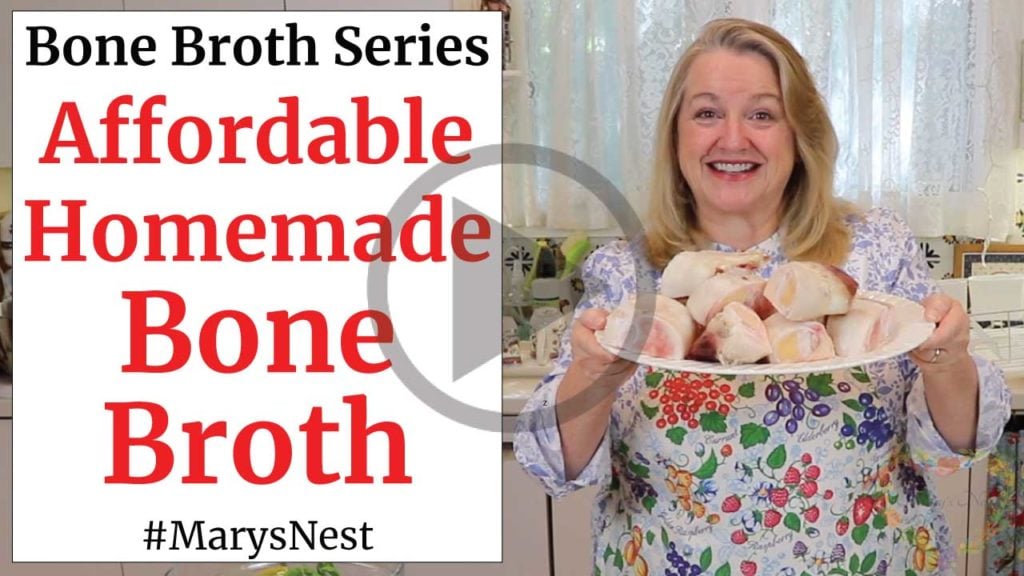 If the rising prices of beef bones for making bone broth exceed your grocery budget, you will be delighted to learn how to make affordable bone broth using beef feet.
Yes! Beef feet! They are rich in collagen, and when you cook them, the beef feet create gelatin. The resulting highly-gelatinous bone broth soothes our digestive systems and nourishes our skin, hair, and nails.
*Affiliates note: As an Amazon Associate I earn from qualifying purchases. My content may contain affiliate links to products and services. If you click through and make a purchase, I'll receive a small commission. It does not affect the price you pay.
Affordable Bone Broth Made with Beef Feet
Beef feet often costs as little as $2.00 per pound, which is significantly cheaper than other beef bones that can run in excess of $5.00 per pound and even up to $15.00 per pound. The price difference between $2 and $15 is significant!
Many grocery stores will carry beef feet. But if you can't find them at your local market, chances are that any ethnic grocery store will sell them.
How to Make Your Beef Feet Bone Broth Gelatinous
Beef feet makes extremely rich and gelatinous bone broth, thanks to the high amount of collagen they contain. However, no matter what type of beef bone broth or any bone broth that you are making, the key to success is following a few simple steps:
After browning your bones in the oven, soak them in your stockpot for one hour. Cover your bones with water mixed with some type of acid, such as wine, fortified wine, vinegar, or lemon juice. Acidulating the water will help to leach the collagen from the bones. Make sure you have just enough water to cover your bones.
After soaking the bones for one hour, add the rest of your ingredients and add water to cover. (For a list of recommended ingredients, consult the printable recipe.) DO NOT add excess water. Having too much water dilutes the potential of the gelatin to form.
Place your filled stockpot on the stovetop, bring everything up to a boil, then immediately turn the temperature down to its lowest setting.
Allow the bone broth to simmer on low for 12 hours.
If you follow these simple steps, your bone broth should be quite rich in gelatin once you strain and cool it.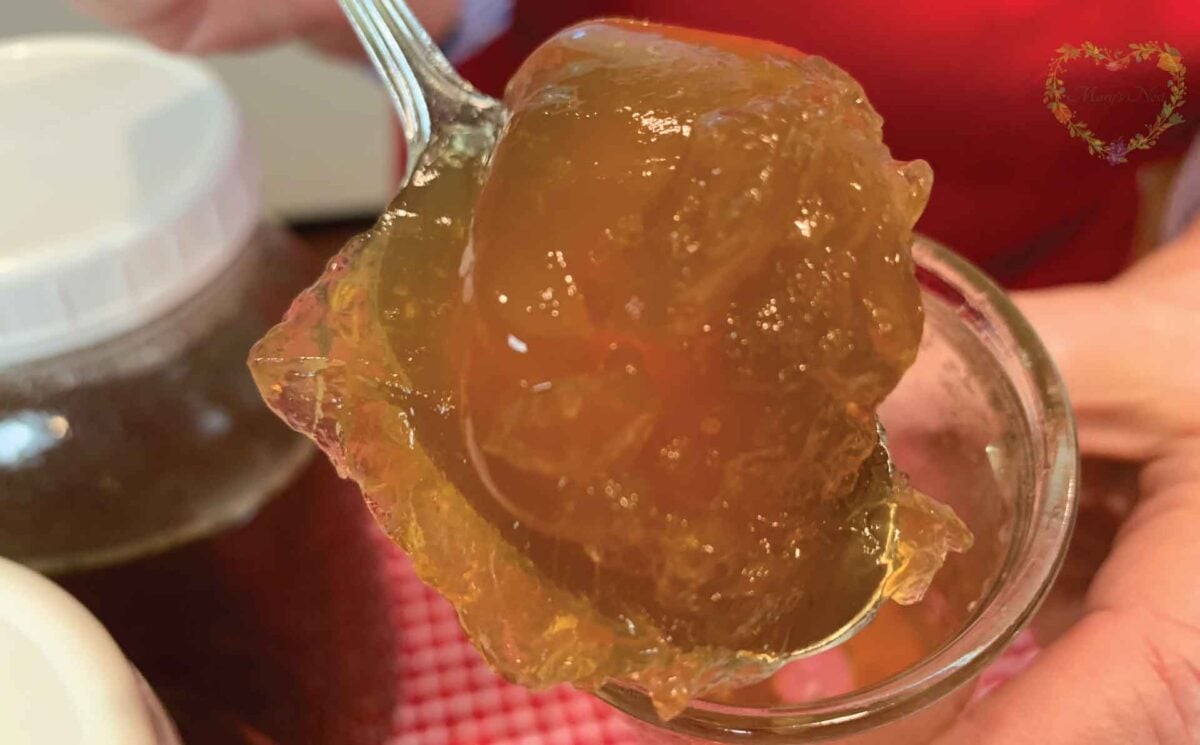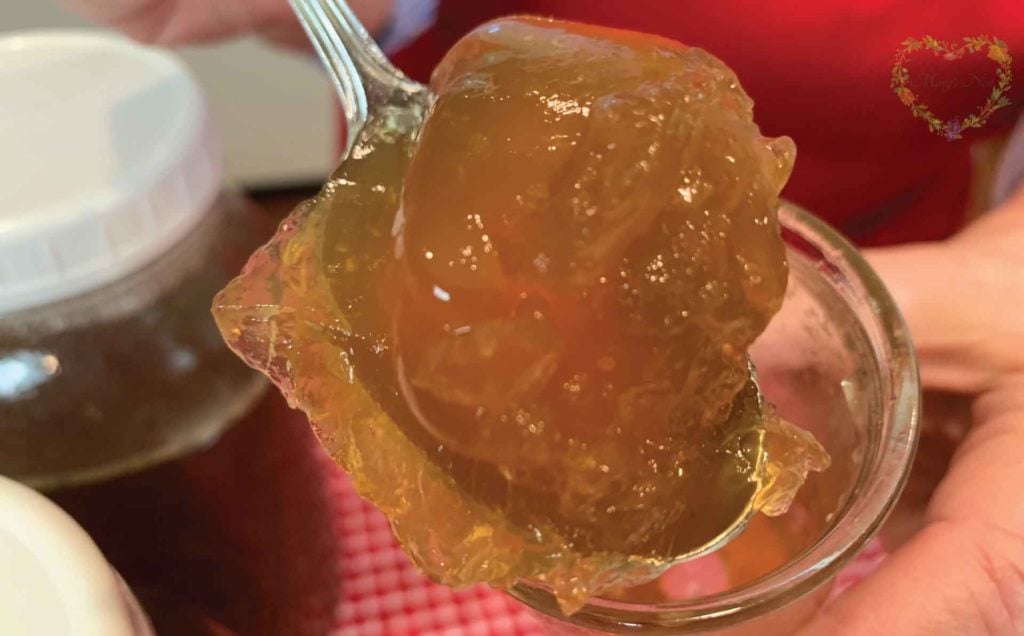 More Beef Bone Broth Recipes With or Without Beef Feet
Making beef bone broth with beef feet is the perfect option to create an affordable collagen-rich bone broth. And it can never hurt to throw in a beef foot when making any type of bone broth to give it a collagen boost.
For more ideas for how to make an assortment of bone broths, including a traditional beef bone broth made in the slow cooker, stovetop, or the Instant Pot, be sure to check out the following videos.
Bone Broth in the Slow Cooker
If you make bone broth in the slow cooker, remember that bone broth likes to simmer at a low temperature. So set your slow cooker on warm or low for the simmer time.
Bone Broth in the Instant Pot
When you make bone broth in the Instant Pot, you will set the internal temperature to "Low." However, even at this setting, the temperature in the Instant Pot will be higher than the temperature at which bone broth generally likes to simmer.
But don't worry. Your bone broth will still be gelatinous, just maybe not as gelatinous as how it would turn out in the slow cooker or on the stovetop. However, even though you will lose a little bit of gelatin, your required simmer time to make bone broth will drop dramatically to just two hours. That's a great trade-off!
Bone Broth on the Stovetop
Although it does require a bit of babysitting, one of my favorite ways to make bone broth is the old-fashioned way on the stovetop, just like our grandmothers did.
Or, if you go way back, our ancestors could have made bone broth on the wood stove top or over an open fire outside in a big cast iron pot! Making bone broth on the stovetop is probably the closest thing to foolproof that any recipe can ever be!
More Bone Broth Tips
I cover a wide range of bone broth topics in the videos below that will probably answer every question you have ever had about bone broth! 😉
You'll learn:
How to use bone broth
What's the difference between broth, stock, and bone broth
What are the best bones for making beef bone broth
What is beef gelatin, and why it's important
And lots more!
Making Other Types of Bone Broth
In addition to beef bone broth, you can make all different types of bone broth, including a simple chicken bone broth that uses the carcass leftover from a roast chicken.
Chicken Bone Broth
The following chicken bone broth recipe literally costs pennies to make! (And be sure to check out the video below, where I share my favorite "secret" ingredient to add to chicken bone broth.)
Fish Bone Broth
Want a thyroid-loving bone broth? Then look no further than fish bone broth. This bone broth takes no more than 45 minutes to make and uses nothing more than a fish carcass and some veggie scraps.
So next time you are at the market, ask your fishmonger for the carcass of a fish. He'll probably sell it to you for about $2.00!
Pork Bone Broth
If you want to know the secret to smooth, wrinkle-free skin, you'll want to make and drink pork bone broth. Like bone broth made from beef feet, pork bone broth is very inexpensive and literally tastes like what some have described as liquid bacon! Yum!
Turkey Bone Broth
And when Thanksgiving rolls around, don't forget to save your turkey carcass and make turkey bone broth!
Looking for Bones for Making Beef Bone Broth?
If you can't find beef bones in your neighborhood supermarket or farmer's market, check out US Wellness Meats for a variety of grass-fed beef bones that will help you make a nutritious and gelatinous beef bone broth.
Use discount code MARYNEST and my link to save 15% off regular-priced items on your US Wellness Meats order. You can shop for a variety of products, including:
This post is not sponsored. I'm a long-time customer of US Wellness Meats because I have always been impressed by the quality of their products. Check out my US Wellness Meats unboxing video to see the types of products you can get, including bones for beef bone broth!
Download Your Free 36-Page Pantry List
As you incorporate more bone broth into your recipe and meal planning repertoire, you will be well on your way to creating a traditional foods kitchen.
I'm here to help you on your journey with an extensive list of the traditional foods you can make and purchase to stock your pantry. Be sure to download my free 36-page Traditional Foods Pantry List for a comprehensive eBook that is full of links to recipe videos, helpful articles, and more!
Kitchen Academy Videos
Are you looking for more traditional foods videos? If so, I invite you to join the Traditional Foods Kitchen Academy. Members of this optional paid YouTube community get access to exclusive videos, live streams, and other members-only perks. Plus, your YouTube comments include a special members-only badge.
In the following members-only video, I talk about the importance of cooking with traditional fats, specifically animal fats.
Stay in Touch with Mary's Nest
Subscribe to My YouTube Channel for Traditional Foods Videos (Free) - When you subscribe, be sure to click on the notification bell that will let you know each time I upload a new video.
Subscribe to Mary's Traditional Foods Newsletter (Free) - Get a free 36-page eBook for signing up: How to Stock Your Essential Traditional Foods Four-Corners Pantry.
Join the Traditional Foods Kitchen Academy (Optional Paid) - For more detailed videos, live streams, and exclusive members-only perks, join my YouTube membership community.
Order The Modern Pioneer Cookbook (Optional Paid) - Get a printed book of Mary's nourishing recipes from a Traditional Foods Kitchen. This bestselling cookbook is published by Penguin Random House with their DK imprint.
I look forward to having you join me in my Texas Hill Country Kitchen!
Trending Posts on Mary's Nest
Shop for items used in this blog post or video
Favorite Bone Broth Making Supplies
Favorite Kitchen Supplies
More Kitchen Supplies with Discount Codes
Use my Mockmill affiliate link for a special one-time 5% discount on Mockmill Stone Grain Mill products, including the new Flake Lover's Flaker. (The Mockmill discount will appear when you checkout.)
Use promo code MARYSNST for a one-time 15% off Masontops and Breadsmart products on Amazon.com.
Amazon Shop and Shopping Guide
Visit my Shopping Guide page
Get up to 15% off for stocking your Traditional Foods Pantry and equipping your Modern Pioneer Kitchen, including discounts from Lehman's, Mockmill Grain Mill, Masontops, Cultures for Health, Survival Garden Seeds, Redmond Real Salt, Plan to Eat, US Wellness Meats, and More!
Recommended Reading
**Disclaimer: I am not a medical doctor, a medical professional, a dietician, or a nutritionist. All content found on the MarysNest.com website, including text, images, videos, eBooks or eGuides, social media, or other formats, were created solely for informational purposes only. The content is not intended to be a substitute for professional medical advice, diagnosis, or treatment. Always seek the advice of your physician or other qualified healthcare provider with any questions you may have regarding a medical condition or proper nutritional advice. Never disregard professional medical advice or delay in seeking it because of something you have watched in a video or read on this website. Use caution when following the recipe in this video. The creator and publisher of this video and website will not be held responsible for any adverse effects that may arise from the use of this recipe and method or any other recipe and method on this website or corresponding video channel.