Making sauerkraut soup is the perfect way to use the last of your winter-fermented cabbage. Or, if you have a craving for a tangy and tasty soup at any time of the year, you can also make this recipe with any homemade or store-bought sauerkraut in your pantry.
You'll turn your fermented cabbage and accompanying ingredients into a delicious soup that will cost you only pennies to make. You can't beat that for a cheap meal, plus nothing goes to waste! This amazing recipe is perfect for your traditional foods kitchen.
The Humble Origins of Sauerkraut Soup
Traditional cultures have a rich history of creating foods that are often referred to as peasant foods or foods of the poor. But there is actually nothing poor about the foods they prepared and ate.
Their foods were often nutrient-rich and are often in great demand by modern cultures. Just look at the popularity of bone broth and fermented foods. We don't seem to be able to get enough of them, and they often sell out at grocery stores!
But the good news is that you can make most peasant foods right in your own kitchen for a fraction of what you would pay for them at your grocery store or at a restaurant.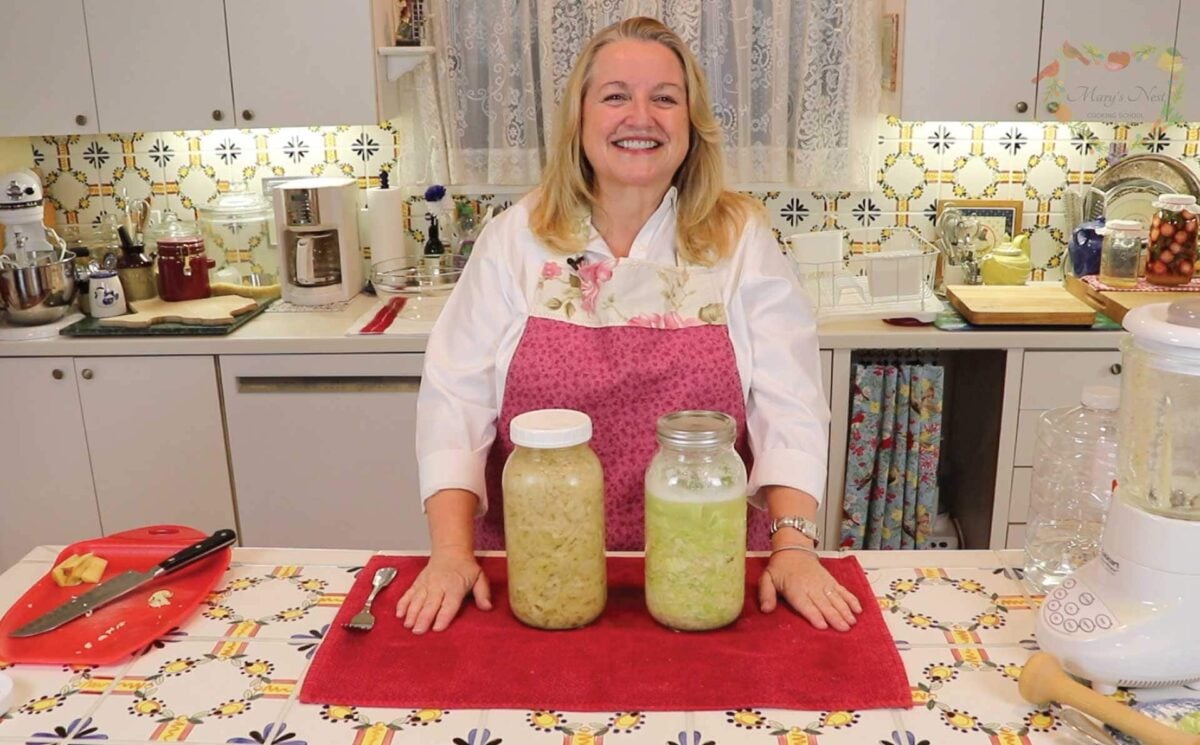 Fermented Cabbage and a No Waste Kitchen
Traditional cultures that fermented cabbage and turned it into sauerkraut had an excellent meal accompaniment to enjoy throughout the winter when fresh vegetables were in short supply. And even better is the fact that cabbage, once fermented and turned into sauerkraut, is high in vitamin C. When manufactured medicines were uncommon, this additional Vitamin C helped to boost immunity during the colder months when colds and flu were more likely to take hold.
Sauerkraut soup is a treasured old-fashioned recipe, and many home cooks have their own special version. Traditional frugal home cooks always made sure to never waste precious food. And sauerkraut soup was an ingenious way to use up the last little bit of remaining sauerkraut when spring rolled around.
Popular in German, Polish, as well as many Eastern European countries, you can find a variety of recipes for how to make this tasty soup. You may even see this soup referred to as Polish Sauerkraut Soup or Kapusniak. These types of home-cooked soups are often the most friendly to our grocery budgets and make use of what we have on hand.
Budget-Friendly Sauerkraut Soup
Sauerkraut soup is probably one of the most budget-friendly soups you will make. You can make this soup with very humble ingredients, as I do in this particular recipe.
In place of the more costly bratwurst commonly found in sauerkraut soup, I use potatoes. But don't worry. Even with replacing the meat with potatoes, this soup still makes for a hearty and nourishing meal.
You might be thinking that it's all well and good to make an affordable soup that is easy on the budget, but with sauerkraut…really? How could a hot soup made with a tangy ferment actually be tasty? Well, let me assure you, it is!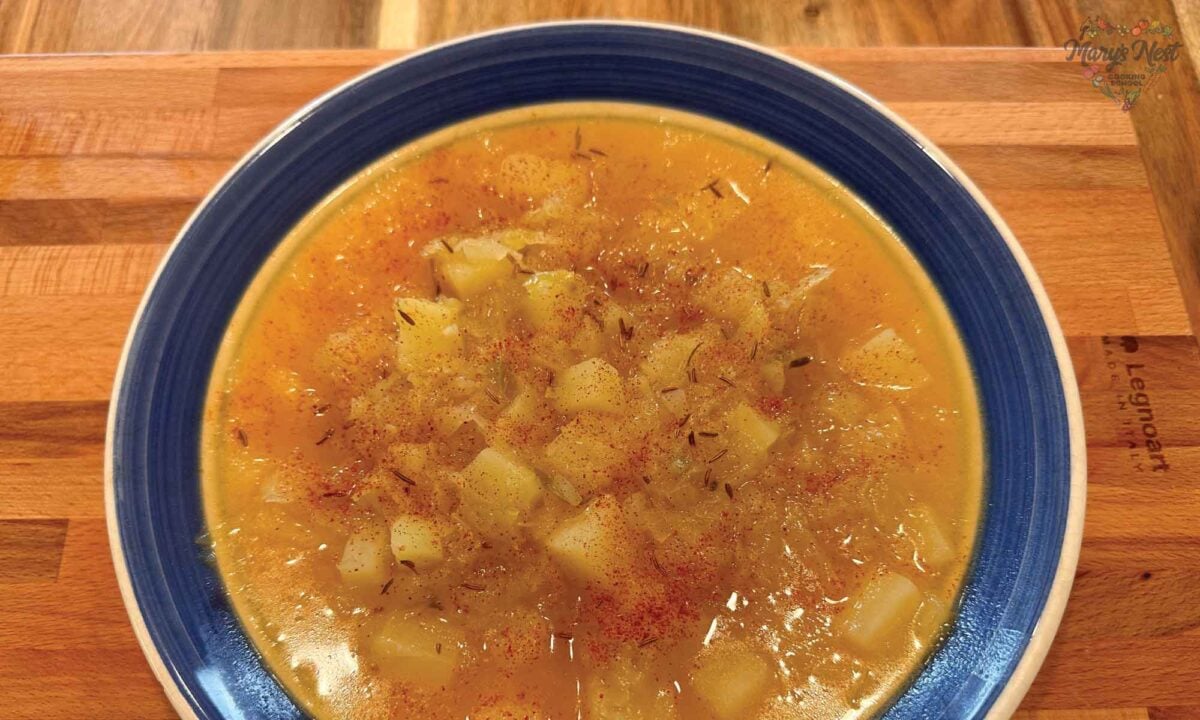 Popular Recipe in The Texas Hill Country
You are going to be surprised at how delicious sauerkraut soup really is. If it wasn't, it wouldn't have been passed down through the generations of traditional cultures. In fact, this recipe is still being made today, and it is a popular and highly requested soup at a little diner called the Blue Bonnet Cafe here in the Texas Hill Country.
German immigrants who settled in this part of the United States brought their sauerkraut soup with them. Texans embraced this dish and inhaled it by the bowl fulls!
When I made this particular version with potatoes, my husband was a bit wary of how it was going to taste, but after finishing his first bowl, he went back for seconds! And you will too! Try this soup once, and it will become a regular feature and most likely a much-requested soup as part of your meal planning rotation.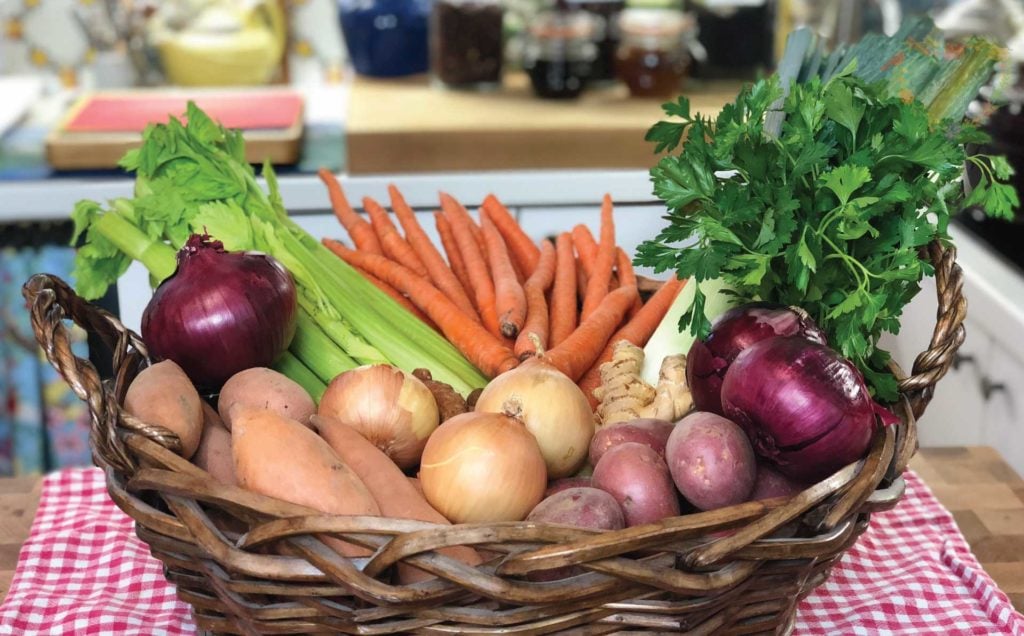 Making a Vegetarian Version of Sauerkraut Soup
You can easily modify the recipe for sauerkraut soup that I share into a vegetarian dish by simply substituting a vegetable broth instead of the chicken bone broth I use. (I like to use bone broth whenever I can in place of water to help ramp up the nutrition of my soups.) However, the vegetable broths that I recommend you use to turn this soup into a vegetarian soup are what I like to call Super Mineral Broths.
Super Mineral Broth Recipes
These types of broth are not your average vegetable broth. Instead, they use a collection of vegetables, herbs, and spices, turning a humble vegetable broth into one teaming with minerals. This combination of minerals can help improve our health and wash our internal systems with micronutrients often lacking in the Standard American Diet. (That's right. The acronym is SAD. I kid you not!)
By consuming this broad spectrum of nutrients regularly, we help give our bodies what they need and avoid dietary deficiencies that can lead to illness and disease.
In the recipe videos I share below, I show you how to make two types of super mineral broths: one on the stovetop and the other in the Instant Pot. Both Super Mineral Broth recipes are different and use different ingredients, and you can make either of them on the stovetop or in the Instant Pot. So feel free to use the stovetop recipe in the Instant Pot or vice versa.
And even if you are not a vegetarian, you'll want to add one of these super mineral broths into your meal preparation rotation. Your body will thank you for the extra nutrients and minerals!
Golden Broth Recipe
If you want to try a very unusual, nutrient-rich broth, be sure to make Golden Broth. This recipe gives you another vegetarian option for making your sauerkraut soup, but you might just fool your palate or those of your dinner guests.
As the name implies, this broth is golden, so it looks like chicken broth and tastes a bit like it too! Your vegetarian friends will certainly be asking you for this recipe!
Videos to Help You With Your Food Budget
Our budgets are stretched to the limit these days, and unfortunately, it looks like we'll see significant food inflation for some time. But the good news is that as traditional foods home cooks, we can shop for nutritious foods while still staying within our budget and preparing delicious and wholesome meals our family and friends will love.
In the videos below, I walk you through how to shop for traditional foods while staying within your grocery budget, and then I show you how to extend the food you purchase to stretch it over many meals. You'll use all the food you buy, and you won't waste a bit!
Creating a Prepper Pantry on a Budget
As you are shopping for traditional foods, always remember to buy a few extra non-perishable foods that you can use to replenish your Working Pantry or tuck away in your Prepper Pantry.
In the video below, I show you how to add just an additional $5.00 per week to your grocery budget to start building up a supply of food so that you never run out of what you need to make a meal—no matter the circumstances!
Now's the time to take stock of all your preps, not just food and water, but everything you may need for an emergency.
Download my free Great Depression Pantry Shopping Guide to identify the Depression Era Foods you need to stock to weather difficult times.
Learn about the products and supplies that will keep your pantry well-stocked. (Includes prices!)
Making Sauerkraut Recipes
If you have never tried your hand at making homemade sauerkraut, this recipe below is for you. I show you step-by-step how easy it is to make, plus I include a little secret ingredient that will ensure that your sauerkraut will come out perfect every time.
Once you learn how to ferment cabbage into sauerkraut, you'll be hooked and will want to graduate to making other ferments!
Even though sauerkraut is already high in Vitamin C, this citrus sauerkraut provides an extra boost of vitamins and minerals that can't be beat. It's the perfect accompanist to any meal when you feel like you're fighting a cold or the flu.
Try Making Other Ferments
As I mentioned above, once you make sauerkraut and see how easy it is, you will want to start making other types of ferments, so be sure to try making these recipes.
Enjoy this Probiotic-Rich Italian Pickle Relish.
Serve these delectable little mouthfuls with your next charcuterie platter!
This probiotic-rich recipe is a tasty way to boost your immune system.
Masontops Mason Jar Fermentation Kit Discount Coupon
Although you don't need any special equipment to start making ferments, the Masontops kit can help you simplify the process and enable you to create your ferment successfully. In my Masontops unboxing video, I show you my Masontops Complete Mason Jar Fermentation Kit and go over everything the kit includes.
Redmond Real Salt
When you make a fermentation recipe, you'll need salt, and when it comes to using salt in my recipes, I always like to use a real salt that has not been processed and does not contain any extra added chemicals or anti-caking agents. Redmond real salt is perfect! And if you'd like to order Redmond Real Salt from their website, be sure to check out my Shopping Guide for a discount coupon code.
Download Your Free 36-Page Pantry List
For an extensive list of the traditional foods you can make and purchase to stock your pantry, be sure to download my free 36-page Traditional Foods Pantry List. This comprehensive eBook is full of links to recipe videos, helpful articles, and more!
The Modern Pioneer Cookbook
And if you're looking for a printed book full of my traditional foods recipes and that shows you how to create a traditional foods kitchen, be sure to preorder your copy of my new book, The Modern Pioneer Cookbook.
Kitchen Academy Videos
Are you looking for more traditional foods videos? If so, I invite you to join the Traditional Foods Kitchen Academy. Members of this optional paid YouTube community get access to exclusive videos, live streams, and other members-only perks. Plus, your YouTube comments include a special members-only badge.
In the following members-only video, I go behind the scenes about the writing of my new book, The Modern Pioneer Cookbook.
Stay in Touch with Mary's Nest
Subscribe to My YouTube Channel for Traditional Foods Videos (Free) - When you subscribe, be sure to click on the notification bell that will let you know each time I upload a new video.
Subscribe to Mary's Traditional Foods Newsletter (Free) - Get a free 36-page eBook for signing up: How to Stock Your Essential Traditional Foods Four-Corners Pantry.
Join the Traditional Foods Kitchen Academy (Optional Paid) - For more detailed videos, live streams, and exclusive members-only perks, join my YouTube membership community.
Order The Modern Pioneer Cookbook (Optional Paid) - Get a printed book of Mary's nourishing recipes from a Traditional Foods Kitchen. This bestselling cookbook is published by Penguin Random House with their DK imprint.
I look forward to having you join me in my Texas Hill Country Kitchen!
Shop for items used in this blog post or video
Favorite Soup Making Supplies
Favorite Kitchen Supplies
More Kitchen Supplies with Discount Codes
Learn more about Mockmill electric grain mills for making fresh flour and their Flake Lover's Flaker that flakes whole grain in minutes.
Use promo code MARYSNST for a one-time 15% off Masontops and Breadsmart products on Amazon.com.
Amazon Shop and Shopping Guide
Recommended Reading
**Disclaimer: I am not a medical doctor, a medical professional, a dietician, or a nutritionist. All content found on the MarysNest.com website, including text, images, videos, eBooks or eGuides, social media, or other formats, were created solely for informational purposes only. The content is not intended to be a substitute for professional medical advice, diagnosis, or treatment. Always seek the advice of your physician or other qualified healthcare provider with any questions you may have regarding a medical condition or proper nutritional advice. Never disregard professional medical advice or delay in seeking it because of something you have watched in a video or read on this website. Use caution when following the recipe in this video. The creator and publisher of this video and website will not be held responsible for any adverse effects that may arise from the use of this recipe and method or any other recipe and method on this website or corresponding video channel.