7 Food Storage Mistakes – And How to Avoid Them!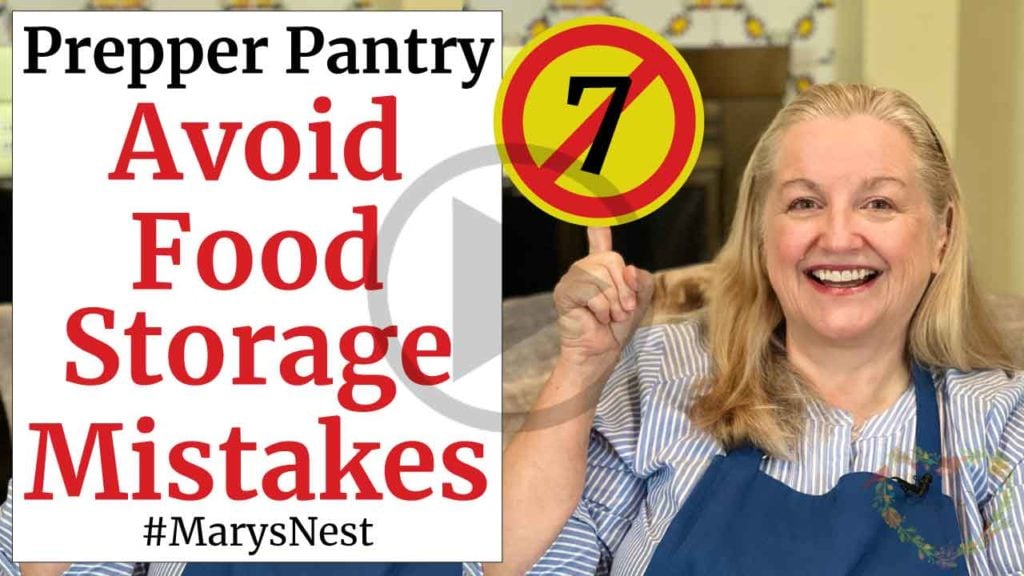 In today's video, I talk about the seven mistakes of food storage and how to avoid them as you're starting or maintaining your Prepper Pantry. Don't worry. I've made some of these mistakes too, but the good news is that once we know about them, we can steer clear of them in our pantries.
*Affiliates note: As an Amazon Associate I earn from qualifying purchases. My content may contain affiliate links to products and services. If you click through and make a purchase, I'll receive a small commission. It does not affect the price you pay.
Creating a Prepper Pantry for Food Storage
All the food in your home is stored in your Four Corners Pantry, which consists of your:
Working Pantry
Refrigerator
Freezer
Extended or Prepper Pantry
You're most familiar with your Working Pantry since that's the pantry you'll access almost every day for the supplies you need to make meals. You'll store your non-perishable foods in your Working Pantry and Prepper Pantry and your perishable foods in your refrigerator or freezer.
A Prepper Pantry is the part of your Four Corners Pantry where you'll store non-perishable food for the long term. Then, when you run out of food in your Working Pantry, you can get replacements from your Prepper Pantry, and the next time you go shopping, you can restock your Prepper Pantry with the foods you're running low on.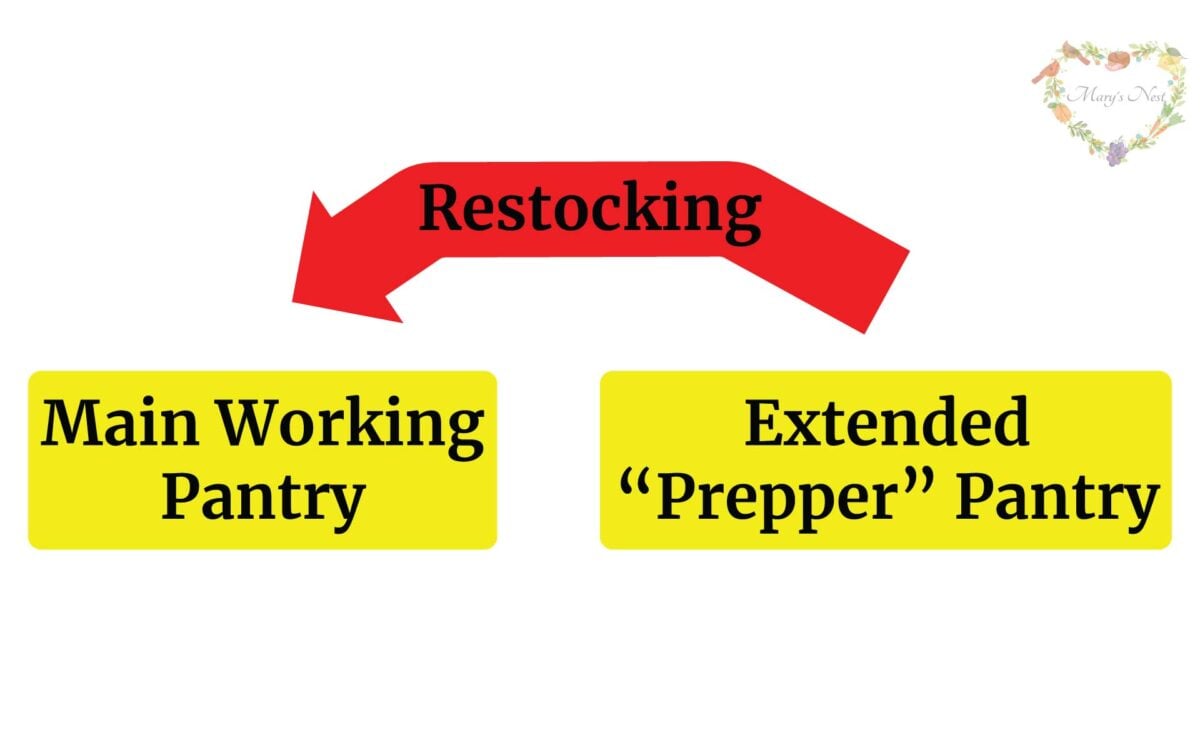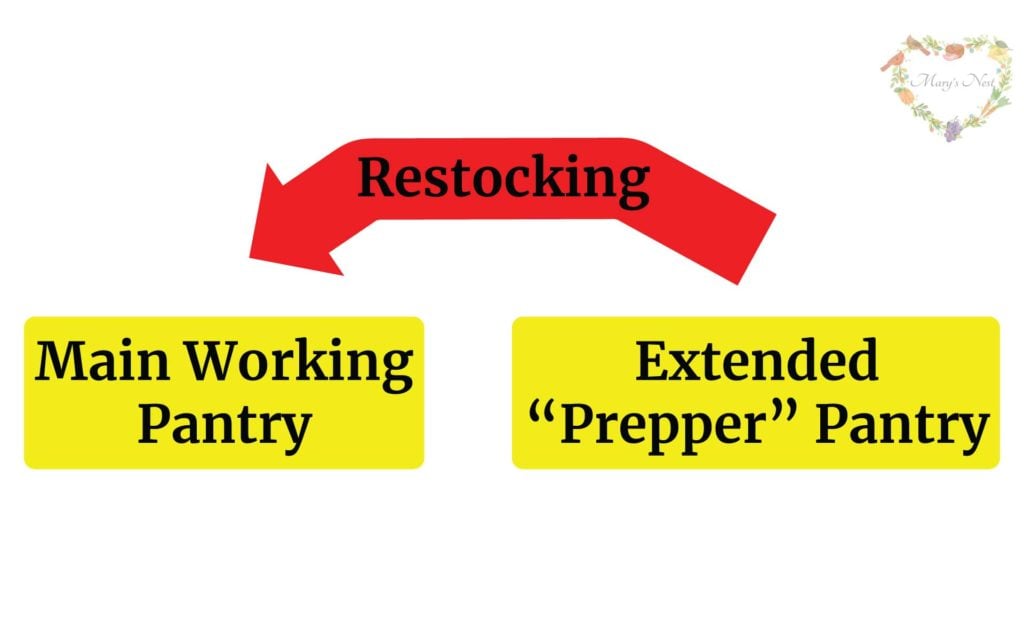 You can create your Prepper Pantry slowly over time within a budget that you set, or you can accelerate building your Prepper Pantry within a shorter period of time. For example, you may be concerned with rising inflation and supply chain problems and want to stock your pantry while food is cheaper and still available.
In the following videos, I show you how to create a Prepper Pantry for only five dollars a week, accelerate building your pantry, and create an emergency pantry within your Prepper Pantry to be prepared for the unexpected.
Backwoods Home Magazine
I learned about the mistakes to avoid for food storage from an article that was previously published in the Backwoods Home magazine. As I describe in my video, I subscribe to both the Backwoods Home and Self-Reliance publications.
These magazines are excellent guides to building a more self-sufficient home and lifestyle. If you live in the suburbs and are working on building your traditional foods kitchen and Prepper Pantry, you'll find many of their topics highly relevant.
Some of their other articles may be more pertinent to those who already have rural homesteads, but I even find those topics interesting. It's nice to dream of what you would do if you had a home in the country with solar panels, an underground well, and a few chickens walking around you.
I encourage you to subscribe to one or both magazines and also to read some of their previous articles online or find back issues of their publications at used bookstores (one of my favorite pastimes!).
I've included the Amazon link to their Backwoods Home magazine subscription if you like ordering through Amazon. However, here's a way that you can subscribe that's even cheaper. For $13 a year, you can get four issues of either magazine by using the following links. (They are not affiliate links, and I don't earn anything from them. I just want to get you the best possible deal while this discount lasts.)
In today's video, I discuss the 7 Mistakes of food storage article that Vicki Tate wrote in a previous issue of Backwoods Home magazine.
Mother Earth News Magazine
While we're talking about magazines, I also mention the Mother Earth News magazine in my video as a publication I enjoy reading. They have articles for those of us who are working on our traditional foods kitchens, building up our food storage and Prepper Pantries, and running our homesteads, however big or small they may be.
Their April/May 2022 issue includes an article on "Chives and Oregano as Medicinal Herbs." If you're interested in becoming more self-sufficient by growing or obtaining your own supply of essential medicinal herbs, be sure to watch the following videos:
After reading the blog posts and watching the videos, you can choose the dried herbs that you can obtain now, or you can get the seeds to plan ahead for next spring's garden. (Alas. I haven't been able to grow my kitchen garden this year because it has been so hot in Central Texas this summer with at least 66 days with over 100°F temperatures.)
Need a Variety of Foods
Not having enough variety is one of the seven mistakes of foods storage. Can you imagine having a well-stocked Prepper Pantry, but with only one or two of an essential item, like flour or whole grains? Having a limited variety may work for a short period, but your body will crave for more variety over the long term.
Vicki's article also talks about how people may develop intolerances toward foods they eat regularly. Having a variety of foods will help give you a diversity of nutrients to help you if you had to exclusively live off foods in your Prepper Pantry for the long term.
Variety of Whole Grains for Food Storage
Whole grains last longer than flour, and that's why you'll want to include a supply of them in your food storage. In my video, I talk about the different whole grains (or wheat berries) that I store in my Prepper Pantry. I don't limit myself to just Hard Red Wheat.
I also like to stock a variety of Ancient Grains, such as Einkorn and Spelt. You can learn more about the variety of whole grains you can choose from, including Kamut, in the following videos.
Variety of Types of Foods
Just as you want to have a variety of foods, you also want to vary the streams of food that you store. And just like having variable income streams to help your household's finances, having multiple streams of food will help protect you if one of the streams is no longer available.
For example, you may have your own supply of vegetables that you grow in your garden to enjoy now and water bath can for later. However, you'll want to make sure you have canned vegetables from the grocery store on hand as well.
Here's how the multiple streams of food come in handy. If you were living in central Texas this year and were affected by our terrible drought, you wouldn't be able to grow food in your kitchen garden. You wouldn't be able to pick vegetables or home can them. Instead, you'd have to rely on store-bought goods or what food may be available from your farmer's market to get the vegetables you need. This is why you need multiple streams of food.
And while you're inventorying where you get your food, be sure to have these 12 pantry staples in your Prepper Pantry. You'll never want to run out of them!
To help you have a stream of food for under $1, I'll show you the top 7 cheap foods you need to buy now at Aldi. You may also find similar foods at your local supermarket. These foods will help you stock your Prepper Pantry and keep you within your grocery budget.
Vitamins in Food Storage
In my video, I talk about how people can mistakenly leave vitamins out of their food storage. The Backwoods Home article encourages us to stock up on vitamins and supplements, but I'm not a big fan of storing individual vitamins in my Prepper Pantry.
Instead, I encourage you to store those foods that contain the vitamins that you need. For example, did you know that the vast majority of our vitamin C supplies come from outside of the United States? What happens if supply chain problems or an international incident stopped the flow of vitamin C tablets to America?
If you stock up on those non-perishable foods that are high in vitamin C, such as canned tomatoes, you'll have your own supply of vitamin C from whole foods that your body is better able to digest and use internally. There are other Superfoods you'll want to have in your food storage, and I'll show you the top 10 in the following video.
Correctly Storing Items
We sometimes spend more time thinking about the foods that we need to store and make the mistake of not spending enough time on storing our items properly.
Vicki's article mentions that some people store their loose food in garbage bags. Unfortunately, those people don't realize that plastic trash bags are typically treated with pesticides to repel bugs, and our foods can be contaminated by coming in contact with those bags.
I always like to use food-safe buckets since they were made for food storage. I also want my buckets to be BPA free and stackable, but not too high. You don't want your stacked buckets to come down on you by accident or for the buckets to break open because of a fall.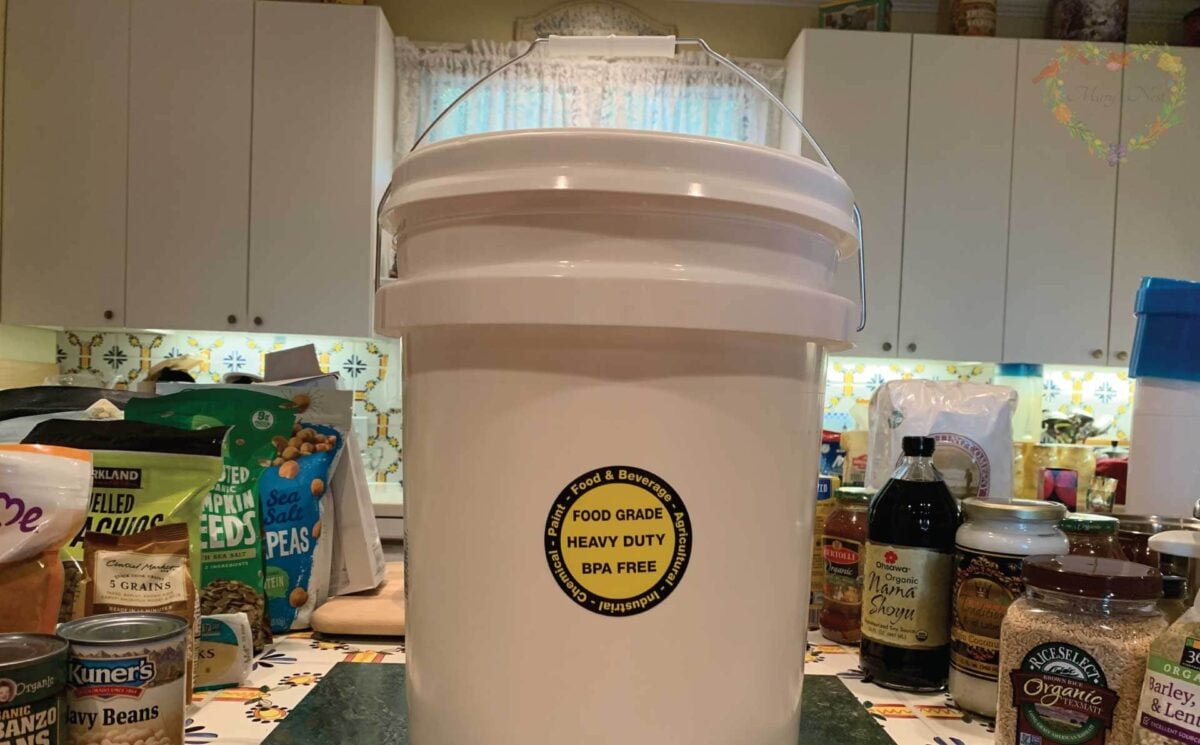 And instead of the regular lids that come with the food-grade buckets, I like to use Gamma lids, since they're easier to twist on and off. They also include a rubber gasket for a tight seal.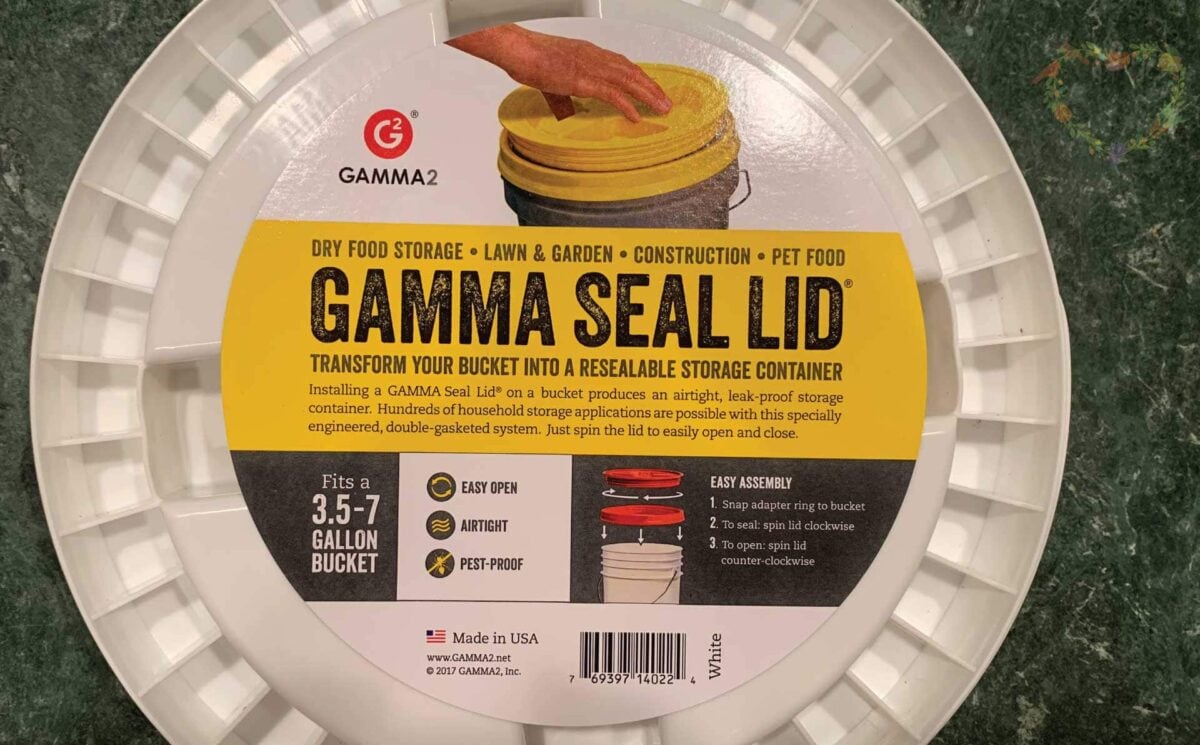 Here are a few more videos that will help you to learn more about using the right equipment for food storage.
How to Properly Store Whole Grains
We talked about the benefits of keeping whole grains, instead of flour, in your long-term storage, so what's the best way to store whole grains?
In the following video, I show the best ways to store whole grains in your Prepper Pantry and make fresh flour from your variety of stored grains when you need it.
Cookin with Home Storage
In my mistakes of food storage video, I show you Vicki Tate's Cookin with Home Storage book that will help you with creative ideas on how to use the foods in your Prepper Pantry. (And yes, that's Cookin without the letter "g" at the end!)
Search for Cookbooks and Magazines at Used Book Store
We can learn a lot about how to create a traditional foods kitchen and Prepper Pantry from videos and online articles, and I hope that I've been of help to you with my YouTube videos and articles on my Mary's Nest website.
I also love reading about traditional foods and the home arts from printed books and publications. It's nice to give our eyes a break from our computer screens and tablets and be able to sit in our easy chair or in bed to read a hardback, paperback, or magazine.
If you're new to traditional foods, I encourage you to learn more about the Nourishing Traditions book that you can get online or at a used bookstore for just a few dollars. In the following video, I'll introduce you to this book from Sally Fallon that will help you on your traditional foods journey.
And if you're looking for some good books on how to create a Prepper Pantry or become more self-sufficient and self-reliant, watch my Prepper Pantry books video. It's part of my popular series on the Prepper Pantry.
Do you have any local used bookstores that you like to visit? In Central Texas, I enjoy browsing the cookbook and magazine shelves at Half Price Books. You can still find most used periodicals for just a dollar, so be sure to check their shelves for back issues of the Backwoods Home and Self-Reliance magazines.
Here's one of my previous vintage cookbook hauls from the Half Price Books stores in Dallas, Texas.
Used Bookstore in the Southwest
When we travel in the Southwest United States, we like visiting the Bookmans chain in Tucson and Phoenix. Unfortunately, we haven't found any large used bookstores in New Mexico. A few years ago, we stopped by the Page One Bookstore in Albuquerque, New Mexico, but my husband said it was smaller as compared to their old location that he visited with his Dad in the 1980s.
If you can recommend any used bookstores in your part of the United States, please let us all know in the comments below.
More Vintage Cookbook Hauls
Here are a few more videos with some of my vintage cookbook hauls. In addition to your used bookstores, be sure to visit your local library for their book sales too. You can usually get outstanding bargains there too!
Grind Your Own Flour with the Mockmill
If you're stocking a variety of whole grains in your food storage, you'll need a manual or electric grain mill to transform your grains into flour you can use to make delicious baked goods.
When it comes to electric grain mills, after I did A LOT of research, I decided to buy a Mockmill. And am I so happy I did! The Mockmill is a very affordable but beautifully crafted German-made mill that stone grinds grain with settings ranging from 1 to 10—fine to coarse ground grain.
And I have great news! The folks at Mockmill are very kind to offer my viewers and readers a special one-time discount on any of the grain mills that they sell.
Note: You can also get the new Flake Lover's Flaker from Mockmill. Using this device, you can flakes whole grain in minutes.
You can see me unbox and try out the Mockmill 100 Grain mill in the following video. (This is not a sponsored post, I bought the Mockmill products that I show you, and I'm a happy user of their devices in my kitchen.)
Download Your Free 36-Page Pantry List
For an extensive list of the traditional foods you can make and purchase to stock your pantry, be sure to download my free 36-page Traditional Foods Pantry List. This comprehensive eBook is full of links to recipe videos, helpful articles, and more!
Kitchen Academy Videos
Are you looking for more traditional foods videos? If so, I invite you to join the Traditional Foods Kitchen Academy. Members of this optional paid YouTube community get access to exclusive videos, live streams, and other members-only perks. Plus, your YouTube comments include a special members-only badge.
In the following members-only videos, I talk more about vitamins, including how to help your vitamin and mineral deficiencies.
Stay in Touch with Mary's Nest
Subscribe to My YouTube Channel for Traditional Foods Videos (Free) - When you subscribe, be sure to click on the notification bell that will let you know each time I upload a new video.
Subscribe to Mary's Traditional Foods Newsletter (Free) - Get a free 36-page eBook for signing up: How to Stock Your Essential Traditional Foods Four-Corners Pantry.
Join the Traditional Foods Kitchen Academy (Optional Paid) - For more detailed videos, live streams, and exclusive members-only perks, join my YouTube membership community.
Order The Modern Pioneer Cookbook (Optional Paid) - Get a printed book of Mary's nourishing recipes from a Traditional Foods Kitchen. This bestselling cookbook is published by Penguin Random House with their DK imprint.
I look forward to having you join me in my Texas Hill Country Kitchen!
Trending Posts on Mary's Nest
---
Shop for items used in this blog post or video
Best Food Storage Supplies
Favorite Prepper Pantry Supplies
Favorite Kitchen Supplies
More Kitchen Supplies with Discount Codes
Use my Mockmill affiliate link for a special one-time 5% discount on Mockmill Stone Grain Mill products, including the new Flake Lover's Flaker. (The Mockmill discount will appear when you checkout.)
Use promo code MARYSNST for a one-time 15% off Masontops and Breadsmart products on Amazon.com.
Amazon Shop and Shopping Guide
Visit my Shopping Guide page
Get up to 15% off for stocking your Traditional Foods Pantry and equipping your Modern Pioneer Kitchen, including discounts from Lehman's, Mockmill Grain Mill, Masontops, Cultures for Health, Survival Garden Seeds, Redmond Real Salt, Plan to Eat, US Wellness Meats, and More!
Recommended Reading
**Disclaimer: I am not a medical doctor, a medical professional, a dietician, or a nutritionist. All content found on the MarysNest.com website, including text, images, videos, eBooks or eGuides, social media, or other formats, were created solely for informational purposes only. The content is not intended to be a substitute for professional medical advice, diagnosis, or treatment. Always seek the advice of your physician or other qualified healthcare provider with any questions you may have regarding a medical condition or proper nutritional advice. Never disregard professional medical advice or delay in seeking it because of something you have watched in a video or read on this website. Use caution when following the recipe in this video. The creator and publisher of this video and website will not be held responsible for any adverse effects that may arise from the use of this recipe and method or any other recipe and method on this website or corresponding video channel.