How to Make Early American Drinks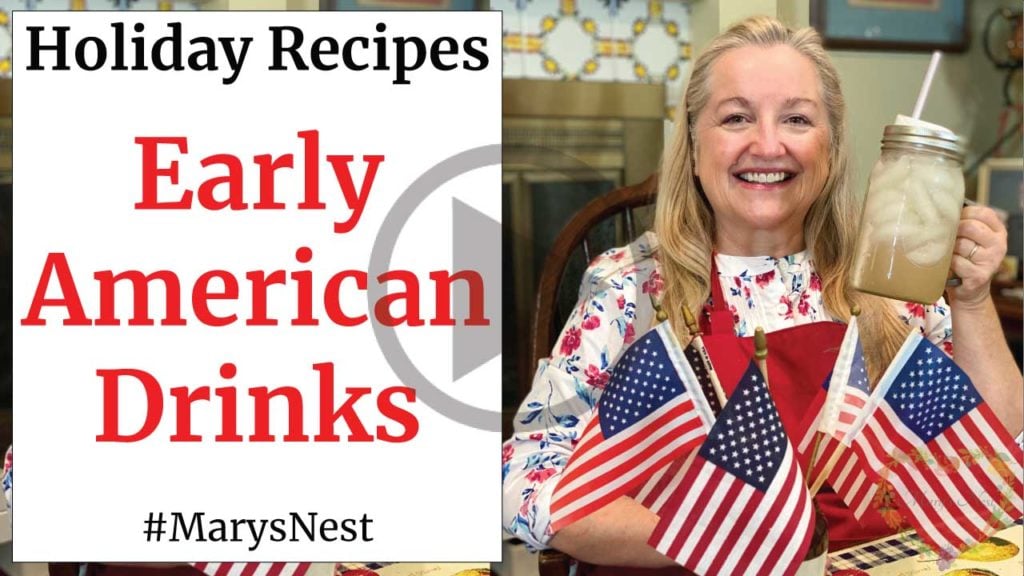 Today, I'm excited to share with you how to make early American drinks that are perfect for your 4th of July celebrations! These beverages are also mocktails since they are non-alcoholic drinks.
So be sure to have some of these refreshing beverages handy this weekend for your festivities with family and friends, and let me wish you a very happy, healthy, and blessed Independence Day this 4th of July!
*Affiliates note: As an Amazon Associate I earn from qualifying purchases. My content may contain affiliate links to products and services. If you click through and make a purchase, I'll receive a small commission. It does not affect the price you pay.
Early American Drinks
During the 18th century in the United States, colonists enjoyed a variety of homemade drinks. Two beverages, in particular, were very popular:
These drinks are easy to make with ingredients you are sure to have on hand in your pantry. They come together in minutes and can be poured into a tall, ice-filled glass for a refreshing and flavorful treat!
What is a Shrub?
When it comes to early American drinks, the Shrub has such a funny name! But this beverage is actually very tasty and nothing like a twiggy garden bush.
A Shrub drink is a simple mixture of:
Fruit puree
Apple cider vinegar
Honey
Water (And to make it really special, you can use sparkling water.)
Plus, if you use raw apple cider vinegar, a Shrub can become a probiotic-rich drink that's excellent for improving our gut flora.
Shrub Drink Recipe Videos
In the following recipe videos below, I show you how to make two different Shrub drinks:
You and your Independence Day guests are sure to enjoy these tasty mocktails!
What is a Switchel?
Like a Shrub, a Switchel is another humorous name for one of the most popular early American drinks. In many ways, this beverage is a forerunner of the modern-day sports drink. Farmers would often enjoy a Switchel at room temperature while working in their fields.
You can make a basic Switchel beverage by mixing apple cider vinegar with water and molasses. And that's it! Making a Switchel is even easier than making a Shrub.
Don't worry if you don't like molasses. You can easily substitute a different sweetener, like honey or maple syrup. And if you have sorghum syrup stashed away in your pantry, you can use it to sweeten your Switchel, just like the early American colonists often did when they didn't have any molasses.
Switchel Drink Recipe Video
I show you how to make this beverage in my Switchel recipe video. And after you have created your basic Switchel mixture, pour it over ice and add a spring of mint or a slice of citrus. Voila! You've made a delightfully refreshing mocktail.
Apple Cider Vinegar Recipe Video
When making Shrub and Switchel drinks, you'll need some apple cider vinegar. Raw is best, and in the following video, I show you how easy it is to make your own raw apple cider vinegar in this 3-part series.
Download Your Free 36-Page Pantry List
I hope you have started transitioning from a processed foods kitchen to a traditional foods kitchen. (If you want to learn more, I have an introductory video about traditional foods.)
Wherever you're at on your journey, be sure to download my free Essential Traditional Foods Pantry List. You will find this invaluable resource chockful of everything you need for your traditional foods pantry.
This comprehensive eBook also includes links to cooking videos and printable recipes, showing you how to use your pantry staples to create delicious and nutritious meals.
More Drink Recipes
If you enjoy making these early American drinks, check out the videos below where I show you how to make more homemade beverages, including your own electrolyte powder for quickly creating an easy and healthy sports drink.
Plus, I share how to make more drinks, including homemade ginger ale and strawberry soda!
Kitchen Academy Videos
Are you looking for more traditional foods videos? I invite you to join the Traditional Foods Kitchen Academy. Members of this optional paid YouTube community get access to exclusive videos, live streams, and other members-only perks. Plus, your YouTube comments include a special members-only badge.
In the following members-only video, I talk about How to Make Amish Friendship Bread Sourdough Starter.
Trending Posts on Mary's Nest
Stay in Touch with Mary's Nest
Subscribe to My YouTube Channel for Traditional Foods Videos (Free) - When you subscribe, be sure to click on the notification bell that will let you know each time I upload a new video.
Subscribe to Mary's Traditional Foods Newsletter (Free) - Get a free 36-page eBook for signing up: How to Stock Your Essential Traditional Foods Four-Corners Pantry.
Join the Traditional Foods Kitchen Academy (Optional Paid) - For more detailed videos, live streams, and exclusive members-only perks, join my YouTube membership community.
Preorder The Modern Pioneer Cookbook (Optional Paid) - Get a printed book of Mary's nourishing recipes from a Traditional Foods Kitchen. This cookbook will be published by Penguin Random House with their DK imprint.
I look forward to having you join me in my Texas Hill Country Kitchen!
---
Shop for items used in this blog post or video
Favorite Kitchen Supplies
More Kitchen Supplies with Promo Codes
Use my Mockmill affiliate link for a special one-time 5% discount on Mockmill Stone Grain Mill products, including the new Flake Lover's Flaker. (The Mockmill discount will appear when you checkout.)
Use promo code MARYSNST for a one-time 15% off Masontops and Breadsmart products on Amazon.com.
Amazon Shop and Shopping Guide
Visit my Shopping Guide page
Get up to 15% off for stocking your Traditional Foods Pantry and equipping your Modern Pioneer Kitchen, including discounts from US Wellness Meats, Mockmill Grain Mill, Masontops, Cultures for Health, Survival Garden Seeds, Redmond Real Salt, Plan to Eat, and More!
Recommended Reading
**Disclaimer: I am not a medical doctor, a medical professional, a dietician, or a nutritionist. All content found on the MarysNest.com website, including text, images, videos, eBooks or eGuides, social media, or other formats, were created solely for informational purposes only. The content is not intended to be a substitute for professional medical advice, diagnosis, or treatment. Always seek the advice of your physician or other qualified healthcare provider with any questions you may have regarding a medical condition or proper nutritional advice. Never disregard professional medical advice or delay in seeking it because of something you have watched in a video or read on this website. Use caution when following the recipe in this video. The creator and publisher of this video and website will not be held responsible for any adverse effects that may arise from the use of this recipe and method or any other recipe and method on this website or corresponding video channel.