How to Make Hardtack or Ship's Biscuits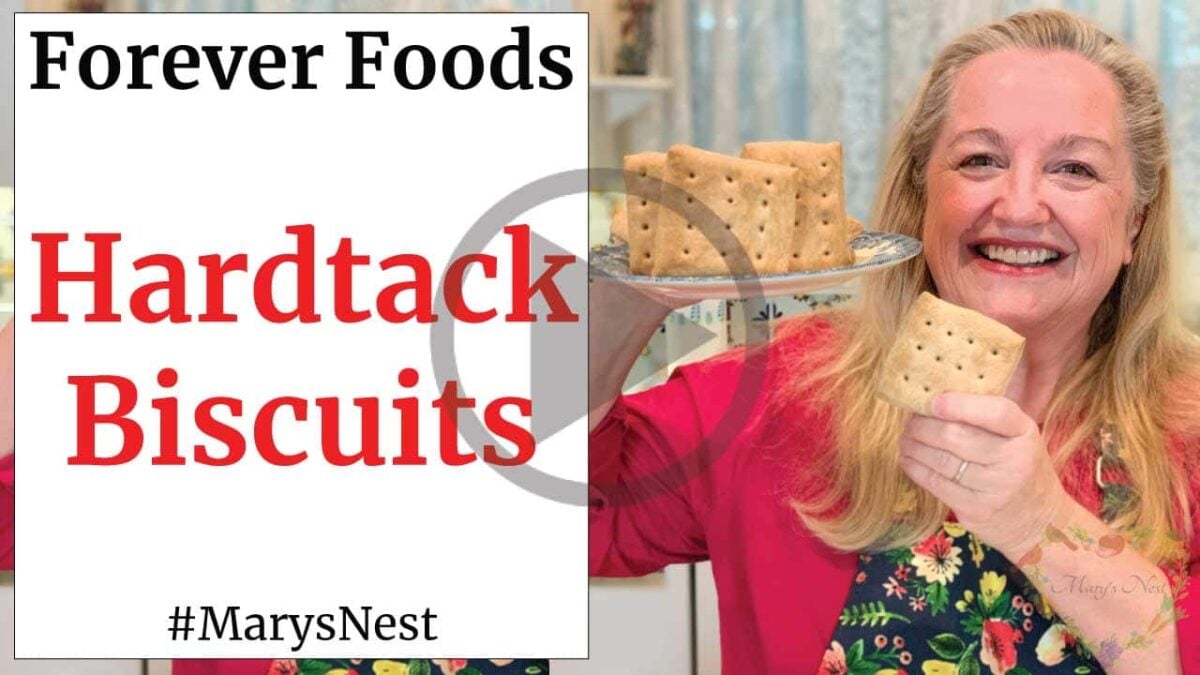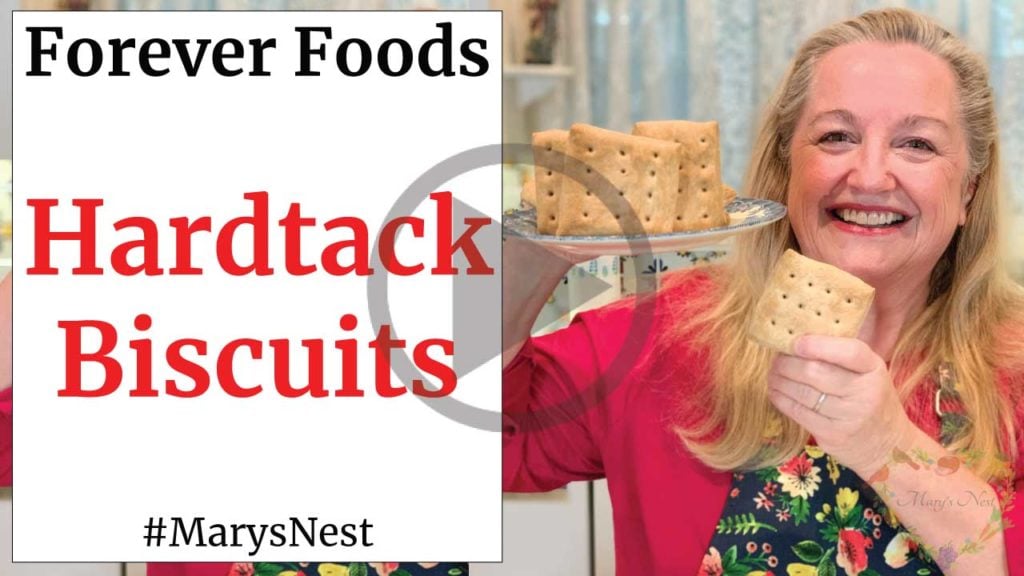 If you haven't heard of Hardtack or Ship's Biscuits before, you're not alone. This particular food goes back to the 18th century and maybe even earlier! But with a renewed interest in being better prepared—especially when it comes to food—Hardtack is making a comeback!
*Affiliates note: As an Amazon Associate I earn from qualifying purchases. My content may contain affiliate links to products and services. If you click through and make a purchase, I'll receive a small commission. It does not affect the price you pay.
What We Learned from 2020
Well, 2020 has been quite the year! I don't know about you, but I have never lived through a year like this. Even my mom, who is well into her 90s and survived the Great Depression of the 1930s and World War II, said she'd never seen anything like this.
The good news is that this year's experiences has us thinking about how to be better prepared for future national and worldwide emergencies. Our everyday Working Pantries and our Extended Pantries are now much better stocked. (As I describe in my pantry list, our Extended Pantries contain our non-perishable backup foods that we use to refill our working pantries.)
Hardtack For Your Survival Pantry
Thanks to 2020, we've made sure that we have more than just a few days of food on hand, and we have moved to make sure our Extended Pantries have at least two weeks of backup foods and supplies.
And many of us have expanded our Extended Pantries and started creating "Prepper" Pantries, where we are slowly building up our food supplies to last us anywhere from a month, six months, and even a year! Hopefully, we will never be in a situation where we are unable to obtain food, water, and other supplies for an extended period, but many of us never want to be caught off guard, no matter what the circumstances.
With this preparedness spirit, many of us have designated a portion of our Extended or Prepper Pantry to be an area where we store a certain amount of Forever Foods. (These Forever Foods basically have an indefinite shelf life.) This area of our Extended or Prepper Pantry is often referred to as our Survival Pantry. So, if you're looking for something that makes the perfect Forever Food for your survival pantry, look no further. Hardtack or "Ship's Biscuits" fits the bill perfectly!
Hardtack Is a Perfect Forever Food
There are many different accounts of when Hardtack may have actually come into existence, but it is often referenced in old books sometime during the 18th century. Hardtack was often referred to as "Ship's Biscuits" because it was packed into barrels and carried on ships for sailors to eat. It was shelf-stable, so the sailors knew if all their other food ran out, they still had their biscuits!
Later in history, soldiers often carried these biscuits with them as their rations. And often, one large biscuit was their entire source of food for the whole day! During this period in history, these biscuits were often called Hardtack because they were very hard—basically as hard as a rock!
The fact that Hardtack was so hard is what made it the perfect shelf-stable forever food. If these biscuits were kept away from bugs and the elements, this food could basically last…forever! So Hardtack made the perfect ration for men who were far away from home, but in need of sustenance when there may be no other food available.
In addition to Hardtack, there are lots of Forever Foods that are perfect for storing in Survival Pantry. To learn more, be sure to watch the video below.
How to Eat Hardtack
Now be warned! After you make Hardtack, don't try to bite into it. You just might break a tooth! Instead, dip your Hardtack in some liquid and allow it to soften before you eat it. I show you how in my recipe video.
Or you can even do what our ancestors did. You can break it up with a hammer or other heavy instrument, mix it with water, and cook it to make a porridge. You can even mix in a bit of brown sugar for a sweet treat!
Other Colonial Recipes
If you enjoy learning about and making recipes from the days of Colonial America, be sure to check out these eighteenth-century beverages below. They might just be perfect for dunking your Hardtack into!
How to Store Hardtack Biscuits
When it comes to storing Hardtack, the secret is to keep them dry and away from bugs. Check out my best food storage options video, where I show various ways to store all sorts of food for safekeeping in your Prepper Pantry.
And Speaking of the Pantry…
If you haven't already done so, be sure to download your FREE 36-Page Traditional Foods Pantry List. This essential list covers how to stock your Four-Corners Pantry (Working Pantry, Fridge, Freezer, and Extended or Prepper Pantry) with Traditional Foods.
If you are new to making the transition from a processed foods kitchen to a Traditional Foods Kitchen, you will find this list invaluable! This eBook gives you a detailed list of real foods that you can shop or make for your pantry. And I don't leave it at that. This pantry list is filled with links to my recipes and videos that show you how to use these real foods to make nutritious meals for you, your family, and your friends.
This eBook is more than just a list because I also share lots of important tidbits of information about traditional foods and their proper preparations. I know you'll love this eBook!
Related Recipe Videos
Ready for more? I share how to make lots of shelf-stable pantry staples in the following videos. These foods are great to have on hand in your everyday Working Pantry, as well as storing in your Extended or Prepper Pantry.
Stay in Touch with Mary's Nest
Subscribe to My YouTube Channel for Traditional Foods Videos (Free) - When you subscribe, be sure to click on the notification bell that will let you know each time I upload a new video.
Subscribe to Mary's Traditional Foods Newsletter (Free) - Get a free 36-page eBook for signing up: How to Stock Your Essential Traditional Foods Four-Corners Pantry.
Join the Traditional Foods Kitchen Academy (Optional Paid) - For more detailed videos, live streams, and exclusive members-only perks, join my YouTube membership community.
Order The Modern Pioneer Cookbook (Optional Paid) - Get a printed book of Mary's nourishing recipes from a Traditional Foods Kitchen. This bestselling cookbook is published by Penguin Random House with their DK imprint.
I look forward to having you join me in my Texas Hill Country Kitchen!
Shop for items used in this blog post or video
Favorite Bread Making Supplies
If you're looking to grind your own grain, check out the Mockmill grain grinder and my special promocode.
Learn more about Mockmill electric grain mills for making fresh flour and their Flake Lover's Flaker that flakes whole grain in minutes.
Amazon Shop and Shopping Guide
Visit my Shopping Guide page
Get up to 15% off for stocking your Traditional Foods Pantry and equipping your Modern Pioneer Kitchen, including discounts from US Wellness Meats, Farmhouse Teas, Lehman's, Masontops, Cultures for Health, Survival Garden Seeds, Redmond Real Salt, Plan to Eat, and More!
Recommended Reading
**Disclaimer: I am not a medical doctor, a medical professional, a dietician, or a nutritionist. All content found on the MarysNest.com website, including text, images, videos, eBooks or eGuides, social media, or other formats, were created solely for informational purposes only. The content is not intended to be a substitute for professional medical advice, diagnosis, or treatment. Always seek the advice of your physician or other qualified healthcare provider with any questions you may have regarding a medical condition or proper nutritional advice. Never disregard professional medical advice or delay in seeking it because of something you have watched in a video or read on this website. Use caution when following the recipe in this video. The creator and publisher of this video and website will not be held responsible for any adverse effects that may arise from the use of this recipe and method or any other recipe and method on this website or corresponding video channel.