What's New for 2021: Mary's Nest Channel Update
Today, I am sharing my Mary's Nest 2021 Channel Update to fill you in on the exciting plans I have in store for this new year!
*Affiliates note: As an Amazon Associate I earn from qualifying purchases. My content may contain affiliate links to products and services. If you click through and make a purchase, I'll receive a small commission. It does not affect the price you pay.
Annual Channel Update
At the beginning of each new year, I always like to share a channel update to fill you in on what you have to look forward to with my:
Mary's Nest YouTube channel, and
Recipe and Blog posts on my website
So what's in store? Read on!
Get the Nourishing Traditions Book
First, if you don't already have Nourishing Traditions by Sally Fallon, make sure to find a copy of this book at your favorite bookseller, used bookstore, or public library.
This book is the basis for what I teach, and it will be an essential resource to assist you on your journey transitioning from a processed foods kitchen to a Traditional Foods Kitchen. Watch the following video to learn more about Nourishing Traditions.
Traditional Meals Using Traditional Foods
When I started my channel in the summer of 2018, my main goal was to be your trusted source for free content on how to make traditional "nutrient dense" foods. And that goal remains the same today! In 2018 we learned how to Master the Basics of Traditional Foods Cooking, and then we expanded on those basics into 2019.
Then came 2020, and our world was turned upside down. We quickly turned our focus on how to stock our Prepper Pantry with wholesome traditional foods. And how to do it on a budget! (With the tough winter season we're currently having, creating your Prepper Pantry or restocking it is more important now than ever.)
Now that we have the basics—and more—under our belts, and our pantries are stocked with all the supplies we need, it's time to focus on creating traditional meals using our traditional foods. And I have lots of ideas and recipes in store for you in 2021.
And don't worry! All my recipes are budget-friendly with lots of variations and recommended substitutions so that you can use what you have on hand.
Speaking of the Pantry…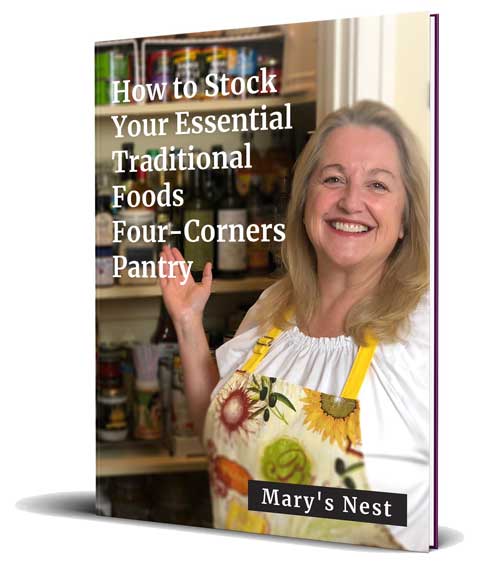 In 2020, I prepared a free 36-page "Essential Traditional Foods Four Corners Pantry List" that covers everything you need to stock your pantry. And when I use the term "Four Corners" Pantry, I'm referring to your:
Working Pantry (what you access every day)
Refrigerator
Freezer
Extended Pantry (also known as your Prepper Pantry)
If you haven't had a chance to download my pantry list, be sure to do it as soon as possible! Not only does it list everything you need for your Four Corners Pantry, but I also include links to videos showing you how to use what's on the pantry list.
As you use this detailed list to stock your pantry in 2021, you'll also find lots of interesting tidbits of information about traditional foods in this comprehensive eBook.
Immune-Boosting Foods and Home Remedies
This year, I look forward to bringing you lots of immune-boosting foods and home remedies, including a special mineral broth that makes a great "mock" chicken broth for meatless meals or for vegetarians.
And when it comes to home remedies to ward off colds and flu, you'll find my popular Turmeric Tea recipe will help to boost your immune system over these winter months.
I'll also share recipes for meals that are especially easy to digest, and I'll hone in on using anti-inflammatory ingredients to heal our digestive systems and improve our overall gut flora.
When it comes to home remedies, I look forward to focusing on healing spring tonics and digestive bitters to aid our digestion further. You can get started with home remedies by creating a Healthy Simple Syrup recipe for sweetening beverages, cold and flu tonics, and more.
And then you can use your Healthy Simple Syrup to make this very easy Alcohol-Free Hot Toddy.
Are You a New Subscriber to Mary's Nest?
If you're new here, first let me say, "Welcome!" I'm so glad that you are joining us on this Traditional Foods Journey! I want to reassure you that you do not need to rush to make the transition from a processed foods kitchen to a Traditional Foods Kitchen. Take your time and master the essential skills along the way. And know that it can take at least a year, maybe two, to have your Traditional Foods Kitchen fully up and running.
You'll be so happy that you took your time and learned new recipes and kitchen skills on your journey. As your palate becomes accustomed to new flavors, you'll start to crave sourdough and never want to buy bread in plastic wrap again!
And as you slowly introduce these new traditional foods, not only to yourself but to your family and friends as well, their acceptance of traditional foods and a healthier lifestyle will go much more smoothly. Rushing and announcing, "Tonight we're having liver," to adults and children used to eating fast food or processed food from the grocery store will most definitely result in grumbling and resistance!
But as you introduce these foods (and sometimes in sneaky—I mean clever—ways), these nourishing foods will slowly become a regular and welcome fare at your table. And speaking of a clever meal with liver when you're ready, be sure to try my beef liver recipe that children (and adults too) are sure to love!
Traditional Foods Kitchen Academy Channel Update
If you're looking for more in-depth videos about traditional foods and live streams, I encourage you to join my Traditional Foods Kitchen Academy. (We call members of my academy Kitchen Pioneers.) I publish these member-only videos and live streams in addition to my public videos.
Later this month, I look forward to talking with you again for our first live stream in 2021. I'll chat about my member channel update for this year. I'll post the date and link for our January live stream as a member post in our YouTube community tab. These live streams are a lot of fun, and I enjoy getting to know more about you, my wonderful Kitchen Pioneers. 😊
Be sure to bring your questions for me to our live streams. (You are always welcome to leave your questions on my channel videos too.) You can also chat with the other members in our Kitchen Pioneers community. You'll find a lot of fellow Kitchen Pioneers who are working on sourdough starters, ferments, and more traditional foods recipes, just like you!
If you've not had a chance to join our Traditional Foods Kitchen Academy, please consider doing so. Here are some of my latest members-only videos, including my Traditional Foods Kitchen Academy Member Update for 2021:
Get to Know My Husband and Son
Lastly, many of you have seen glimpses of my family in my videos over the years, and I've received many requests from my subscribers to get to know more about my family. Over the Christmas holidays, I published the following two videos where I talk with my husband and son about traditional foods, homeschooling, our favorite games and movies, and more!
I look forward to sharing a wonderful 2021 with you! 😊
Stay in Touch with Mary's Nest
Subscribe to My YouTube Channel for Traditional Foods Videos (Free) - When you subscribe, be sure to click on the notification bell that will let you know each time I upload a new video.
Subscribe to Mary's Traditional Foods Newsletter (Free) - Get a free 36-page eBook for signing up: How to Stock Your Essential Traditional Foods Four-Corners Pantry.
Join the Traditional Foods Kitchen Academy (Optional Paid) - For more detailed videos, live streams, and exclusive members-only perks, join my YouTube membership community.
Order The Modern Pioneer Cookbook (Optional Paid) - Get a printed book of Mary's nourishing recipes from a Traditional Foods Kitchen. This bestselling cookbook is published by Penguin Random House with their DK imprint.
I look forward to having you join me in my Texas Hill Country Kitchen!
Shop for items used in this blog post or video
Favorite Kitchen Supplies
Use promo code MARYSNST for a one-time 15% off Masontops and Breadsmart products on Amazon.com.
Use my Mockmill affiliate link for a special one-time 5% discount on Mockmill Stone Grain Mill products, including the new Flake Lover's Flaker. (The Mockmill discount will appear when you checkout.)
Amazon Shop and Shopping Guide
Visit my Shopping Guide page
Get up to 15% off for stocking your Traditional Foods Pantry and equipping your Modern Pioneer Kitchen, including discounts from Lehman's, Mockmill Grain Mill, Masontops, Cultures for Health, Survival Garden Seeds, Redmond Real Salt, Plan to Eat, US Wellness Meats, and More!
Recommended Reading
**Disclaimer: I am not a medical doctor, a medical professional, a dietician, or a nutritionist. All content found on the MarysNest.com website, including text, images, videos, eBooks or eGuides, social media, or other formats, were created solely for informational purposes only. The content is not intended to be a substitute for professional medical advice, diagnosis, or treatment. Always seek the advice of your physician or other qualified healthcare provider with any questions you may have regarding a medical condition or proper nutritional advice. Never disregard professional medical advice or delay in seeking it because of something you have watched in a video or read on this website. Use caution when following the recipe in this video. The creator and publisher of this video and website will not be held responsible for any adverse effects that may arise from the use of this recipe and method or any other recipe and method on this website or corresponding video channel.