What's New for 2022: Mary's Nest Channel Update
Today, I am sharing my Mary's Nest 2022 Channel Update to fill you in on the exciting plans I have in store for this new year!
*Affiliates note: As an Amazon Associate I earn from qualifying purchases. My content may contain affiliate links to products and services. If you click through and make a purchase, I'll receive a small commission. It does not affect the price you pay.
My 2022 Channel Update
First and foremost, I want to let you know I am here to continue to be your trusted resource for free information on how to prepare traditional nutrient-dense foods, including bone broth, cultured dairy, ferments, sourdough, and more.
At the beginning of each new year, I always like to share a channel update with you. This year is no different, and I am excited to fill you in on what you have to look forward to in 2022 for my:
Mary's Nest YouTube channel (with over 550,000 subscribers, over 25 million views, and growing!)
Recipes and content on my website marysnest.com
So what's in store for this year? Watch my 2022 Channel Update video and read on!
An Essential Resource: Nourishing Traditions
As I have shared with you in the past, in addition to my website and YouTube Channel, the book Nourishing Traditions by Sally Fallon is an essential resource to help you on your journey to creating a Traditional Foods Kitchen.
This book is the basis for what I teach, and it will assist you on your journey as you transition from a processed foods kitchen to a Traditional Foods Kitchen. Watch the following video to learn more about Nourishing Traditions.
So if you don't already have Nourishing Traditions, look for a copy of this book at your favorite bookseller, used bookstore, or public library.
Learn How to Make Traditional Foods
When I started my channel in the summer of 2018, my main goal was to be your trusted source for free content on how to make traditional nutrient-dense foods, including all the basic building blocks for creating nutritious meals.
My goal remains the same today and as we head into 2022!
I have a passion for teaching traditional foods cooking, and it is more important to me—now more than ever—that we keep these skills alive so that we can help ourselves and each other to become more and more self-sufficient.
Using What We Have Learned
Over the last few years, we've created many meals and recipes using a variety of traditional foods, including:
Bone broths
Cultured dairy
Vegetable ferments
Sourdough bread
And lots more!
We even learned how to soak and sprout grains. Afterward, we made sprouted flour, which we used to make a quick and easy-to-prepare sprouted flour bread that is exceptionally easy to digest.
If You Are New, Get Started Now
If you are new here and just beginning your Traditional Foods Journey, you can jumpstart your learning by watching my 15 video series titled Master the Basics of Traditional Foods Cooking. These detailed, step-by-step videos are perfect for the beginner!
Bonus Traditional Foods Videos for Newcomers
And if you want to learn more about what I specifically mean when I use the term Traditional Foods Journey or Traditional Foods Kitchen, be sure to watch my What is a Traditional Foods Kitchen video.
Plus, I share even more detail in my What are Traditional Foods video.
But please keep in mind, as I mentioned in my channel update, I never want you to be overwhelmed. So I have even condensed everything down to a simple video where I share how to get started on your journey with 10 essential foods you can stock in your Traditional Foods Kitchen pantry now.
Reviewing the Last Few Years in My Channel Update
During 2018, we learned how to Master the Basics of Traditional Foods Cooking. And as we headed into 2019, we dove even deeper into expanding our repertoire by learning more about Nourishing Traditions.
With this knowledge, we continued creating nourishing meals based on the nutrient-dense traditional foods that we learned how to make in 2018.
Importance of the Prepper Pantry
Unfortunately, then came 2020, and not only our personal lives but our whole world was rocked with a pandemic!
So here on my website and YouTube Channel, I immediately turned my focus on helping all of us with detailed information on how to stock our Prepper Pantry with wholesome traditional foods.
But most importantly, we needed to learn how to quickly create our Prepper Pantry on a budget, as suddenly many of us found ourselves out of a job, quarantined, or worse: ill and unable to leave our beds, let alone our homes!
Immune-Boosting Foods and Home Remedies
As the pandemic continued, we did our best to stock our pantries and care for ourselves and our family members, as well as friends and neighbors best as we could.
In this vein, in 2021, I increased my blog posts and videos to focus on how to make more immune-boosting foods and home remedies, such as Master Recipes that you could easily follow to make medicinal herbal teas, tinctures, salves, and more. You can use the ingredients you had on hand to make these recipes and help treat your particular needs.
Note: I am not a doctor or medical professional. If you are not feeling well, please seek professional medical attention and medicine. If you are thinking of supplementing your treatment with herbs and home remedies, be sure to talk to your medical professional about them. It's important that you get the medicine and treatments you need to get back to good health.
Immune-Boosting Foods and Home Remedies Playlists
In the following playlists, I share easy recipes with step-by-step instructions for you to follow to make a variety of immune-boosting foods and home remedies that you can customize for your specific needs.
Popular Home Remedies
When it comes to home remedies to ward off colds and flu that you might be trying to fend off right now, my popular Turmeric Tea recipe will help boost your immune system over these winter months, especially when you may be exposed to others who have colds and flu.
In addition to turmeric tea, if you find you are under the weather right now, you can get started making this easy and quick to prepare Healthy Simple Syrup recipe for sweetening cold and flu tonics, and more.
Once you have made your Healthy Simple Syrup, you can use it to make this easy Alcohol-Free Hot Toddy. This beverage is especially comforting if you suffer from the upper respiratory complaints that often accompany colds and flu.
Today's Channel Update: What's in Store for 2022
Now that I have almost four years of blog posts and over four hundred videos available to you, where do we go from here?
As we head into 2022, I will continue to focus on those topics, including nutrient-dense foods, the Prepper Pantry, home remedies, and more. These are the recipes and practices that will help us thrive and overcome the challenges that we continue to face.
Budget-Friendly Recipes
I'll also share more recipes—specifically budget-friendly recipes—to help you incorporate traditional foods into nutritious and delicious meals that you, your family, and friends will love. In addition to being budget-friendly, these recipes also serve to boost our immune systems to help fight off illness the best that we can.
And don't worry! I'll talk about variations and recommend substitutions in my recipes so that you can use what you have on hand.
More Healing Home Remedies and Immune Boosting Foods
In addition to sharing more easy and affordable recipes that incorporate traditional foods, I will continue to share more medicinal herbal Master Recipes so that we can make easy home remedies for our healing journeys whenever we needed.
Learning how to make home remedies is also a very budget-friendly option. These recipes are often considerably less expensive to make in our own home kitchens than buying them pre-prepared for us.
For your first herbal master recipe, try making a medicinal herb tea.
I'll also be sharing more recipes for making immune-boosting foods that are especially easy to digest when you have digestive upset when you're recovering from an illness.
Plus, I'll further hone in on using more anti-inflammatory ingredients to heal our digestive systems and improve our overall gut flora. Because as I have said before, scientists tell us that when our gut is healthy, our whole bodies are healthy!
A Word About Integrative Medicine
As I have mentioned earlier, I am a believer in integrative medicine: the concept of using modern medicine in conjunction with home remedies. Although the term integrative medicine may not have been specifically used, cultures around the world have followed this concept for centuries.
If the subject of integrative medicine interests you, be sure to read the Spontaneous Healing book by Dr. Andrew Weil, MD. He is considered the father of the modern-day integrative medicine movement, and he is one of my favorite authors on the subject.
The Importance of a Prepper Pantry
In addition to budget-friendly traditional recipes and healing home remedies, I will also continue our focus on how to best stock our Prepper Pantries to help stretch our food dollars as far as possible in our present environment of rising food prices.
If the term Prepper Pantry is new to you, it refers to our Extended Pantry where we store our backup supplies of non-perishable foods that allow us to restock our Working Pantry. Our Prepper Pantry helps us when:
We cannot get to the grocery store due to illness, bad weather, or quarantines.
Our grocery budget is too stretched to buy additional supplies to restock our Working Pantries.
We can visit the grocery store, but the items we need are not in stock because of supply chain shortages.
Both the Working Pantry and the Extended Pantry are part of the more expansive Four Corners Pantry. If the term Four Corners Pantry is new to you, it refers to all the areas where we store food:
Working Pantry (What we access every day)
Refrigerator
Freezer
Extended Pantry (also known as your Prepper Pantry)
Building a 2-Week Emergency Food Supply
Building a 2-week emergency food supply has become a very important topic lately, especially for those of us who dealt with freezing temperatures, power outages, and water shortages in 2021.
It's more important than ever to carve out a part of your Prepper Pantry to stock those foods you can prepare when electrical power and clean water are unavailable or in short supply.
This area of your Prepper Pantry is sometimes referred to as your Emergency Pantry or Survival Pantry. But whatever you call it, you definitely want to make sure that you have this section of your Prepper Pantry well stocked.
Watch my How to Build a 2-Week Emergency Food supply video to get started building your Survival Pantry. And be sure to download my printable checklist and meal plan that are part of my blog post and video.
In the following video, I share with you what I learned when we faced an emergency situation with the terrible Texas winter storm in 2021 and how I boosted my emergency pantry.
So stay tuned in 2022. I will provide more videos on this vital topic and share the best way to continue building up your emergency food supply—just in case. No one ever regrets being prepared!
Becoming Experienced Home Bakers
I have heard from so many of you loud and clear that you want more easy homemade bread recipes like my Homemade No-Knead Sandwich Bread (over 1.1 million views and counting!) and my Homemade No-Knead Whole Wheat Sandwich Bread.
When transitioning from a processed foods kitchen to a traditional foods kitchen, there's nothing like learning how to make your own homemade bread successfully. Talk about a morale booster! I can almost say with certainty that these two sandwich bread recipes are as easy as they come and as close to foolproof as possible.
As we go into 2022, I'll share more bread recipes, including:
Easy yeast-free quick breads
No-knead breads made with yeast
Easy sourdough breads that are perfect for the beginner and experienced baker alike
It's my goal that by the end of 2022, we will all proudly carry the moniker of an experienced home baker!
Baking with Whole Grains
As you continue on your journey from a processed foods kitchen to a traditional foods kitchen, you will find that you will want to begin transitioning from baking with white flour to whole grain flour. (White flour is also called plain flour or all-purpose flour.)
When it comes to baking with whole grain flours, there is nothing like grinding your own grain to make fresh flour. And keep in mind that grain in its whole form has a much longer shelf life than whole grain flour.
As I describe in my How to Store Whole Grain and Make Homemade Flour video, this extended shelf life makes whole grains perfect for storing in your Prepper Pantry.
Grinding Grain with Mockmill
Now, if you decide that you want to start grinding your own grain, you will need a grain mill. I researched this topic for a long time and finally decided to purchase a Mockmill. And I love it!
I contacted the manufacturer and asked them if they would give me a discount coupon code for my sweet viewers. So if you decide you want to add a grain mill to your traditional foods kitchen and want to get the Mockmill grain grinder, be sure to use the following link and discount code. It's an outstanding money saver.
To learn more about how to use the Mockmill, be sure to watch my Mockmill unboxing and How to Make All Purpose Einkorn Flour at Home videos. (Note that these posts and videos are not sponsored. I really love using my Mockmill.)
Lots More on the Horizon
This is just a quick glimpse as to where we've been and where we're going on our Traditional Foods Journey. And it brings so much joy to my heart knowing that you are here with me every step of the way!
Get Your Free Traditional Foods Pantry List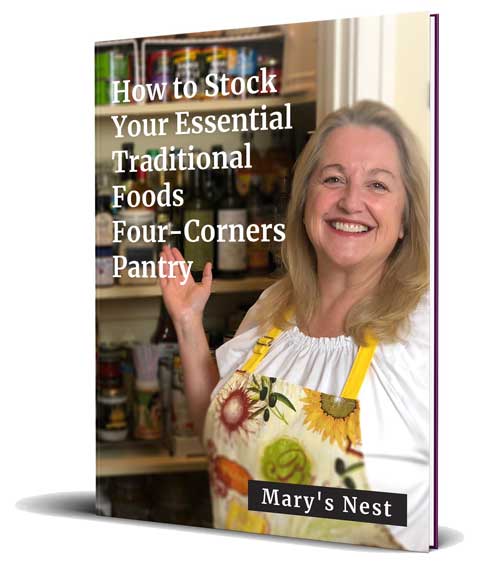 I prepared a FREE 36-page "Essential Traditional Foods Four Corners Pantry List" that covers everything you need to stock your Four Corners Pantry. If you haven't had a chance to download my pantry list, be sure to download it today and use it to stock your pantry in 2022.
My comprehensive eBook lists the items you need for your Four Corners Pantry. I also include links to videos showing you how to make many of these foods homemade. Plus, these videos show you how to use these foods to make nutritious meals.
Frontier Soups for Your Prepper Pantry
As I mentioned in the video that corresponds with this blog post, I came down with a number of illnesses at the end of 2021. No matter how well we work to boost our immune systems with nutrient-dense foods and other superfoods, we sometimes pick up some of the viruses and germs that we are exposed to.
The good news is that I am on the mend and have regained my appetite. When I was recovering and felt well enough to eat, I needed to prepare meals with real foods with the protein and nutrition that my body needed to heal.
My sweet friend Katie who has the YouTube channel Heritage Ways sent me a set of soup ingredients from Frontier Soups. (Thanks, Katie!) These packaged soups are made with high-quality dehydrated ingredients that are easy to prepare with a few additional ingredients like canned chicken and chicken bone broth.
Tip: For more nutrition, use stock or bone broth in soups in place of water for the liquid base in your soup recipes.
My husband helped make several of these easy-to-prepare soups that we enjoyed when I felt particularly tired. So if you are the "chief cook and bottle washer" in the family, and you need foods that the non-cooks in your family can easily prepare when you can't cook, these soups are a great option!
Their chicken noodle and chicken and rice soups are outstanding and were so warm and comforting. I also enjoyed their mushroom soup. We used canned mushrooms instead of fresh mushrooms, and that worked out perfectly. And best of all, the extra ingredients I added to my soup mixes came from my Extended or Prepper Pantry.
Please Note: This is not a sponsored post. I simply wanted to share how handy those Frontier Soups were when I was sick and hope that they might also help out in your kitchen during times of illness.
Are You a New Subscriber to Mary's Nest?
If you're new here, first let me say, "Welcome!" I'm so glad you are joining us on this Traditional Foods Journey!
I want to reassure you that you do not need to rush to make the transition from a processed foods kitchen to a Traditional Foods Kitchen. Instead, take your time and master the essential skills along the way. And know that it can take at least a year, maybe two, to have your Traditional Foods Kitchen fully up and running.
You'll be so happy that you took your time and learned new recipes and kitchen skills on your journey. For example, as your palate becomes accustomed to new flavors, you'll start to crave sourdough and never want to buy bread in plastic wrap again!
Traditional Foods Kitchen Academy Channel Update
Are you looking for more traditional foods videos? If so, I invite you to join the Traditional Foods Kitchen Academy. Members of this optional paid YouTube community get access to exclusive videos, live streams, and other members-only perks. Plus, your YouTube comments include a special members-only badge.
For an example of some of our member videos, I talk about how to boost your immunity in the following members-only video series.
Stay in Touch with Mary's Nest
Subscribe to My YouTube Channel for Traditional Foods Videos (Free) - When you subscribe, be sure to click on the notification bell that will let you know each time I upload a new video.
Subscribe to Mary's Traditional Foods Newsletter (Free) - Get a free 36-page eBook for signing up: How to Stock Your Essential Traditional Foods Four-Corners Pantry.
Join the Traditional Foods Kitchen Academy (Optional Paid) - For more detailed videos, live streams, and exclusive members-only perks, join my YouTube membership community.
Preorder The Modern Pioneer Cookbook (Optional Paid) - Get a printed book of Mary's nourishing recipes from a Traditional Foods Kitchen. This cookbook will be published by Penguin Random House with their DK imprint.
I look forward to having you join me in my Texas Hill Country Kitchen!
Trending Posts on Mary's Nest
---
Shop for items used in this blog post or video
Favorite Kitchen Supplies
More Kitchen Supplies with Discount Codes
Use my Mockmill affiliate link for a special one-time 5% discount on Mockmill Stone Grain Mill products, including the new Flake Lover's Flaker. (The Mockmill discount will appear when you checkout.)
Use promo code MARYSNST for a one-time 15% off Masontops and Breadsmart products on Amazon.com.
Amazon Shop and Shopping Guide
Visit my Shopping Guide page
Get up to 15% off for stocking your Traditional Foods Pantry and equipping your Modern Pioneer Kitchen, including discounts from US Wellness Meats, Mockmill Grain Mill, Masontops, Cultures for Health, Survival Garden Seeds, Redmond Real Salt, Plan to Eat, and More!
Recommended Reading
**Disclaimer: I am not a medical doctor, a medical professional, a dietician, or a nutritionist. All content found on the MarysNest.com website, including text, images, videos, eBooks or eGuides, social media, or other formats, were created solely for informational purposes only. The content is not intended to be a substitute for professional medical advice, diagnosis, or treatment. Always seek the advice of your physician or other qualified healthcare provider with any questions you may have regarding a medical condition or proper nutritional advice. Never disregard professional medical advice or delay in seeking it because of something you have watched in a video or read on this website. Use caution when following the recipe in this video. The creator and publisher of this video and website will not be held responsible for any adverse effects that may arise from the use of this recipe and method or any other recipe and method on this website or corresponding video channel.