How to Make Hamburger Soup
Here's a tasty and nutritious recipe for Hamburger Soup. This recipe is the perfect budget-friendly meal since it gives you lots of flexibility to use the ingredients you already have on hand.
*Affiliates note: As an Amazon Associate I earn from qualifying purchases. My content may contain affiliate links to products and services. If you click through and make a purchase, I'll receive a small commission. It does not affect the price you pay.
Budget-Friendly Hamburger Soup
With food prices rising almost daily, we need a wide selection of economical recipes that can keep our families well-fed with nutritious foods at a low cost.
Ground beef is an excellent protein choice for budget-friendly meals. It's a versatile ingredient that is loaded with vitamins and minerals, and it's much less expensive than other cuts of beef.
This Hamburger Soup recipe calls for ground beef that is 85% lean with 15% fat. This particular mix is less expensive than the higher lean mix.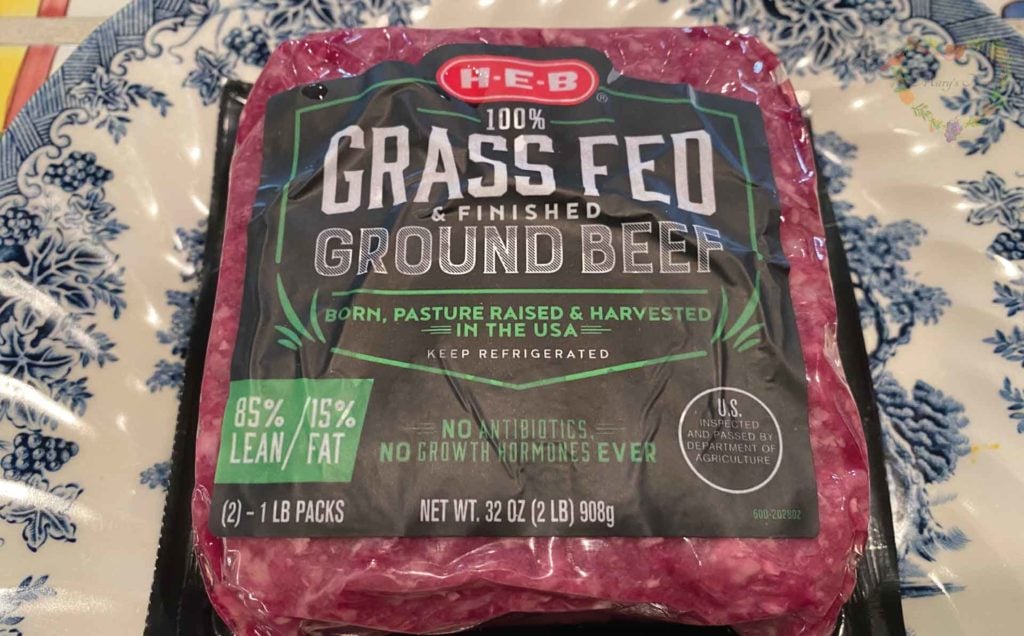 And don't worry about the soup being greasy with this ground beef mixture. In my recipe video, I show you a cook's tip using potatoes to absorb the fat released by the meat. This technique also makes the potatoes a flavorful addition to the soup.
Keep in mind you want the beef fat! It's loaded with Conjugated Linoleic Acid (CLA), and CLA is rich in the nutrients that are typically lacking in the Standard American Diet (SAD). This article from Eat Wild provides an informative overview of CLA with links to many scientific studies regarding its benefits in the human diet.
Make Your Ingredients for Hamburger Soup
As you prepare to make your Hamburger Soup, you will find that the recipe calls for pantry staples that you most likely already have on hand. If you have stocked your pantry with homemade traditional foods ingredients, you're all set.
However, if you are new to using traditional foods, and you'd like to make many of your ingredients homemade, check out the following videos. I'll show you how to make homemade Italian seasoning and marinara sauce. I even teach you how to home can your own tomatoes to use in a variety of recipes. These are all wonderful money savers!
Homemade Beef Bone Broth for Hamburger Soup
You can certainly use water to make this Hamburger Soup, but if you want to use homemade beef bone broth, all the better! You'll enjoy all the nutritional benefits the broth has to offer.
Beef bone broth is easy to make, and in the videos below, I show you three ways to make it:
I talk about the options of using beef broth, stock, or bone broth in my Hamburger Soup. To learn more about broth, stock, and bone broth, check out the following video, where I explain the differences and how to make them.
Make Your Ingredients for Hamburger Soup Croutons
Adding croutons to your Hamburger Soup is optional, but they give a delightful crunch when enjoying your soup. (You can also enjoy homemade croutons as a snack!)
I show you how to make croutons from homemade hamburger buns in my Hamburger Soup video. You can also make them from stale bread, and I walk you through the process for two varieties of homemade croutons in the following videos.
Use Nutrient-Dense Animal Fats to Make Croutons
You can make your hamburger bun croutons or regular homemade croutons with homemade lard. If you have other animal fats that you saved from a previous recipe or purchased from your grocery store, that works well too.
By making your croutons with lard, tallow, schmaltz (chicken fat), duck fat, or goose fat, you'll get all the vitamins and minerals from these nutrient-dense animal fats with your homemade croutons. Unfortunately, store-bought croutons may not have been made in the same fashion to give you the same nutrition.
If you make roast duck or goose, be sure to save the duck or goose fat for your future recipes. I show you how to make roast duck and goose in the following videos.
Using a Cuisinart Countertop Burner
In my recipe videos, you'll often see me using a Cuisinart countertop burner. I like it because it's handy and portable, and it gives me another burner if my cooktop is occupied cooking other goodies.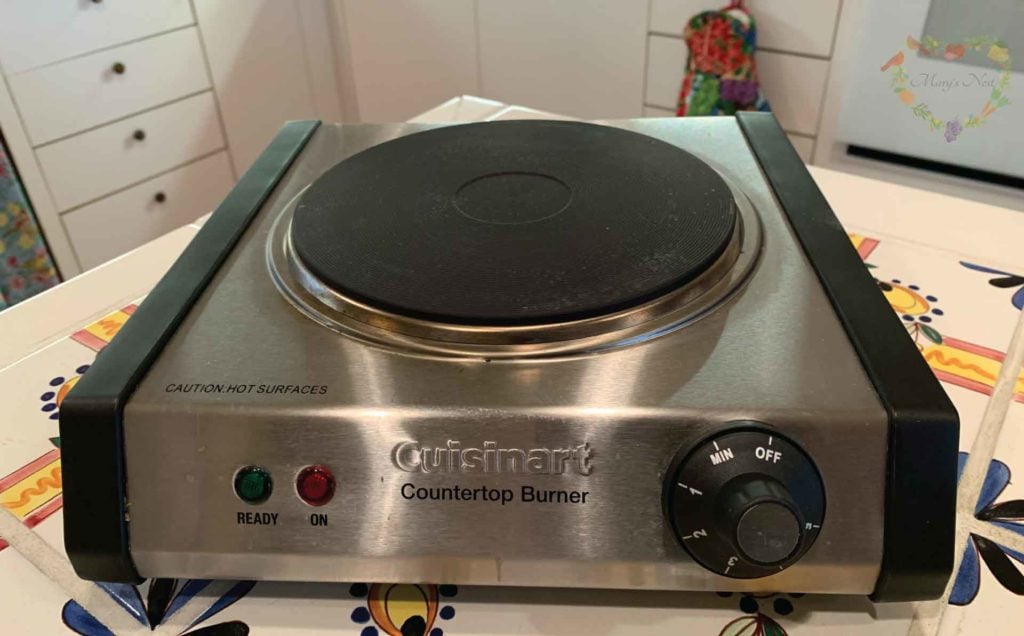 More Hamburger Recipes
For more budget-friendly, delicious, and nutritious recipes using ground beef, be sure to check out these videos below.
More Budget-Friendly Recipes
And if you need even more budget-friendly meals (and who doesn't these days!), be sure to make Fried Cabbage with Kielbasa. This recipe can feed a crowd for about $10!
Looking for Grass-Fed and Grass-Finished Ground Beef?
If you can't find grass-fed and finished ground beef in your neighborhood supermarket or farmer's market, check out US Wellness Meats for a great selection, including ground beef mixed with organ meats. This hamburger mix is a great way to incorporate nutrient-dense offal into your diet without you even noticing it! 😉
Use discount code MARYNEST and my link to save 15% off regular-priced items on your US Wellness Meats order. You can shop for a variety of products, including:
This post is not sponsored. I'm a long-time customer of US Wellness Meats because I have always been impressed by the quality of their products. Check out my US Wellness Meats unboxing video to see the types of products you can get, including bones for beef bone broth!
Download Your Free 36-Page Pantry List
Making the transition from a processed foods kitchen to a Traditional Foods Kitchen can sometimes be a bit overwhelming. But don't worry! I'm here to help you with a FREE 36-Page Essential Pantry List.
I share everything you need to stock your Traditional Foods Pantry in this comprehensive list. But this eBook is so much more than a list. I include lots of links to videos to show you how to make pantry staples homemade and use what you have to create delicious and nutritious nutrient-dense meals. So don't miss out. Download your copy today! 😊
Kitchen Academy Videos
Are you looking for more traditional foods videos? If so, I invite you to join the Traditional Foods Kitchen Academy. Members of this optional paid YouTube community get access to exclusive videos, live streams, and other members-only perks. Plus, your YouTube comments include a special members-only badge.
In the following members-only video, I talk about how to boost your immunity, including making and using beef tonics.
Stay in Touch with Mary's Nest
Subscribe to My YouTube Channel for Traditional Foods Videos (Free) - When you subscribe, be sure to click on the notification bell that will let you know each time I upload a new video.
Subscribe to Mary's Traditional Foods Newsletter (Free) - Get a free 36-page eBook for signing up: How to Stock Your Essential Traditional Foods Four-Corners Pantry.
Join the Traditional Foods Kitchen Academy (Optional Paid) - For more detailed videos, live streams, and exclusive members-only perks, join my YouTube membership community.
Preorder The Modern Pioneer Cookbook (Optional Paid) - Get a printed book of Mary's nourishing recipes from a Traditional Foods Kitchen. This cookbook will be published by Penguin Random House with their DK imprint.
I look forward to having you join me in my Texas Hill Country Kitchen!
Trending Posts on Mary's Nest
Shop for items used in this blog post or video
Favorite Kitchen Supplies
More Kitchen Supplies with Discount Codes
Use my Mockmill affiliate link for a special one-time 5% discount on Mockmill Stone Grain Mill products, including the new Flake Lover's Flaker. (The Mockmill discount will appear when you checkout.)
Use promo code MARYSNST for a one-time 15% off Masontops and Breadsmart products on Amazon.com.
Amazon Shop and Shopping Guide
Visit my Shopping Guide page
Get up to 15% off for stocking your Traditional Foods Pantry and equipping your Modern Pioneer Kitchen, including discounts from US Wellness Meats, Mockmill Grain Mill, Masontops, Cultures for Health, Survival Garden Seeds, Redmond Real Salt, Plan to Eat, and More!
Recommended Reading
**Disclaimer: I am not a medical doctor, a medical professional, a dietician, or a nutritionist. All content found on the MarysNest.com website, including text, images, videos, eBooks or eGuides, social media, or other formats, were created solely for informational purposes only. The content is not intended to be a substitute for professional medical advice, diagnosis, or treatment. Always seek the advice of your physician or other qualified healthcare provider with any questions you may have regarding a medical condition or proper nutritional advice. Never disregard professional medical advice or delay in seeking it because of something you have watched in a video or read on this website. Use caution when following the recipe in this video. The creator and publisher of this video and website will not be held responsible for any adverse effects that may arise from the use of this recipe and method or any other recipe and method on this website or corresponding video channel.