Here is a master recipe for how to make medicinal herbal soups using any edible fresh or dried herb. Use this tasty herbal soup recipe to help you with the symptoms of a cold or the flu, or enjoy it anytime to help boost your immunity.
When the weather turns cold, there is nothing like enjoying delicious homemade soup, especially if you feel under the weather! The herbal soup I share today is especially beneficial thanks to all the wonderful antiviral and antibacterial properties the herbs contain.
Disclaimer
I am not a doctor or medical professional. If you are not feeling well, please seek professional medical attention and medicine. And if you are thinking of supplementing your treatment with home remedies, be sure to talk to your medical professional about them. It's important that you get the medicine and treatments you need to get back to good health.
What is a Master Recipe for Making a Medicinal Herbal Soup?
A master recipe gives you the structure for making a particular dish and lets you customize the ingredients you use. In this post, I show you a master recipe for making a medicinal herbal soup with the ingredients I used in my recipe video.
However, you're not limited to using the same ingredients I chose when you make the recipe. With a master recipe, you can personalize the ingredients you use to bring out the flavors you enjoy or want the nutrition from. For example, you can choose the number and type of edible herbs for your soup and whether the herbs are fresh or dried.
Herbs Have Culinary and Medicinal Properties
Learning how to make a medicinal herbal soup using any combination of edible herbs may be one of the best things you can do when it comes to eating healthy and improving your overall health.
Although we often think of herbs in a culinary capacity, they actually have many medicinal properties, including antiviral and antibacterial qualities, making them perfect additions to any soup when you are battling with a cold or the flu. (I include links to research studies on herbs later in this recipe post.)
However, herbs' medicinal properties don't stop there. Many offer anti-inflammatory properties. And anything we can eat or drink that can tamp down inflammation in our bodies is a win for our health.
Many herbs also contain antioxidants. Unfortunately, oxidation, just like inflammation, is damaging to our health. So stopping oxidation in its tracks helps us maintain a healthy lifestyle.
Which Herbs Are Best for Making a Medicinal Herbal Soup?
The good news about making a medicinal herbal soup is that you can basically use any variety of edible herbs. So it comes down to choosing herbs whose flavor you enjoy as well as herbs that contain the healing properties you desire.
For this recipe, we will use two large bunches—two fistfuls—of herbs, many of which are usually associated with culinary purposes. I chose chives (from the allium family), tarragon, flat-leaf Italian parsley, and thyme.
I decided on this combination of herbs for this particular batch of soup because each one is very flavorful, but when combined, they contain a host of medicinal properties, including:
Analgesic
Anticancer
Anti-diabetic
Anti-inflammatory
Antimicrobial
Antioxidant
Cardioprotective
Neuroprotective
Wow! I don't know about you, but those are some stellar health benefits from such a simple combination of herbs, all of which can easily be grown in our gardens or even on a sunny windowsill.
Remember that you don't have to stick with this particular combination of herbs. This master recipe is very versatile and allows you to use the edible herbs you like best!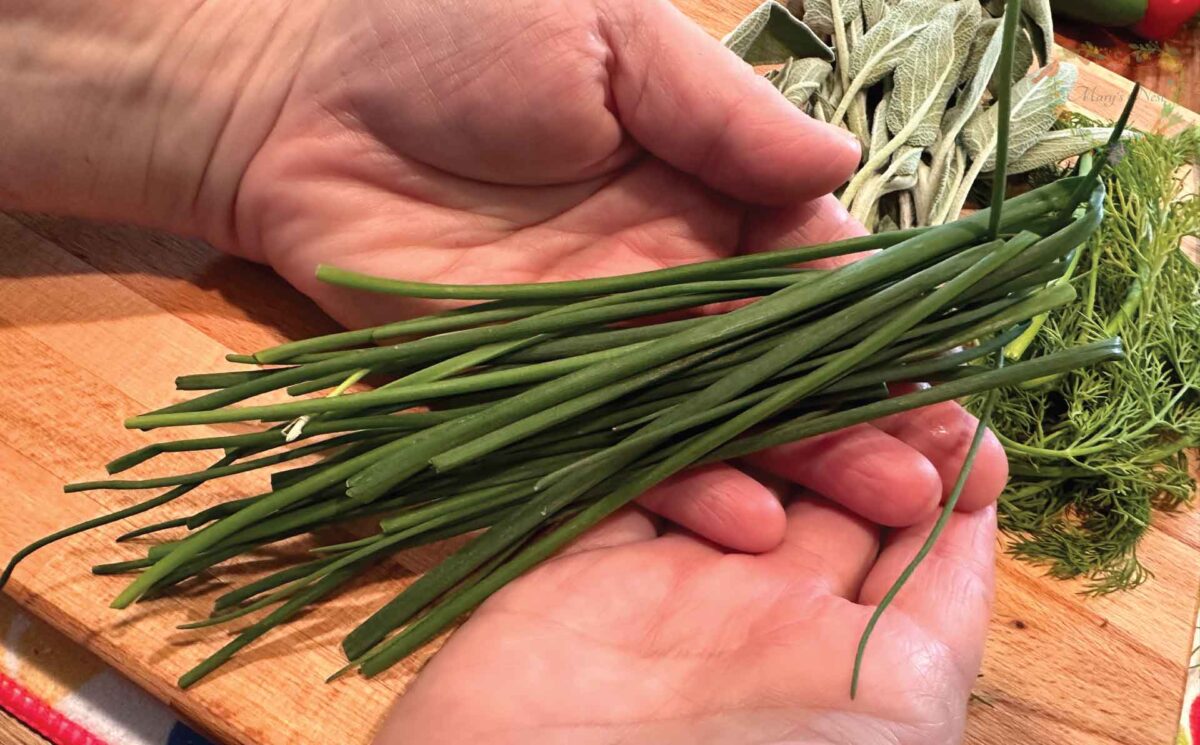 The Healing Properties of a Medicinal Herbal Soup
My printable recipe lists all the ingredients that I used to make this master recipe, and as I mentioned earlier, the herbs I chose for my medical herb soup include:
Chives
Flat-Leaf Italian Parsley
Tarragon
Thyme
If you find the medicinal side of herbs interesting to learn about, specifically the edible herbs I picked to use in my soup, be sure to read these research articles on herbs:
Creating a Healing Pantry as Part of Your Prepper Pantry
As I have shared with you in the past, I am a huge proponent of creating a Four Corners Pantry. If this term is new to you, this pantry encompasses your:
Working Pantry – where you store non-perishable foods you access every day.
Refrigerator
Freezer
Extended or Prepper Pantry – where you store your backup non-perishable food to refill your Working Pantry when your supplies run low.
I have also shared with you in the past that it's smart planning on the part of every homemaker—every Modern Pioneer in the Kitchen—to also carve out an area of your Prepper Pantry to store emergency foods and supplies that can be used in the event that you are without power or clean running water.
You can learn how to build an emergency pantry in my How to Build a Two-Week Emergency Food Supply video. (And be sure to download and print out my free printable checklist and meal plan.)
You can also download my free 36-page pantry list to help you stock your Four Corners Pantry with real food.
Your Herbal Medicine Cabinet
With that in mind, it's also a good idea to dedicate a small area of your Prepper Pantry to serve as your Healing Pantry. This Healing Pantry can store the supplies you want to keep on hand to address minor medical issues that can be easily treated at home, such as the symptoms of a common cold.
Storing a wide variety of dried herbs in your Healing Pantry can assist you when you need to make various herbal home remedies. You can think of this part of your Healing Pantry as your Herbal Medicine Cabinet! (I will be sharing more about how to stock a Healing Pantry and create an Herbal Medicine Cabinet in a future video and corresponding blog post.)
Note: As I mentioned in my disclaimer, never delay seeking medical treatment when you need it!
Books About the Healing Properties of Herbs
If you want to learn more about herbs and the role they can play in your traditional foods kitchen, be sure to check out two of my all-time favorite books on the subject:
And if you're interested in growing herbs and other plants in your garden, here are the Top 10 Best Gardening Books for Creating Your Kitchen Garden.
15 Essential Medicinal Herbs for Your Herbal Medicine Cabinet
My master recipe for making a medical herbal soup uses fresh herbs. However, if you have a good supply of dried herbs on hand, you can substitute edible dried herbs in place of using fresh herbs. (You can also use a combination of fresh and dried herbs if you have both on hand.)
Having access to fresh herbs means that you have to visit the grocery store, farmers market, or your backyard garden. However, if you're not able to leave your house or grow a garden, keeping a good supply of dried herbs in your Working Pantry or a section of your Prepper Pantry, designated as your Healing Pantry, will serve you well. And part of your Healing Pantry includes a well-stocked Herbal Medicine Cabinet.
Want to get started creating your Herbal Medicine Cabinet? Check out the videos below, where I share a total of my 15 favorite essential medicinal herbs to grow, dry, and stock in your pantry.
Using Mushrooms in Your Medicinal Herbal Soup
In my video, I talk about adding fresh mushrooms to your medicinal herbal soup, which I make with a mixture of chicken bone broth and water as my liquid. However, you can also use mushroom broth instead of bone broth or water. Mushroom broth is easy to use and highly nutritious, as I show you in my How to Make a Super Mushroom Broth recipe video.
More Master Herbal Recipes
If you enjoy learning about making your own home remedies using herbs, check out my complete series of Master Recipes for Making Medicinal Herbal Remedies, including how to make herbal oils, salves, tinctures, and syrups. These herbal remedies are easy to make and will save you money from having to buy ready-made versions from your local health store.
Master Recipe for Medicinal Herb Tea
If you enjoy herb tea, you will love learning how easy it is to make your own medicinal herb tea following my master recipe. Then I use that recipe to show you how to make what I like to call a Great Night's Sleep Tea. A few sips, and you'll be ready to drift off to dreamland!
Turmeric Tea to Boost Your Immune System
And speaking of teas, if you feel the sniffles coming on, be sure to make some turmeric tea. It's very tasty, and it'll help with your symptoms to get you on track to feeling better in no time!
How to Sweeten Your Tea
If you like your herb or spice teas sweetened—or even your black or green teas—be sure to make this healthy simple syrup to have on hand. It's a better option than white sugar and a tastier one too!
What to Do with Food Scraps
After making your medicinal herbal soup, you'll have some leftover vegetable scraps. Don't throw these out! Potato or carrot peelings and onion skins should go right into your scrap bag to use when making your next batch of bone broth.
In my herbal soup recipe, I use chicken bone broth. You can use your scrap bag to make homemade bone broth, such as in a slow cooker, on your stovetop, or in your Instant Pot, as I show you in the following videos.
Regrow Kitchen Scraps
And did you know that some of your vegetable scraps can be grown into new vegetables? It's true! And I show you how in one of my most popular videos, 10 Vegetables You Can Grow from Kitchen Scraps.
How to Cook with Scraps
Sometimes you may find that you have scraps that don't work particularly well for making bone broth or regrowing into new vegetables. When you run into that situation, you can still save those scraps.
You can make appetizers, a meal, or a seasoning blend with your leftover scraps. And I show you how in the following videos. (I talk about cooking with leek greens in today's recipe video.)
Books for Cooking with Scraps
For more ideas on cooking with scraps, watch the video below, where I share my favorite cookbooks on this subject. Once you learn to look at your food scraps in a new light, you will never want to throw out food again, and you'll be well on your way to creating a no-waste kitchen!
More Soup Recipes
When the outside temperature dips, it's not uncommon for some of us to come down with a cold or the flu. So if you find yourself grabbing a box of tissues, be sure to make this soup too. It's one of the best home remedy for colds and flu. You will be surprised at how warm and comforting it will be just after the first sip!
And who can resist chicken soup with delicious ingredients, including all the goodness of bone broth?
Redmond Real Salt for Your Medicinal Herbal Soup
When it comes to using salt in my recipes, especially this herbal soup, I always like to use a real salt – a living salt – that has not been processed and does not contain any extra added chemicals or anti-caking agents. Sea salt and Redmond Real Salt are perfect choices! And if you'd like to order Redmond Real Salt from their website, be sure to check out my Shopping Guide for a discount coupon code.
Download Your Free 36-Page Pantry List
For an extensive list of the traditional foods you can make and purchase to stock your pantry, be sure to download my free 36-page Traditional Foods Pantry List. This comprehensive eBook is full of links to recipe videos, helpful articles, and more!
And if you're looking for a printed book full of my traditional foods recipes that shows you how to create a traditional foods kitchen, be sure to preorder your copy of my new book, The Modern Pioneer Cookbook.
Kitchen Academy Videos
Are you looking for more traditional foods videos? If so, I invite you to join the Traditional Foods Kitchen Academy. Members of this optional paid YouTube community get access to exclusive videos, live streams, and other members-only perks. Plus, your YouTube comments include a special members-only badge.
I talk about the people I met at this year's conference and share some behind the scenes of my new cookbook.
Get ready to harness the power of gluten-free buckwheat to help a healthy diet.
Discover if the Nutritarian Diet is a Nutrient-Dense Diet.
Stay in Touch with Mary's Nest
Subscribe to My YouTube Channel for Traditional Foods Videos (Free) - When you subscribe, be sure to click on the notification bell that will let you know each time I upload a new video.
Subscribe to Mary's Traditional Foods Newsletter (Free) - Get a free 36-page eBook for signing up: How to Stock Your Essential Traditional Foods Four-Corners Pantry.
Join the Traditional Foods Kitchen Academy (Optional Paid) - For more detailed videos, live streams, and exclusive members-only perks, join my YouTube membership community.
Order The Modern Pioneer Cookbook (Optional Paid) - Get a printed book of Mary's nourishing recipes from a Traditional Foods Kitchen. This bestselling cookbook is published by Penguin Random House with their DK imprint.
I look forward to having you join me in my Texas Hill Country Kitchen!
Shop for items used in this blog post or video
Favorite Kitchen Supplies
More Kitchen Supplies with Discount Codes
Use my Mockmill affiliate link for a special one-time 5% discount on Mockmill Stone Grain Mill products, including the new Flake Lover's Flaker. (The Mockmill discount will appear when you checkout.)
Use promo code MARYSNST for a one-time 15% off Masontops and Breadsmart products on Amazon.com.
Amazon Shop and Shopping Guide
Visit my Shopping Guide page
Get up to 15% off for stocking your Traditional Foods Pantry and equipping your Modern Pioneer Kitchen, including discounts from Lehman's, Mockmill Grain Mill, Masontops, Cultures for Health, Survival Garden Seeds, Redmond Real Salt, Plan to Eat, US Wellness Meats, and More!
Recommended Reading
**Disclaimer: I am not a medical doctor, a medical professional, a dietician, or a nutritionist. All content found on the MarysNest.com website, including text, images, videos, eBooks or eGuides, social media, or other formats, were created solely for informational purposes only. The content is not intended to be a substitute for professional medical advice, diagnosis, or treatment. Always seek the advice of your physician or other qualified healthcare provider with any questions you may have regarding a medical condition or proper nutritional advice. Never disregard professional medical advice or delay in seeking it because of something you have watched in a video or read on this website. Use caution when following the recipe in this video. The creator and publisher of this video and website will not be held responsible for any adverse effects that may arise from the use of this recipe and method or any other recipe and method on this website or corresponding video channel.