Easy, Traditional, and Healthy Recipes for a Smaller Thanksgiving Dinner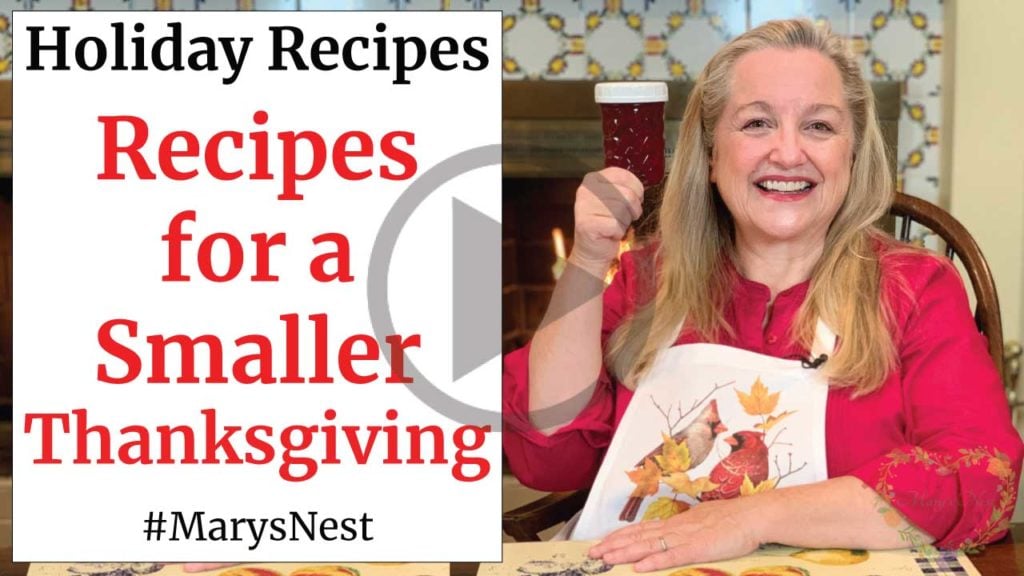 Today, I am sharing easy, traditional, and healthy Thanksgiving recipes for a smaller Thanksgiving dinner.
*Affiliates note: As an Amazon Associate I earn from qualifying purchases. My content may contain affiliate links to products and services. If you click through and make a purchase, I'll receive a small commission. It does not affect the price you pay.
A Smaller Thanksgiving for 2020
Well, 2020 has been quite a year! For many of us, this Thanksgiving dinner may be much different than past Thanksgiving gatherings. If you plan on having fewer folks around your table this year, then a smaller meal may be in order.
But don't worry about how you are going to scale things back. I have a set of recipes to help you bring easy, traditional, and healthy foods to your Thanksgiving table.
Small Turkey or a Turkey Breast?
If you've been with me for a while, I think you know which turkey selection I will pick. And you'd be right if you guessed the small turkey! When I cook a whole turkey, I love knowing that I will have all those bones left over to make turkey bone broth.
And if you're going to cook a small turkey, you could cook two turkeys at the same time. This technique gives you twice the amount of meat and bones to enjoy for your Thanksgiving meal and leftovers.
But don't worry if a whole turkey—even if it is small—seems overwhelming to you. A turkey breast is a great idea too! Just make sure to buy one that is still on the bone. You'll be able to save the bone and add it to your next pot of bone broth.
And if you want to make that turkey breast in the quickest and easiest way, I show you how to cook your turkey breast in the Instant Pot – The Right Way!
Thanksgiving Dinner Sides
For some of the lightest mashed potatoes you have ever had, be sure to try my mom's whipped mashed potatoes. They are literally as light as a cloud, and the potatoes make the perfect base for homemade turkey gravy. And when you make your gravy homemade, you can use bone broth as your liquid, which significantly increases its nutritional profile.
Bell's Poultry Seasoning Copycat Recipe
Have you seen Bell's Poultry Seasoning at your grocery store? It's sold in a little yellow box with a turkey on the front. It makes the best seasoning for your turkey, as well as your dressing.
I sometimes have a hard time finding this seasoning, so I created a copycat recipe to keep on hand. It's not identical, but it's just as flavorful, and you can easily make the seasoning with herbs and spices from your pantry.
Cranberry Sauce
There's nothing like homemade cranberry sauce for your Thanksgiving dinner. Often the ones sold in the can at the grocery store contain high-fructose corn syrup, which is an ingredient we don't want in our Traditional Foods Kitchen!
When you make your cranberry sauce homemade, you can use a whole sugar like Sucanat. Sweetening your cranberry sauce with a whole sugar ensures that you are adding in lots of vitamins and minerals, instead of sweetening it with white sugar that has had all the nutrients stripped out of it.
If you want to make a probiotic-rich Fermented Cranberry Sauce, I show you how in the following recipe video.
Cornbread and Yeast Rolls
One of my favorite types of stuffings or dressings is something I discovered when I moved to Texas…Cornbread Dressing! It's delicious! And I make it especially nutritious by making my own homemade whole grain cornbread, but you can also choose to make a sweet whole grain buttermilk cornbread.
And in case you have a bit of cornmeal left over and are wondering what to do with it, try this old-fashioned recipe for Hot Water Cornbread. It's so easy to make and very tasty, especially when you drizzle a bit of maple syrup over the top!
In addition to cornbread, you can also make yeast dinner rolls in your cast iron skillet for your Thanksgiving dinner table.
Turkey Bone Broth
Once you finish Thanksgiving dinner, be sure to gather up all your bones and scraps so you can make the most gelatinous bone broth that you've ever had. And you have options. You can make your turkey bone broth in a slow cooker or the Instant Pot!
And of course, the stovetop is always an option to make bone broth too. If you want to make turkey bone broth on the stovetop, the recipe is the same as making chicken bone broth.
Thanksgiving Dinner Dessert
No Thanksgiving dinner would be complete without a pumpkin pie! And the recipe I share in the video below is the easiest pie you'll ever make because it has a no-roll crust. You'll never be hesitant to make homemade pie crust again!
Plus, the following videos show you how to make your own homemade evaporated milk or sweetened condensed milk that you can use to make your pumpkin pie.
Even a Smaller Thanksgiving Can be Great!
This year has been hard on us. But even if we have fewer people around our Thanksgiving table, we can rejoice with them, hold them tight, and be reminded of how precious life is.
God willing, we'll all be reunited with more friends and family soon. But in the meantime, we can take comfort in the words of Mother Teresa, "Love begins by taking care of the closest ones—the ones at home."
May you have a Happy and Blessed Thanksgiving! 😊
Stay in Touch with Mary's Nest
Subscribe to My YouTube Channel for Traditional Foods Videos (Free) - When you subscribe, be sure to click on the notification bell that will let you know each time I upload a new video.
Subscribe to Mary's Traditional Foods Newsletter (Free) - Get a free 36-page eBook for signing up: How to Stock Your Essential Traditional Foods Four-Corners Pantry.
Join the Traditional Foods Kitchen Academy (Optional Paid) - For more detailed videos, live streams, and exclusive members-only perks, join my YouTube membership community.
Order The Modern Pioneer Cookbook (Optional Paid) - Get a printed book of Mary's nourishing recipes from a Traditional Foods Kitchen. This bestselling cookbook is published by Penguin Random House with their DK imprint.
I look forward to having you join me in my Texas Hill Country Kitchen!
---
Shop for items used in this blog post or video
Favorite Kitchen Supplies
The following links and promo codes will help you save on fermentation supplies and grain grinders.
Use promo code MARYSNST for a one-time 15% off Masontops and Breadsmart products on Amazon.com.
Use my Mockmill affiliate link for a special one-time 5% discount on Mockmill Stone Grain Mill products, including the new Flake Lover's Flaker. (The Mockmill discount will appear when you checkout.)
Amazon Shop and Shopping Guide
Visit my Shopping Guide page
Get up to 15% off for stocking your Traditional Foods Pantry and equipping your Modern Pioneer Kitchen, including discounts from Lehman's, Mockmill Grain Mill, Masontops, Cultures for Health, Survival Garden Seeds, Redmond Real Salt, Plan to Eat, US Wellness Meats, and More!
Recommended Reading
**Disclaimer: I am not a medical doctor, a medical professional, a dietician, or a nutritionist. All content found on the MarysNest.com website, including text, images, videos, eBooks or eGuides, social media, or other formats, were created solely for informational purposes only. The content is not intended to be a substitute for professional medical advice, diagnosis, or treatment. Always seek the advice of your physician or other qualified healthcare provider with any questions you may have regarding a medical condition or proper nutritional advice. Never disregard professional medical advice or delay in seeking it because of something you have watched in a video or read on this website. Use caution when following the recipe in this video. The creator and publisher of this video and website will not be held responsible for any adverse effects that may arise from the use of this recipe and method or any other recipe and method on this website or corresponding video channel.