Stock Up On These Top 10 Foods Now!
Learn about the Top 10 Foods to Stock Up on Now for your Prepper Pantry before prices go up or these foods go out of stock!
And be sure to download my free Top 10 Foods to Stock Up on Now printable file that accompanies my video. This file contains a four-week shopping checklist to help you plan your food purchases so you can stock your Prepper Pantry with these essential foods and stay within your grocery budget.
*Affiliates note: As an Amazon Associate I earn from qualifying purchases. My content may contain affiliate links to products and services. If you click through and make a purchase, I'll receive a small commission. It does not affect the price you pay.
Rising Prices and Out-of-Stock Foods
During my recent grocery store visits, I was shocked by the price increases and how many foods were out of stock. This led me to think about which non-perishable foods are the most important to stock up on right now for my Prepper Pantry while these foods are still affordable and available.
So after unpacking from my last grocery trip, I sat down with pen and paper and made a list. And I'm sharing this list with you in an easy download or printable (no email required) that you can take to the grocery store on your next shopping trip.
What are these top 10 foods? Well, if you have been with me for a while, you know that I often focus on categories of foods, more so than specific individual foods. So that is what I have done in my comprehensive video and free download.
This approach gives you the flexibility to find foods within a category, even if some of the foods are out of stock.
What Are the Top 10 Foods to Stock Now?
In my comprehensive video, I answer questions about stocking these top 10 food categories:
Which beans are best to stock: dried or canned?
What specific canned goods should we be buying right now?
What are the best shelf-stable fats to stock up on?
When it comes to stocking powdered milk, should I get non-fat or whole milk powder?
What are the best nut butters to stock for the long term?
Are all pastas the same? Or are some better than others to stock up on?
When it comes to rice, should we stock white rice, brown rice, or both?
Do we really need to stock iodized salt, or will sea salt do?
Is it smart to stock up on white sugar for emergencies, or should we go with alternatives?
When it comes to wheat, should we stock flour, whole grain, or both?
Why Are These Top 10 Foods Important to Stock Now?
During these uncertain times, we can hardly predict what might come our way. I don't think anyone ever expected that our lives would change so dramatically in 2020. And then in 2021, those of us in central Texas never dreamed that we would have sub-zero temperatures and endless days of ice and snow storms!
But what so many of us have learned is that there is no point in wasting any time when it comes to creating and stocking an Extended Pantry or what we all nickname the Prepper Pantry.
The Prepper Pantry is the area of our homes where we stock our extra supplies that allow us to "go shopping" when we need to restock our everyday Working Pantry. So as long as we stock the right foods in our Prepper Pantry, we won't need to run to the grocery store whenever our Working Pantry supplies run low.
By planning our purchases, we'll be selective to get real foods within our budget. And with a well-stocked Prepper Pantry, we'll give ourselves a bit of protection against rising prices or certain foods simply being unavailable. We'll be prepared for whatever might come our way.
Download Your Free Top 10 Foods to Stock Up on Now Checklist
Here is a free printable PDF checklist of the top 10 foods you should buy from your grocery store. Plan your purchases over the next 4 weeks by writing in what you want to buy. As your budget allows, add 2 or more of these foods to your cart each week until you have stocked the supply you need.
You can download this Top 10 Foods to Stock Up on Now handout to your mobile phone, so it's handy the next time you go to the grocery store. Alternatively, you can print out this handout to fill out the chart for the different weeks and bring it with you when you go shopping.
Afterward, you can add the printed copy to your kitchen journal, so it'll always be handy in case you want to refer back to it to see what you bought. You can even add prices to track whether certain foods are increasing or decreasing in price. This will help you better structure your grocery budget.
The Best Salts, Sugars, and Whole Grains
Three categories of my top 10 foods focus on salts, sugars, and whole grains. You can get more in-depth information about these categories in the following videos. For example, do you know what the best salts are with the least amount of microplastics? And if you are storing whole grains in your Prepper Pantry, do you know how to make flour from them?
When we think of sugar for the traditional foods kitchen, we don't limit ourselves to white sugar. In fact, we prefer whole alternatives, such as molasses and Sucanat, which stands for Sugar Cane Natural.
Molasses is packed with nutrients, and if you've never made anything with this sweetener before, give molasses cookies a try. They're healthy and delicious!
When Stocking These Top 10 Foods, Be Open to Trying New Recipes
When it comes to stocking these top 10 foods, I can already hear some folks saying they don't like this or that or have issues with certain foods.
If there are certain foods you don't like or think they disagree with you, I encourage you to learn how to properly prepare foods like our ancestors did. They often had very limited foods and had to make do with what they had. Even so, traditional cultures all over the world learned how to prepare their foods to increase digestion and the absorbability of nutrients.
So be open to trying new foods that can be easily stored in your Prepper Pantry without the need for refrigeration so that you always know you have nutritious food on hand. I'll show you how to properly prepare dried beans, canned fish, and whole grains in the following videos.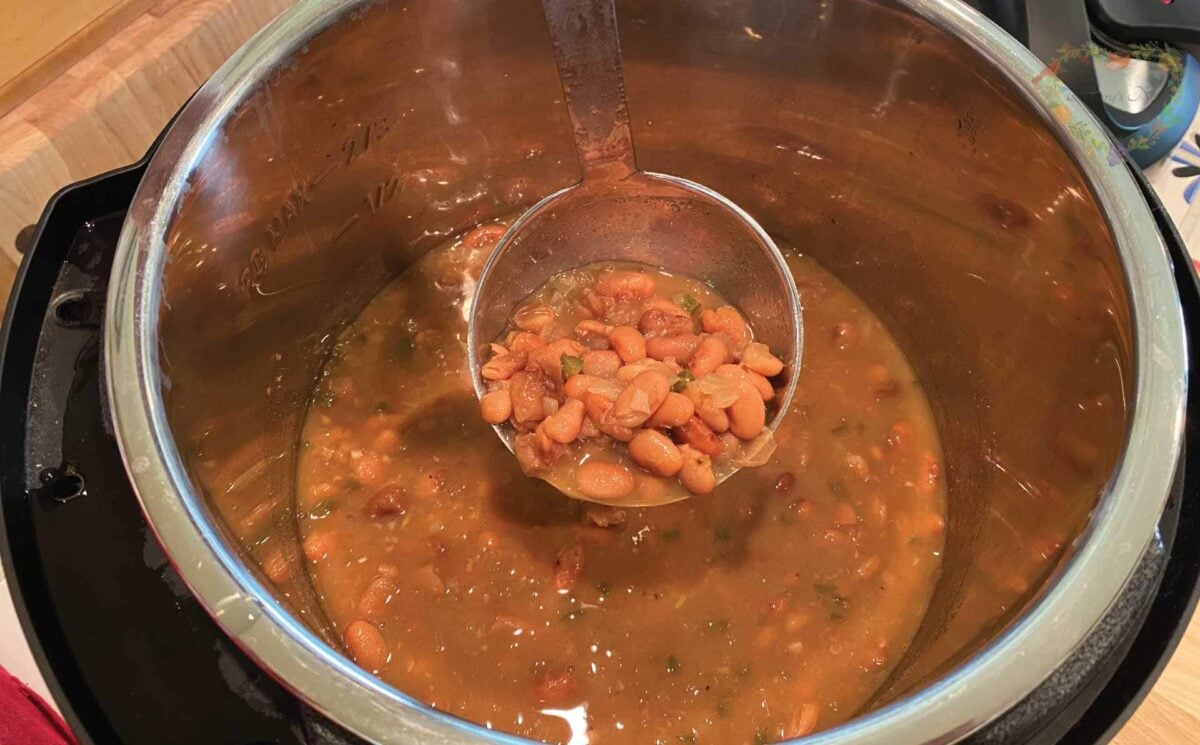 How to Properly Prepare Dried Beans
You might be surprised how you might discover that you can digest beans once they have been properly prepared. Better yet, you might find that you really like them! Check out the following videos to learn how to soak and sprout beans and the best way to cook dried beans for maximum nutrition.
How to Properly Prepare Canned Fish
If you think you don't like sardines, I implore you to buy one package and give my sardines recipe a try. I have had so many folks come back to me and say they now love sardines!
Also, cooked canned tuna is easier to digest, especially with these recipes. You may recall Tuna Boat Surprise as a school lunch favorite, and Tuna Pie is an incredibly delicious and affordable Depression Era recipe that tastes a lot like chicken pot pie.
How to Properly Prepare Whole Grains
You're not limited to grinding Whole Grains to make flour. Instead, you can cook whole grains for your main meal or a side dish. I show you three ways to properly prepare whole grains by cooking them the right way.
Create a Prepper Pantry
We've been talking a lot about stocking up on these top 10 foods for your Prepper Pantry, but what if you don't have an Extended or Prepper Pantry? That's no problem because I'm here to show you how you can quickly get started and on a budget.
In case you need to accelerate stocking your Prepper Pantry, I show you how in the following video. And be sure to download my free printable inventory list that accompanies the video too.
How to Store Food in Your Prepper Pantry
Watch the following videos to learn about the best food storage supplies, the difference between oxygen absorbers and silica gel packs, and how to seal mylar bags in seconds.
Extend Your Meals with Some of These Top 10 Foods
Once you stock non-perishable food like canned tomatoes, beans, rice, and grains, there is so much you can do with them to extend your meals. In essence, you can stretch your meals to make more expensive foods, like animal proteins, go further and feed more people.
In the following budget recipe video below, I share my top 7 favorite meal extenders and how to use them. I even make a meal using some of them and show you how to feed a crowd for about $5 total!
Grind Your Own Flour with the Mockmill
If you store whole grains in your Prepper Pantry, you'll need a manual or electric grain mill to turn the whole grains into flour.
When it comes to electric grain mills, after I did A LOT of research, I decided to buy a Mockmill. And am I so happy I did! The Mockmill is a very affordable but beautifully crafted German-made mill that stone grinds grain with settings ranging from 1 to 10—fine to coarse ground grain.
And I have great news! The folks at Mockmill are very kind to offer my viewers and readers a special one-time discount on any of the grain mills that they sell.
You can see me unbox and try out the Mockmill 100 Grain mill in the following video.
Download Your Free 36-Page Pantry List
For an extensive list of the traditional foods you can make and purchase to stock your pantry, be sure to download my free 36-page Traditional Foods Pantry List. This comprehensive eBook is full of links to recipe videos, helpful articles, and more!
Kitchen Academy Videos
Are you looking for more traditional foods videos? If so, I invite you to join the Traditional Foods Kitchen Academy. Members of this optional paid YouTube community get access to exclusive videos, live streams, and other members-only perks. Plus, your YouTube comments include a special members-only badge.
In the following members-only video series, I talk about Cooking with Traditional Fats, including butter, ghee, animal fats, and oils, such as olive oil.
Stay in Touch with Mary's Nest
Subscribe to My YouTube Channel for Traditional Foods Videos (Free) - When you subscribe, be sure to click on the notification bell that will let you know each time I upload a new video.
Subscribe to Mary's Traditional Foods Newsletter (Free) - Get a free 36-page eBook for signing up: How to Stock Your Essential Traditional Foods Four-Corners Pantry.
Join the Traditional Foods Kitchen Academy (Optional Paid) - For more detailed videos, live streams, and exclusive members-only perks, join my YouTube membership community.
Order The Modern Pioneer Cookbook (Optional Paid) - Get a printed book of Mary's nourishing recipes from a Traditional Foods Kitchen. This bestselling cookbook is published by Penguin Random House with their DK imprint.
I look forward to having you join me in my Texas Hill Country Kitchen!
Trending Posts on Mary's Nest
Shop for items used in this blog post or video
Favorite Prepper Pantry Supplies
Favorite Kitchen Supplies
More Kitchen Supplies with Discount Codes
Use my Mockmill affiliate link for a special one-time 5% discount on Mockmill Stone Grain Mill products, including the new Flake Lover's Flaker. (The Mockmill discount will appear when you checkout.)
Use promo code MARYSNST for a one-time 15% off Masontops and Breadsmart products on Amazon.com.
Amazon Shop and Shopping Guide
Visit my Shopping Guide page
Get up to 15% off for stocking your Traditional Foods Pantry and equipping your Modern Pioneer Kitchen, including discounts from Lehman's, Mockmill Grain Mill, Masontops, Cultures for Health, Survival Garden Seeds, Redmond Real Salt, Plan to Eat, US Wellness Meats, and More!
Recommended Reading
**Disclaimer: I am not a medical doctor, a medical professional, a dietician, or a nutritionist. All content found on the MarysNest.com website, including text, images, videos, eBooks or eGuides, social media, or other formats, were created solely for informational purposes only. The content is not intended to be a substitute for professional medical advice, diagnosis, or treatment. Always seek the advice of your physician or other qualified healthcare provider with any questions you may have regarding a medical condition or proper nutritional advice. Never disregard professional medical advice or delay in seeking it because of something you have watched in a video or read on this website. Use caution when following the recipe in this video. The creator and publisher of this video and website will not be held responsible for any adverse effects that may arise from the use of this recipe and method or any other recipe and method on this website or corresponding video channel.