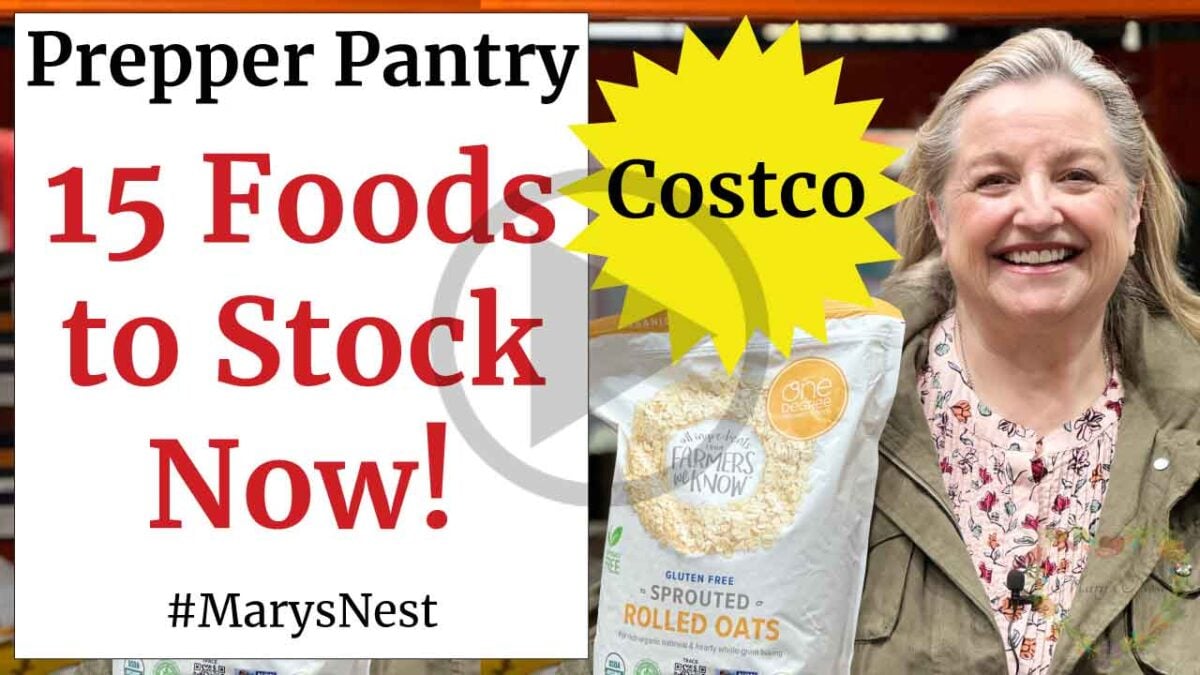 Here are the top 15 Prepper Pantry items you need to buy now at Costco (or any other store). If you're like me, you're always looking for ways to save money and improve your preparedness. The items I show you in today's video will help you stock your extended pantry with the basics you need.
With a well-stocked Prepper Pantry, you'll be well prepared to survive in any situation, whether it's bad weather, a natural disaster, illness, or when budgets are tight because of rising prices or job loss. Check out this list of items and stock up today!
*Affiliates note: As an Amazon Associate I earn from qualifying purchases. My content may contain affiliate links to products and services. If you click through and make a purchase, I'll receive a small commission. It does not affect the price you pay.
Costco Shelf-Stable Foods for Your Prepper Pantry
In today's top 15 video, I share some of my favorite products and shelf-stable (non-perishable) foods to stock up on for your Prepper Pantry from Costco. These items include:
Kitchen Products
Bottled Water
Coconut Products
Bath Tissue
Parchment Paper
Paper Supplies
Coffee Beans
Sprouted Rolled Oats
Honey Products
Nut Butters
Maple Syrup
Olive Oil
All-Purpose Flour
Canned Fish
Rice and Beans
Plus, additional bonus items!
I also highlight a few of these items in this blog post.
These items won't bust your grocery budget, and if you are not a Costco member, you can use the advice I share in this video to shop at Walmart, Aldi, Sam's Club, or even your local grocery store.
Parchment Paper in Your Prepper Pantry
You'll always want a supply of parchment paper in your working and Prepper Pantry. You can use parchment paper when you don't have silicone baking sheets or don't feel comfortable using silicone with your food. It's easy to cut parchment paper to the size you need to use in a variety of baking and oven recipes.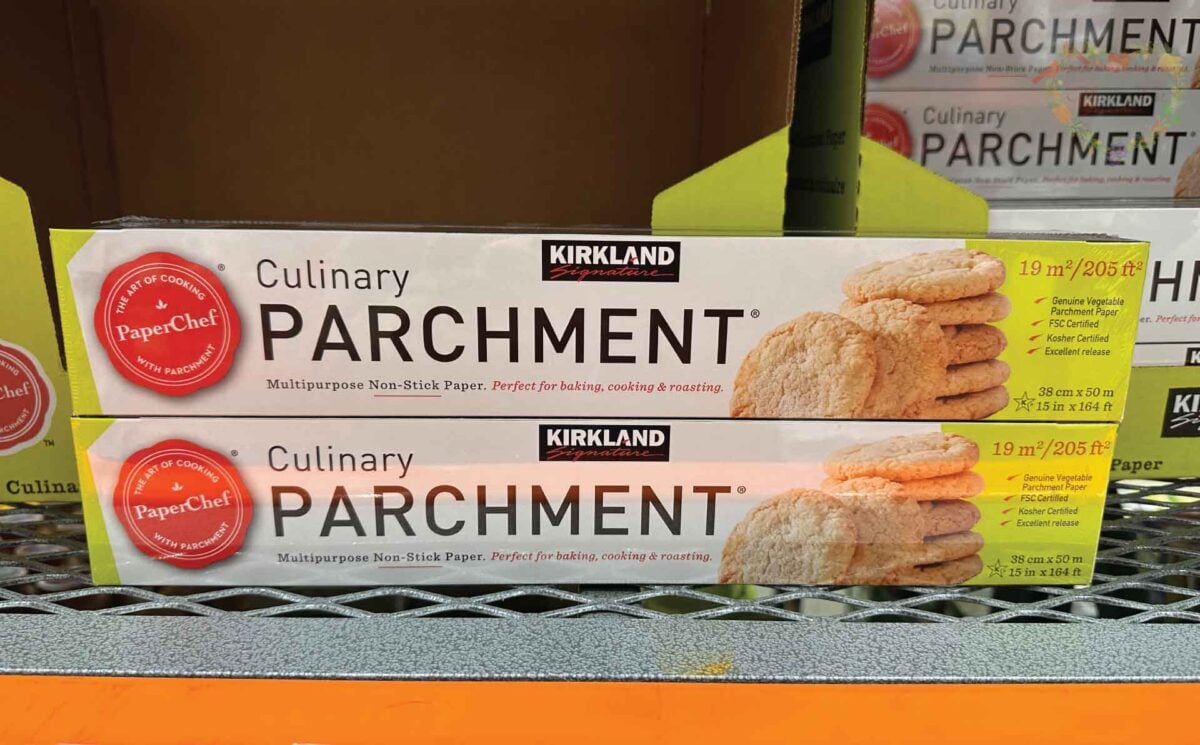 Today's parchment paper is made with vegetable cellulose fibers, making it naturally non-stick. If you've had trouble with parchment paper and had the paper stick to your food in the past, it's probably because your paper was old and manufactured differently. Try a new roll made out of genuine vegetable parchment paper, and you'll have a much better experience.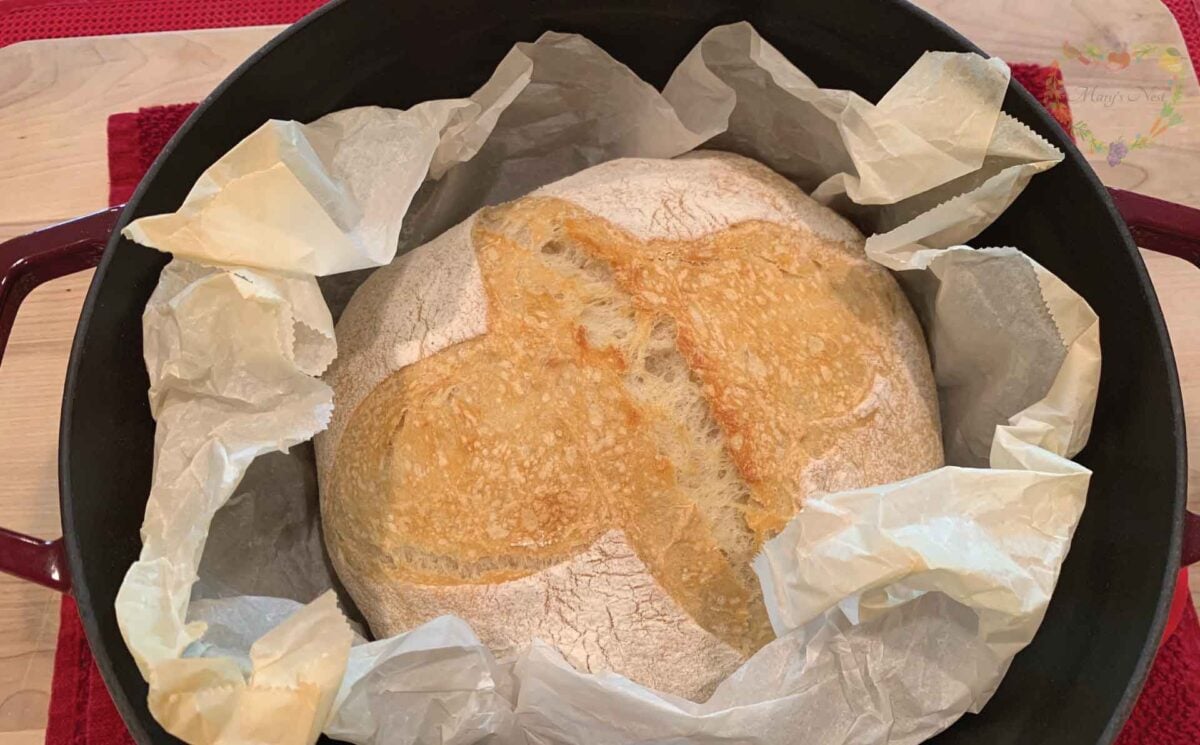 Recipes Using Parchment Paper
Here are two recipes that use parchment paper to make it easier for you to lift your baked bread out of a hot dutch oven and to dry your chicken bone broth in your kitchen oven so you can grind it up to make a shelf-stable chicken bouillon powder.
Bottled Water in Your Prepper Pantry
Always make sure you have enough bottled water on hand. You want to have at least two gallons of water per person per day. And at the very least, have a two-week supply of bottled water stored and ready for use in the event of an emergency when you do not have clean running water.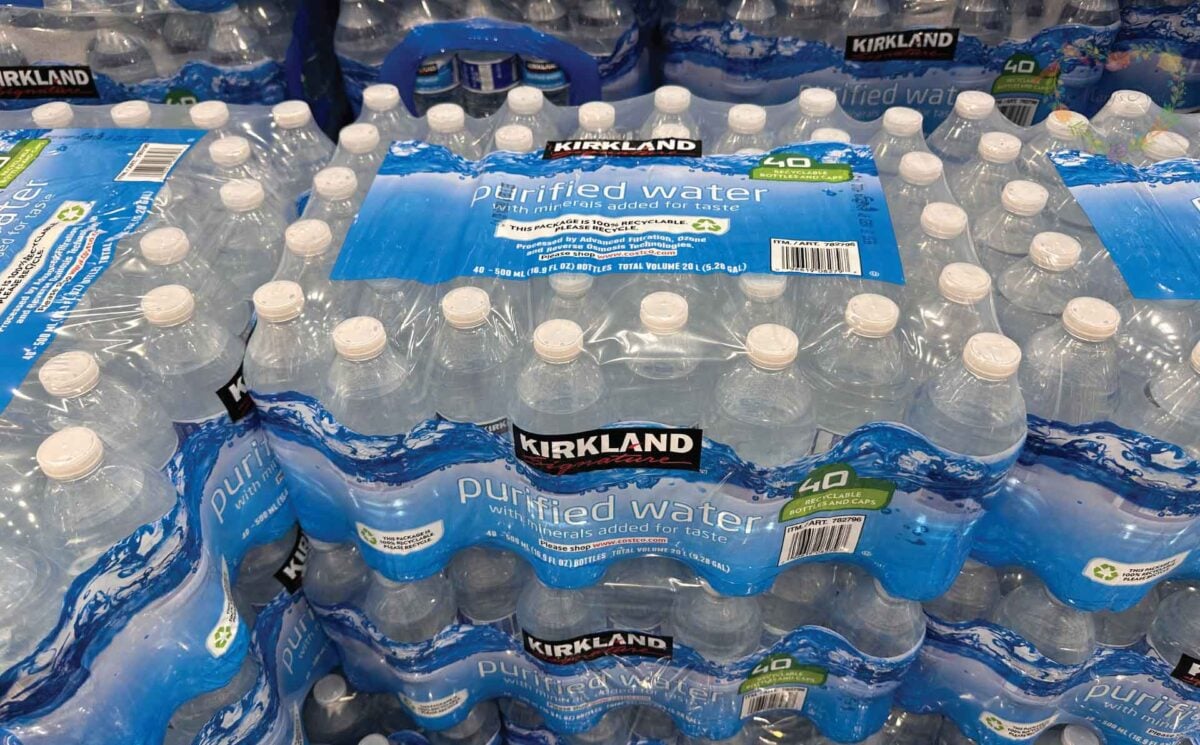 Bottled spring water also comes in handy when you need non-chlorinated water for a ferment or other recipe when you want to avoid chlorine. (Since ferments can be persnickety, you'll want to do everything you can to remove unnecessary elements that would interfere with a successful ferment.)
If you need non-chlorinated water and you only have chlorinated tap water available, you can leave your tap water sitting overnight in a pitcher, and some of the chlorine in the water will evaporate when you're ready to use it the next day. Note that you'll want to let your water sit for at least 24 hours to have the majority of the chlorine dissipate from the water.
What is a Prepper Pantry?
We've talked a lot about stocking your Prepper Pantry, but if you're not familiar with a Prepper Pantry, it's part of your Four Corners Pantry, which consists of your:
Working Pantry
Refrigerator
Freezer
Extended or Prepper Pantry

Emergency Pantry
Healing Pantry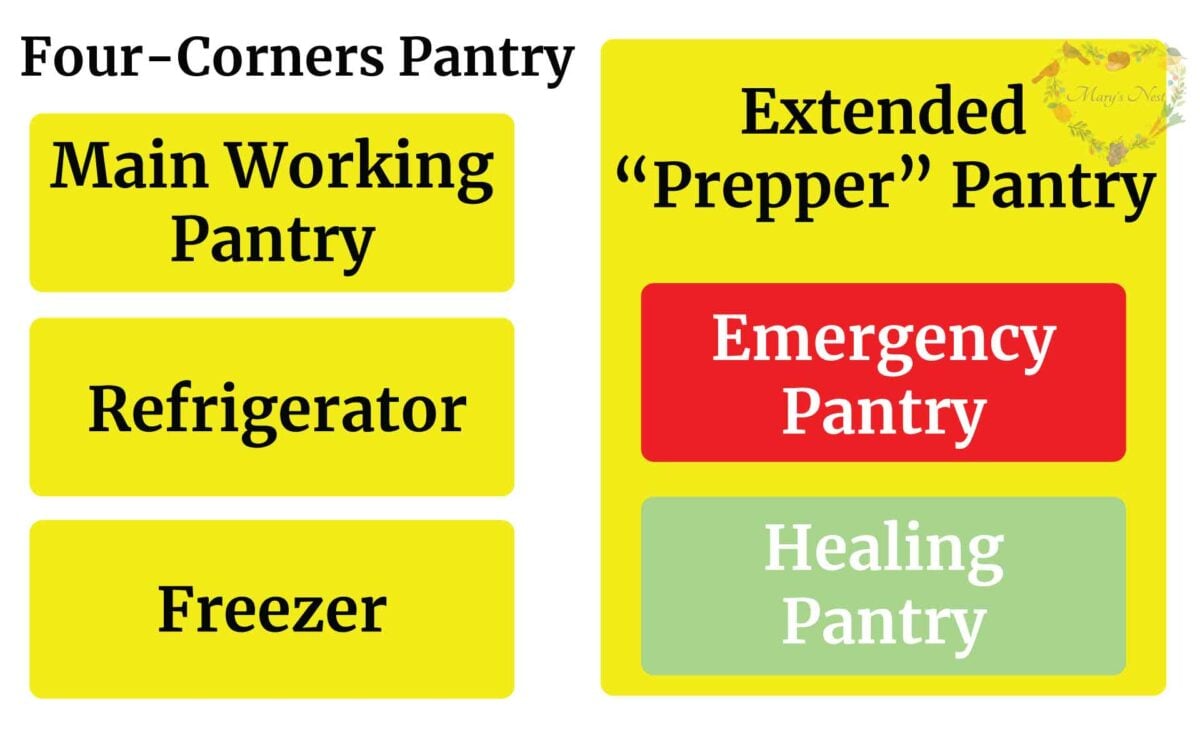 The following videos will help you learn more about why you want a Prepper Pantry and how you can stock it with real food and on a budget, even in these inflationary times!
Note your Prepper Pantry also includes two sub-pantries, which are your emergency and healing pantries. The following sections describe these two sub-pantries and how you can stock them with the food and supplies you get from Costco or your local grocery store.
How to Create an Emergency Pantry
When you are stocking up on bottled water, you also want to think of carving out a small area of your Prepper Pantry that I like to call the Emergency Pantry. This area is where you store non-perishable foods that have an extended shelf-life and can be used when you don't have electricity or clean running water.
I'll show you how to create your emergency pantry with my How to Build a 2-Week Emergency Food Supply video. In the video's accompanying blog post, you can download a shopping list of what you need to buy to stock your emergency pantry.
You can also download and print out a meal plan for how to prepare the foods on the shopping list. Keep a printed copy of the meal plan with your emergency pantry so you'll know how to easily create meals with your food when you don't have power or a reliable source of water.
Note that you can easily purchase all the foods I have on the shopping list at any local grocery store, Walmart, or a big-box store like Costco or Sam's Club. Store the food, supplies, and meal plan in one area, and then when an emergency strikes, you'll be prepared!
How to Create a Healing Pantry
Along with creating an Emergency Pantry within your Prepper Pantry, you also want to think about reserving some additional space for what I call a Healing Pantry. This area of your Prepper Pantry should contain the supplies you will need, such as dry herbs, to make various home remedies to help you get through the symptoms of minor illnesses like a cold. Having these raw materials on hand will allow you to create your own Herbal Medicine Cabinet within your Healing Pantry.
To learn how to stock your healing pantry and create an herbal medicine cabinet, watch the following video and download my free inventory list.
And as you prepare to stock your Healing Pantry, also be sure to watch my video series that shares Master Recipes for Making Medicinal Herbal Remedies, including herbal:
With the items you store in your Four Corners Pantry, and especially in your Healing Pantry and Herbal Medicine Cabinet, you'll be able to make these various medicinal herbal remedies whenever you need them.
Disclaimer
I am not a doctor or medical professional. If you are not feeling well, please seek professional medical attention and medicine. And if you are thinking of supplementing your treatment with home remedies, be sure to talk to your medical professional about them. It's important that you get the medicine and treatments you need to get back to good health.
Costco Items for Your Prepper Pantry Beyond Food
Keep in mind that if you are in charge of the Prepper Pantry in your house, there is a lot more to it than just stocking up on shelf-stable food. You need to make sure that you have all the basic supplies you will need to handle a variety of emergency situations. I discovered this the hard way when I realized what I was missing during the terrible Texas winter storm of 2021. (I was more prepared with a well-stocked pantry when we received another big ice storm in 2023.)
In the following videos, I talk about the items I missed and the 10 crucial pantry supplies you need to stock now. For example, we always have our wireless refrigerator temperature monitor handy to make sure we know the temperature of our refrigerator and freezer in case the power goes out, or we need to monitor the temperature in a portable cooler.
In addition to all the emergency supplies you will need, don't forget shelving. Having the right shelves can make storing and accessing the supplies in your Prepper Pantry much easier than any other storage setup. In today's top 15 video, I share with you my favorite shelving units that I have purchased multiple times from Costco.
Best Storage Containers for Your Prepper Pantry
Whenever you are creating or restocking your Prepper Pantry, one of the most important things you need to consider is how best to store your food to extend its shelf life as long as possible. In the following videos, I talk about the best long-term storage container options, including buckets, mylar bags, and more. I also discuss the food storage mistakes you want to avoid!
In today's top 15 video, I share some of my favorite smaller containers from Costco that include a glass option, which I know so many of us prefer over plastic. (And as a bonus, I review a few kitchen appliances that looked very interesting and were well-priced.)
Why You Want to Grind Whole Grain
I show you the all-purpose flour that I found at Costco in today's top 15 video. They offered 20 lbs of organic unbleached flour in two wrapped 10 lbs bags. And they also had regular all-purpose flour in larger 25 lbs and 50 lbs bags. Storing all-purpose flour in your Prepper Pantry is better than whole wheat flour, but there's an even better option.
When it comes to making sure that you always have a good supply of flour on hand for making homemade baked goods, including my favorite super-soft Simple Sandwich Bread, it's best to store the actual whole grain rather than the ground flour. This is because whole grain flour can only stay fresh for about one year, whereas all-purpose or bread flour may only stay fresh for up to two years. (Although in today's top 15 video, I talk about a tip another shopper shared with me for keeping all-purpose flour fresh well past two years!)
But even when stored properly, flour simply is not going to be able to have the same shelf life as whole grains. Whole grain has an exceptionally long shelf life, with some grain staying fresh between 8 to 10 years and others, like wheat berries, staying fresh for up to 25 years! And truth be told, some people consider whole grain to be a forever food, meaning that it will last indefinitely.
But if you store whole grain, you need to find a way to grind it into flour. As I share in my How to Store Whole Grain and Make Homemade Flour video, you have the following equipment options:
Electric Grain Mill
Manual Grain Mill
Vitamix High-Speed Blender with Dry Grains Container
In today's top 15 video, I show you the Vitamix Explorian series E520 blender I saw in Costco. If you use a high-speed blender, you'll want to check your manufacturer's recommendation to use the right container for grinding whole grains. For example, Vitamix may recommend you use their Dry Grains Container, which is manufactured to handle grinding whole grains over the long term.
And going back to my earlier 3 ways to make flour video, I share a few tips and tricks on how best to use a manual grain mill and a Vitamix to grind grain, but I will say that my favorite way to grind grain is to using an electric grain mill. And my favorite electric grain mill is the Mockmill.
Grind Whole Grain to Make Your Own Flour with the Mockmill
When it comes to electric grain mills to make homemade flour, after I did A LOT of research, I decided to buy a Mockmill. And am I so happy I did! The Mockmill is a very affordable but beautifully crafted German-made mill that stone grinds grain with settings ranging from 1 to 10—fine to coarse ground grain. And once you grind your grain, you will have fresh milled whole grain flour but you can also use a simple flour sifter to remove the bran and the germ to create something similar to all-purpose or bread flour.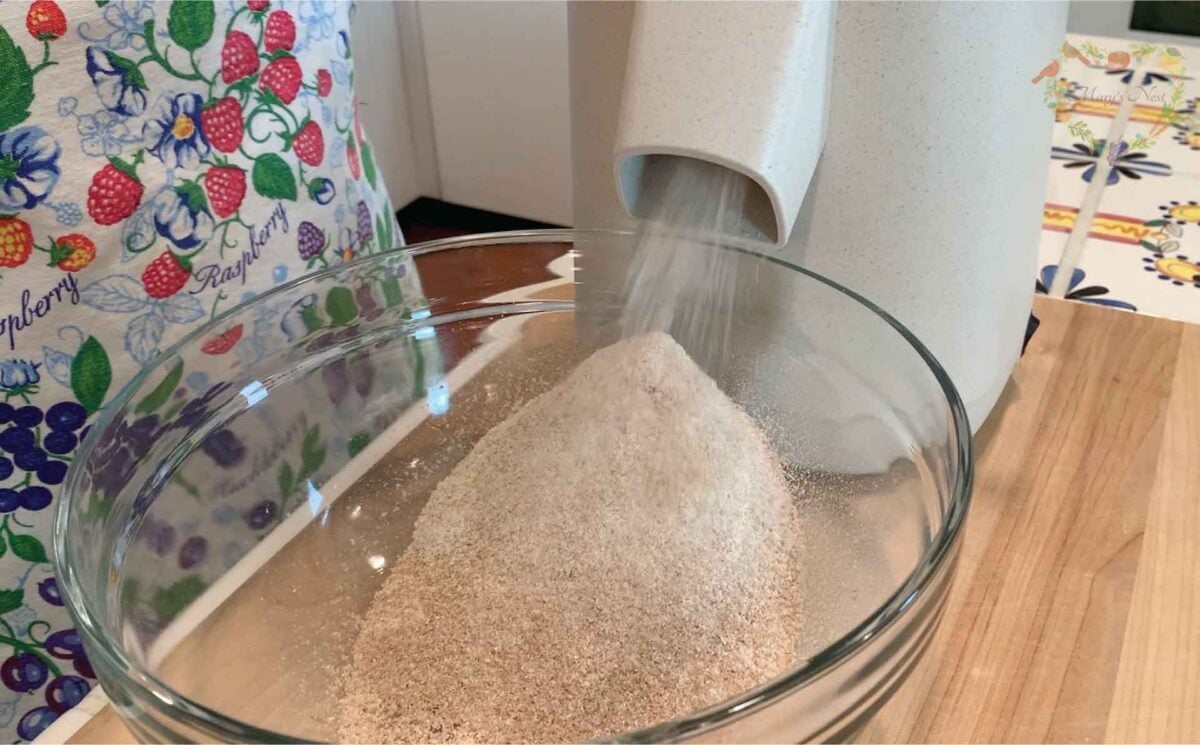 And I have great news! The folks at Mockmill are very kind to offer my viewers and readers a special one-time discount on any of the grain mills that they sell.
Note: You can also get the new Flake Lover's Flaker from Mockmill. Using this device, you can flake whole grain in minutes.
You can see me unbox and try out the Mockmill 100 Grain mill in the following video. (This is not a sponsored post, I bought the Mockmill products that I show you, and I'm a happy user of their devices in my kitchen.)
More Pantry Hauls
If you would like to see what I purchased at Costco on my previous visit last year (and compare prices!), be sure to watch the following video:
And if you are an Aldi or Trader Joe's shopper, you'll love these videos too!
Download Your Free 36-Page Pantry List
For an extensive list of the traditional foods you can make and purchase to stock your pantry, be sure to download my free 36-page Traditional Foods Pantry List. This comprehensive eBook is full of links to recipe videos, helpful articles, and more!
Kitchen Academy Videos
Are you looking for more traditional foods videos? If so, I invite you to join the Traditional Foods Kitchen Academy. Members of this optional paid YouTube community get access to exclusive videos, live streams, and other members-only perks. Plus, your YouTube comments include a special members-only badge.
In the following replay of a members-only live stream, I talk about How Your Prepper Pantry Can Help During Grocery Shortages.
Stay in Touch with Mary's Nest
Subscribe to My YouTube Channel for Traditional Foods Videos (Free) - When you subscribe, be sure to click on the notification bell that will let you know each time I upload a new video.
Subscribe to Mary's Traditional Foods Newsletter (Free) - Get a free 36-page eBook for signing up: How to Stock Your Essential Traditional Foods Four-Corners Pantry.
Join the Traditional Foods Kitchen Academy (Optional Paid) - For more detailed videos, live streams, and exclusive members-only perks, join my YouTube membership community.
Order The Modern Pioneer Cookbook (Optional Paid) - Get a printed book of Mary's nourishing recipes from a Traditional Foods Kitchen. This bestselling cookbook is published by Penguin Random House with their DK imprint.
I look forward to having you join me in my Texas Hill Country Kitchen!
Trending Posts on Mary's Nest
---
Shop for items used in this blog post or video
Favorite Prepper Pantry Supplies
Favorite Kitchen Supplies
More Kitchen Supplies with Discount Codes
Use my Mockmill affiliate link for a special one-time 5% discount on Mockmill Stone Grain Mill products, including the new Flake Lover's Flaker. (The Mockmill discount will appear when you checkout.)
Use promo code MARYSNST for a one-time 15% off Masontops and Breadsmart products on Amazon.com.
Amazon Shop and Shopping Guide
Visit my Shopping Guide page
Get up to 15% off for stocking your Traditional Foods Pantry and equipping your Modern Pioneer Kitchen, including discounts from Lehman's, Mockmill Grain Mill, Masontops, Cultures for Health, Survival Garden Seeds, Redmond Real Salt, Plan to Eat, US Wellness Meats, and More!
Recommended Reading
**Disclaimer: I am not a medical doctor, a medical professional, a dietician, or a nutritionist. All content found on the MarysNest.com website, including text, images, videos, eBooks or eGuides, social media, or other formats, were created solely for informational purposes only. The content is not intended to be a substitute for professional medical advice, diagnosis, or treatment. Always seek the advice of your physician or other qualified healthcare provider with any questions you may have regarding a medical condition or proper nutritional advice. Never disregard professional medical advice or delay in seeking it because of something you have watched in a video or read on this website. Use caution when following the recipe in this video. The creator and publisher of this video and website will not be held responsible for any adverse effects that may arise from the use of this recipe and method or any other recipe and method on this website or corresponding video channel.